Revolutionize Crash Reconstruction
Capture, preserve and present a more comprehensive and accurate representation of a crash or crime scene & the environment it occurred in.
Revolutionize Crash Reconstruction with OSCR360
OSCR360 for Crash Reconstruction
Capture crash and collision scenes in 360 degrees as seen by the investigator. Quickly and easily take 360 spherical crash photos inside a vehicle, at the scene, and/or use a 25 ft mast for aerial photos; no training required.
Add in multi-media evidence files to your 360 photos including: 911 recordings, witness testimony, surveillance video, overlay crash sketches, and more. Bring the evidence of the collision to life.
OSCR360 was built from your voice by collaborating with Law Enforcement and Prosecuting Attorneys. This equipment and software is priced to fit your budget offered at a fraction of the cost of total stations and laser scanners.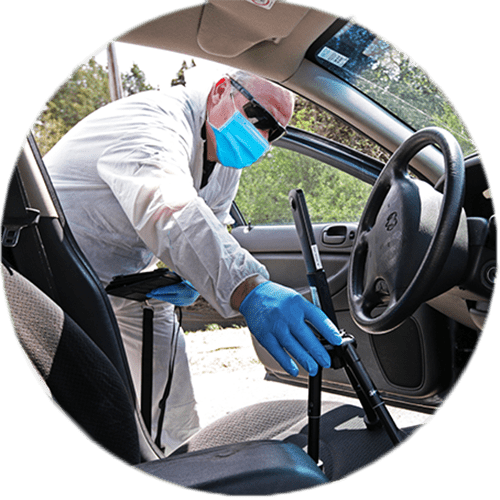 How is OSCR360 assisting first responders through COVID-19?
Reduce exposure to COVID-19. Get in an out of a scene quickly.
Take a 360 degree photo in under 4 seconds. 
Limit First Responders on-scene. OSCR is operated by one person. 
Conserve needed PPE.
US Traffic Fatalities in 2017.
Of all fatal crashes were distraction-affected.
People injured in motor vehicle crashes in 2017.
Number of people killed by a distracted driver in 2017.
How OSCR assists on a crash investigation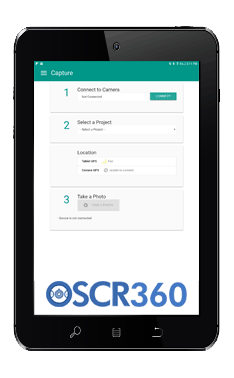 Easy to learn and use, no training required

Presents a true and accurate depiction of the crash and the environment
Clear the scene faster, open roads quicker

How is OSCR360 Different from a Laser Scanner?
Authored by Charles Grasso, Sergeant (Ret.)
Not a Total Station, not a 3D laser scanner, & priced to fit your budget, OSCR360 is a unique investigative tool used to capture crime or crash scene evidence as seen by the investigator. 
OSCR360 and laser measuring devices are two separate and distinct tools with completely different functions. Laser measuring devices record data points and measurements that are later placed in a diagram, and some are generated into a 3D model of a scene.
Investigators have one chance to photograph a scene before evidence is either possessed, removed or in some cases destroyed due to environmental conditions.
Traditional photography captures an image in the direction of where the camera lens was aimed. With OSCR360, the investigator can quickly and easily capture a full 360 degree view of the scene and instantly view the 360 photos on the OSCR Tablet. No training required. An on-scene review confirms that all necessary evidence photos have been captured and documented.
OSCR was designed with and by the voice of Law Enforcement. Way too many products are sold to investigators that have never been put through the "Cop Test". From the beginning OSCR was developed utilizing input from many different Law Enforcement Investigators. It was determined that OSCR360 had to be easy to set up and use but had to be able to capture photos of a scene in a way that Law Enforcement had never seen or had the ability to do before.  
With OSCR360, you can incorporate multi-media evidence files. The completed presentation is a visual walk through of the facts and circumstances for litigation. OSCR360 brings a completed investigation to life and allows others to see the crime or crash scene through the investigators eyes.

Retired Sergeant Grasso Bio:
A retired police Sergeant with over 27 years Law Enforcement experience. He served  as the Town of Enfield, CT Director of Emergency Management, Law Enforcement Grant Writer, Public Information Officer and Federal Emergency Management Agency (FEMA) Liaison. Sergeant Grasso is a court deemed expert in several different specialized areas of motor vehicle collision reconstruction. Sergeant Grasso served on the ANSI D-16 panel and is currently a Certified Police Academy Instructor in the areas of Collision Investigation and Traffic Enforcement.
"OSCR360 is a gift to crash reconstruction. It typically takes an average of 45 minutes to take still photos of a crash scene. With OSCR360, I was able to capture everything I needed in 30 seconds. This equipment easily allows us to document a collision in a clear and concise manner & shows a true and accurate depiction of the crash and the environment. "
Retired Sergeant Charles Grasso
Crash Reconstructionist, CT
"[OSCR]360 was used in the prosecution of Jonathan Ortiz for Murder in the Second Degree. It was used during the testimony of a main witness in the case [in the courtroom.] We were able to have the witness walk through the crime scene with the use of the 360. The jury was able to see the witness's vantage point of the events that occurred. The witness was able to articulate where all of the parties involved in the crime were located through the use of the 360. We were pleased with the results since it helped us explain the crime scene to the jury."
Julie M. Hahn, Esq.; Assistant District Attorney;
Chief, Major Felony Bureau Monroe County, NY
"I thought [OSCR360] helped consolidate all the information we had to consider and make things clearer. We wish we could have taken it to the deliberation room..."
Trial Juror #9
Rideout Murder Trial
Have additional questions?
Interested in seeing a web demonstration or an in-person demo?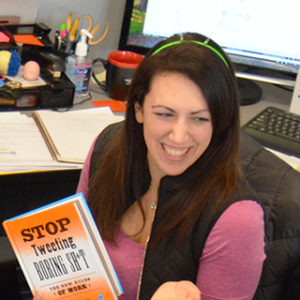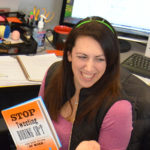 Fill out the contact form and Julianne will get back to you within one hour on the same business day.
Contact us immediately by calling 800-830-9523 x115.