What is Electronic ticketing, eCitation?
Commonly known as eCitation, electronic ticketing is a faster and more efficient way to generate reports and citations in the patrol vehicle. Capturing driver's license (DL) information electronically by scanning the DL barcode, and or bar-codes from registrations or other forms, officers can complete their reports easily, quickly and error-free.
How eCITATION ASSISTS WITH OFFICER SAFETY
How Long does it take you to hand-write citations?
Hand writing citations is very time consuming and officers jeopardize their safety by spending too much time curbside using a manual process.
Handwritten citations can take 15 – 20 minutes or longer to complete; by using an electronic citation process the average time of stop, data run and ticket entry is between 4-5 minutes. Getting you off the curb quicker and back on patrol keeping your communities safe.
Moving to an error-free citation system, e-Citation speeds up the process and drastically reduces the number of illegible tickets.
See the simple eCitation workflow below:
[Video]: Handwritten vs electronic citations
Hear from three officers as they talk to the benefits of electronic citations with a 4910LR DL Reader compared to manually handwriting traffic citations.
What are some of the benefits?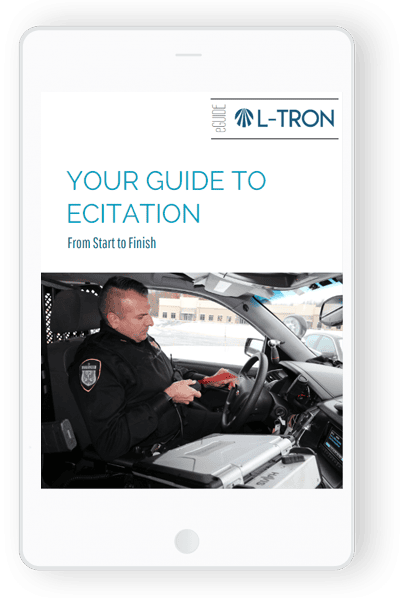 FEATURED CONTENT:
Your Guide to ecitation from start to finish
Most frequent questions and answers
First you need to find out what mobile reporting software you are using or going to be using.
Mobile reporting software is required to receive driver's license data allowing you to process citations and incident reports.  There are many public and private software applications available.
Supported public sponsored applications include: TraCS, MOVE, eCWS, KYOPS, SECTOR, and E-TIX. Let us know if you have any questions on ecitation software.
To outfit your entire vehicle from start to finish requires 9 different components.
Squad car e-citation equipment set ups include:
A purpose built 

driver's license scanner with a 

mic form factor PN 

4910LR
NEW! Mag mount for the 4910LR DL reader
An MDT/ Computer or Tablet
A mobile printer, like the popular Brother PocketJet7
Mounts and Cradles
Power Supply
Don't forget about the software
View a full list of eCitation equipment, descriptions and valuable information here: 
Patrol Vehicle Equipment
Driver's license data input requires a software application to easily process citations, accident reports, warnings, or other incident reports. Both public sponsored and private software applications are available and we can help recommend the best software application for your agency.
Examples of public-sponsored applications include:
digiTICKET
MOVE
eCWS
SECTOR
E-TIX
KYOPS
The 4910LR DL Reader can be configured to work with most public and private software applications.
There are several mounting options available for the PocketJet7 including armrest, headrest and universal mounts.  Other options are available for 4" printers.
3000+ municipalities across all 50 states have deployed our Law Enforcement equipment.
What's the Word on the Street?
"This [4910LR] scanner and mag mount is f***ing awesome."
"You guys have great service and a knowledgeable staff. I've met with some of your staff in person at vendor tables during police conferences and L-Tron has also been good to us and listened to our concerns and ideas in the past. We have a good working relationship."
"I was using an old scanner that looked like a gun with a big, heavy cord on it - like those Walmart scanners. The lights didn't work and it was bulky. It wouldn't read in the sunlight. It wouldn't read when the license is faded. I ended up manually typing my tickets and hating it."
"I must say, dealing with your company has been a great experience. The promptness of the responses and communication has been outstanding and I will be recommending your company to everyone in the law field."
The value for us is quicker turn around on jobs. Traffic stops and motor vehicle accident times are drastically cut when we use the 4910 to scan licenses and registrations. This makes our job easier, more efficient and gets us back on the road. When we have to manually enter data, we not only take longer but human error occurs. I don't know how many times I may have typed a name too fast and have transposed the letters only to find this out when I send my MVA in for review. The 4910 scans fast, accurate, and is very reliable.
We only select best of breed products for Law Enforcement. Here are some of the companies
we are proud to partner with to bring you the best equipment to outfit your patrol vehicle.