Printer Mounts for your Patrol Vehicle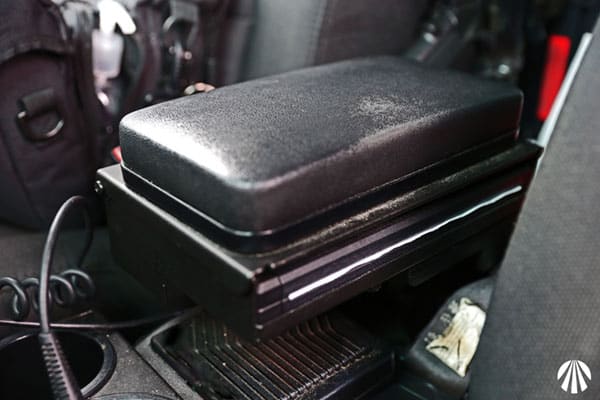 This image shows a printer armrest mount in a squad car.
Did you opt for an 8.5-inch printer for eCitation? If so, you will need to safely mount your printer in your patrol vehicle. There are a few different mounting options for your Brother PocketJet® 7 Printer (click for video on the PJ7), and other patrol vehicle printers. These types of printer mounts for Law Enforcement include:
Where do you mount your printer in your patrol vehicle? This depends on your vehicle's configuration. It's all about finding the right solution that fits your specific vehicle. Each printer mounting solution has different benefits to officer comfort and efficiency.

What should be considered when evaluating printer mounts for Law Enforcement?
The printer mount needs to be securely mounted to withstand the ever-changing speeds and conditions in your squad car. Safety first!

When choosing a printer mounting location, be sure to avoid loss of critical access to the siren, radio, or computer.

When long guns are mounted in the vehicle, guns can catch on armrest mounts upon removal. In this case, a standard mount or headrest mount might be preferable.

Standard mounts can usually mount inside your glove box or directly to cages or partitions (typically found in SUVs), but this is vehicle-dependent. 
If you are not sure which in-vehicle printer mount is the best option for your agency's fleet, our dedicated and knowledgeable Public Safety team is here to help. We will ask the right questions to make sure you get what you need so your Officers can get the job done. We provide support for the life cycle of the product/solution. We partner with leading manufacturers (including Brother, Havis, LEM, and Zebra) to set up the inside of your patrol car and meet your in-vehicle workspace needs.
Popular Printer Mounts for Law Enforcement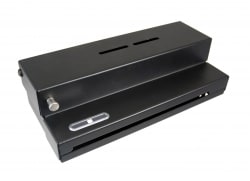 Quick Facts:
Compatible with Brother PocketJet 722, 723, 762, 763, and 773

Weight: 5lbs
Havis- Brother/Pentax PocketJet® Printer Mount with Top paper feed
Why we love it:
This Havis printer mount is universal. There are a lot of hardware options available to work with this model. You can mount it to a cage in a patrol vehicle. You also can mount it to a glovebox and there are a lot of configurations available to mount it to a Havis console to make it a functional armrest. This unit can also be mounted to a telescoping pole.

This Havis mount for the Brother PocketJet and Pentax PocketJet printers contains heavy aluminum housing for easily mounting to any flat surface. The wire plugs are enclosed in this unit for protection and the paper loads at the top of the housing. Clamshell open up.
There is a similar model, the Havis C-PM-101, that works best for partition mounts when mounted vertically. This model has a screw cap on top of the mount which screws in and clamps down on the roll of thermal paper. This prevents your thermal paper from bouncing up and down and holds it securely in place.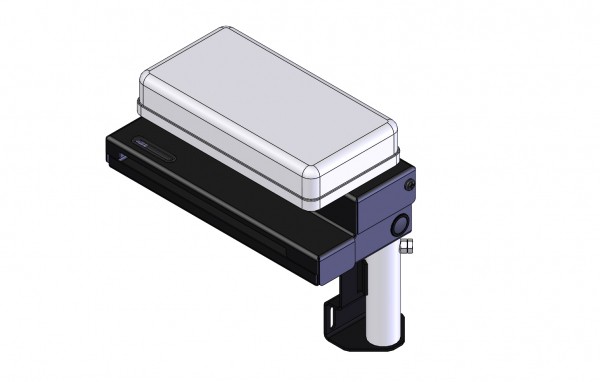 Quick Facts:
3.5″ adjustable height

7.25″ height above console

Weight: 17lbs
Compatible with Brother PocketJet 6 roll-feed printers
Havis - Brother PocketJet® Printer Mount & Arm Rest: Side or rear mounted pedestal
Why we love it:
This is an all-in-one solution to mount to the side of the console and have a functional armrest mount. 

This Brother PocketJet printer mount and armrest is a very popular option for your patrol fleet of SUVs and trucks. This padded armrest printer mount attaches to the side or rear console (it's not as high up in your vehicle) and this model has a unique design that tilts upwards 90 degrees and also rotates side-to-side. Paper loads from the top of the housing.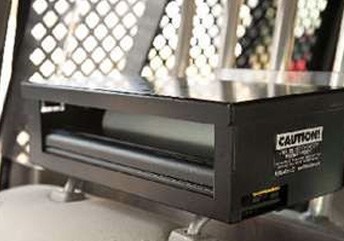 Quick Facts:
This patented headrest printer mount from LEM installs in seconds without tools.

Other LEM headrest printer mount models are compatible with

Brother Rugged Jet®

printers and the Zebra RW420. 
LEM Vehicle Headrest Mount for Brother PocketJet®
Why we love it:
This mount is an easy install. When vehicles are upgraded, you can easily transition this mount to your new vehicle with new mounting posts.

This headrest mount from LEM is easily interchangeable and maximizes the space in your vehicle. Easily reach for printed reports or citations from the passenger headrest. More headrest mounts are available for a variety of other printer types. If you don't see what you are looking for, call us, we're here to help you get exactly what you need for your patrol car.
Fill out this Contact Form
Interested in more information on eCitation printers, thermal paper or printer mounts for Law Enforcement? Fill out this contact form and Julianne will respond within one-two hours on the same business day. 
Need immediate assistance?
Call Julianne at 800-830-9523 x115.