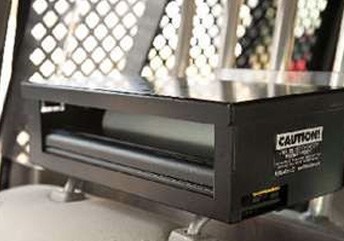 LEM Solutions, LLC is the leading manufacturer of patrol vehicle mobile printers. They are most popularly known for their line of patented Vehicle Headrest Printer Mounts. They are the first and only company in the United States to produce and bring to market the headrest printer mount. They also provide console and partition printer mounts. All of their products are USA made of heavy gauge black powder coated steel.
LEM Solutions' mounting equipment solves the problem of "there's not enough space" with their modular design. Because the owners are former law enforcement, they've been there, done that. They know the challenges of fitting everything into the compact space of a patrol vehicle and therefore designed a modular system that provides convertible mounting solutions for when makes, models, or preferences change.
L-Tron and LEM's Partnership
L-Tron is proud to partner with LEM Solutions. Here's why we have partnered with LEM and what this partnership brings to you:
L-Tron and LEM bring 40+ years of combined working experience with Law Enforcement.
LEM only works with a select network of verified resellers. 
Convertible products that meet your needs.

Customizable solutions to fit the make and model of your fleet.

Compatibility with mobile printers most commonly used by Law Enforcement including (but not limited to)

Brother Mobile

, and

Zebra

.

Mounting equipment that is sturdy, secure, durable, and provides easy access to other equipment in your vehicle while maximizing the space available.
We listen, ask the right questions, and help you determine exactly the right product fit for your application.
Fill out this contact form and Julianne will respond within 1-2 hours on the same business day.