The L-Tron Barcode Generator
Use this free barcode generator to create bar codes unique to your application. You can create 1D and 2D barcodes in various symbologies including: UPC Codes, QR codes, Code 39, Code 128, etc..
Technology is often created to make our lives easier. The invention of the barcode not only simplified inventory organization and management, but it consolidated all of the necessary data into a series of symbols. These symbols can be scanned and used to improve warehouse functionality, pricing, and more. The system is so simple that you can even create your own barcodes with the proper software- and that's where we come in.
Use L-Tron's free barcode generator to store all of your data in one convenient location. There are numerous uses for a barcode, but the most common is to keep track of data. Whether you are looking for improved product organization, better warehouse management, or reliable sales records, our barcode generator can help you set up a system dedicated to keeping track of your data so that you can focus your attention where it really matters.
Access the Barcode Generator
Follow these steps to generate your barcode on our L-Tron Direct site:
Select your barcode type
What do you want your barcode to say?
Add a caption and/or customize
Click "generate barcode" (while on the next page)
Save your custom barcode as a PNG or JPEG – or print it!


Need help? Click below to to read common FAQs:
Looking to generate and print multiple barcodes at once?
Consider these options:
Note: The L-Tron Barcode Generator is a free service and does not include any sort of guarantee or technical support. Accessing this generator with an automated script is strictly prohibited. If you need a more advanced barcode application, please call us or look at these bar code label creation applications.
Fill out this form. Julianne will be in touch with  you within on the same business day.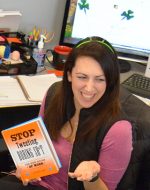 Julianne can be reached at:
800-830-9523 x115