PREPARE  RESPOND  PROCESS & REVIEW
ACTIVe SHOOTER
Video 1: Andy McNeill discusses how OSCR360 assists with active shooter and critical incident preplanning, response, processing & review.
Andy has 20 years expereince in Law Enforcement. He is an ACTAR-Accredited collision reconstructionist and IAI-Certified senior crime scene analyst.
OSCR360 teams with you and helps you prepare for the unthinkable. Familiarize yourself with schools and public spaces.
Video 2: Andy McNeill discusses how OSCR360 teams with you to prepare for an active shooter.
Document Schools
& High Value Targets
Quickly document schools, large public places and buildings with 360 degree spherical photos. Take a virtual tour of your documented locations with the OSCR software.
Immediately Reflect Building Changes
Any new construction or building changes can easily be documented and updated in the OSCR software. Use the most up-to-date imagery and mapping.
Provide Proactive, Individualized Training
Use the OSCR360 projects to train on your schedule. No training classes needed. Familiarize yourself with school and building interiors. You can access virtual tours any time you want.
The OSCR360 Virtual Tours are available at all times with the free OSCR software viewer.
Share your OSCR360 virtual tours with other jurisdictions, EMS, Fire Departments and Dispatch Centers.
Confidently and proactively plan and be prepared for unthinkable events.
Have more confidence to enter the building.
Have more confidence to lead your team. 
Have more confidence to lead your first responders through the building using  your OSCR360 project with accurate mapping and imagery, right from your command post.
Video 3: Watch how OSCR360 assists with responding to an active shooter.
Use OSCR360 to process the scene and review the incident.
Video 4: Watch how OSCR assists you with post incident documentation and assists you in the courtroom.
Post Incident Documentation
Start post incident documentation immediately. OSCR360 documents your scene after the incident is cleared.
Use the OSCR360 presentation software to deliver a virtual tour in the courtroom after the incident.
Review, modify and change critical incident response procedures.
Fill out the contact form to the right and Julianne will respond to you within 30 minutes on the same business day.
For immediate questions, please call Juli at 800-830-9523 x115.
OSCR360 is an easy-to-use, two-part system made up of a spherical photography capture kit and desktop software.
OSCR is on NYS Contract #PT66773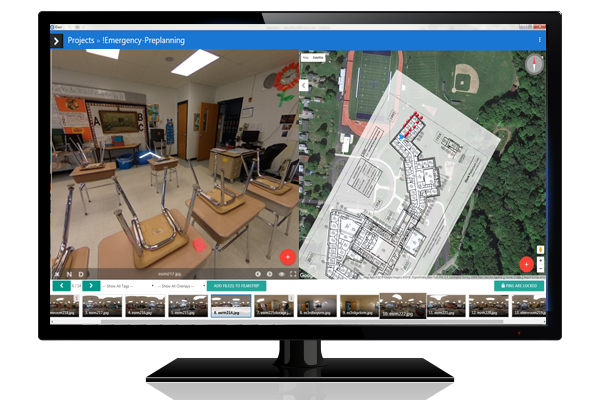 What is OSCR360?
Get a quick overview on the OSCR360 capture kit and desktop software.
"We are using OSCR360 to capture photos and floor plans of our schools, every hallway, classroom, utility closet, etc. In the OSCR software, we are overlaying the school blue prints on the map and placing pins on those blueprints to virtually walk through the building. The final projects will be uploaded to every single patrol vehicle in our fleet so that every officer and command personnel has access to the projects should a critical incident occur."
Deputy Victor Arena
Visit Us
L-Tron Corporation
7911 Lehigh Crossing
Suite 6
Victor, NY 14564