Everywhere. Every case. Every time.
Team with OSCR360 for crime scene investigations ranging from small municipal code violations to the most complex homicide scenes. Use OSCR360, a system designed and built from the voice of Law Enforcement, easily capture 360 degree spherical photos and present a virtual walk through of a scene. OSCR is built to fit your budget.
Retired Officer Pete Butler, Evidence Technician/CLE, and retired NYS DEC Officer/Investigator John Dobies talk about how OSCR assists in crime scene investigations.
OSCR360 Capture Kit & Desktop Software for
Crime Scene Investigations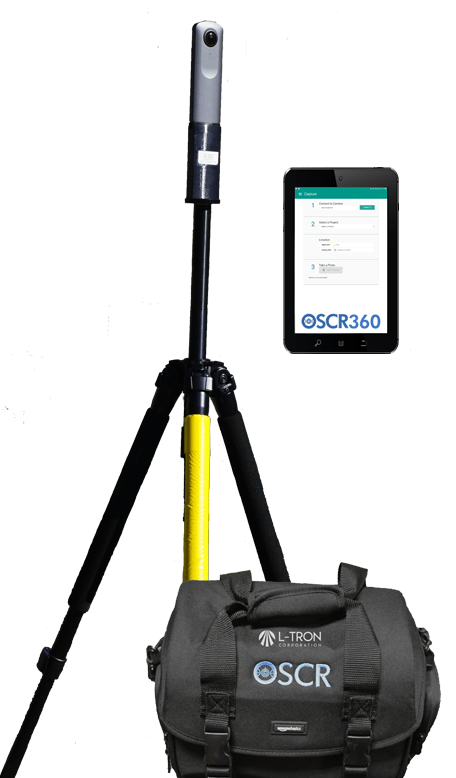 OSCR is a two-part multi-use system made up of a 360 degree capture kit and desktop software. Capture 360 degree images of a crime scene in seconds, instantly view your photos on the OSCR tablet, and sync your photos to the desktop software. The easy-to-use software organizes all of your digital evidence and is used to present a compelling and interactive virtual walk through of the scene. Present your case in the courtroom, to other agencies, investigators and officers, command staff and more.
OSCR is simple and easy to use. No post production is required and the system requires little to no training. OSCR360 was built from your voice by collaborating alongside Public Safety agencies. See how you can use the system for crime scene investigations below.
"We've been evaluating multiple systems and I feel like yours is the biggest and best bang for your buck. The price point is right, the camera and the software. You just get so much more for the perfect price." "I've been doing this for 11 years and your system is the first one I've seen that's designed specifically for crime scenes and all I can think is "FINALLY". Nothing is ever designed for us, we're just an afterthought and this is specific for us. Thank you."
"The capabilities of it [OSCR360] are spectacular. The capabilities that OSCR provides for someone on the inside to give information to someone on the outside are amazing."
"I've been doing a similar thing manually and on paper for years that I'm attempting to digitize but this would just make it so much easier. I can take 360s, import blueprints and maps, and then embed all of my inspection and/or FEMA documentation in one project and send it off. Amazing."
"This is absolutely phenomenal. Juries want to see the scene and sometimes we end up doing scene visits with our juries because they so badly want to see the scene. As soon as that person sits in the jury box, they think they're instantly an investigator and are trying to evaluate if you did your job. This allows them to think they're an investigator and also take them to the scene remotely. I absolutely love this."
"Everyone here is absolutely loving your product. We're using this on everything and our command staff loves it. Thank you for coming down and giving us the opportunity to purchase this. It's really great."
OSCR360 First in State User Pittsfield Police Department, MA
"We are putting the [OSCR] system into work right away. We just used it for a homicide case last week. It's going to prove very helpful in our investigation, certainly making it much easier for juries to understand the case."

Investigator, Pittsfield Police Department, MA
OSCR360 Difference Maker in Craig Rideout Murder Trial
Video Source: www.WHEC.com
How does OSCR360 Assist on Crime Scene Investigations?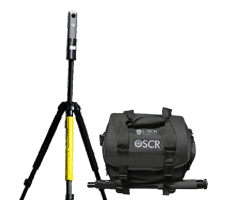 360 Image Capture
OSCR is small, light weight, and easy to bring to any scene. Quickly and easily set up the OSCR360 Capture Kit in under 5 minutes. On-screen tablet instructions make image capture in 4-10 seconds easy. No post production or training is required.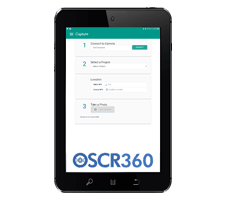 Instant Preview & Image Sync
Instantly preview your 360 photos on scene and show command staff using the OSCR tablet. Eliminate scene contamination and trampling. Easily and securely sync your 360 images to your OSCR desktop software.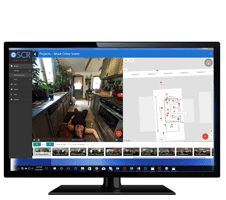 Build Your Case
Use your 360 degree photos as a container for other digital evidence. Embed 911 audio recordings, body cam footage, DSLR images, surveillance footage, images of lift cards, videos, overlay blue prints and more. Organize and relate all case evidence.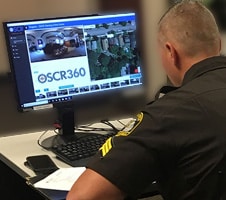 Take a Virtual Tour
OSCR makes it easy to connect the dots, present a multimedia virtual tour of the crime scene. Walk judges, District Attorneys, juries, surrounding jurisdictions, suspects and witnesses through the scene using the OSCR software. Use for a compelling courtroom presentation.
OSCR Teams with you on Crime Scene Investigations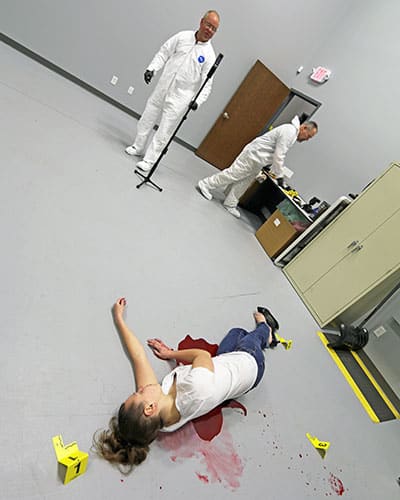 Homicides
Burglaries
Drug Investigations
Search Warrants
Hazardous Material Investigations
More Ways OSCR is Assisting on Crime Scene Investigations
CAPTURING THE INSIDE OF A VEHICLE
Easily document the perspective of a driver or a passenger inside a vehicle. OSCR also assists on crash investigations & crash reconstruction. Click here for more.
Investigators are using OSCR to document exactly how they are processing a scene. For example, pulling up a piece of the floor. Use OSCR to document the various stages and point to the exact location where a piece of flooring was removed.
Evaluate a scene before you enter. Use OSCR to screen for hazards or important evidence before you step into a room. Stick OSCR through a window or doorway, quickly capture a 360 photo and instantly view the image on the OSCR tablet.
Document small spaces by sticking OSCR through a crack in a door, up into a dark attic, or use in other small spaces such as trailers/mobile homes, bathrooms, and inside vehicles.
"We really like the ease of use [of OSCR360] and how quickly we were going to be able to document crime scenes."

Lieutenant, First-in-State OSCR360 User
"[We ordered OSCR] to help create presentations for our homicide unit and our command staff to show them what a crime scene looks like without them having to actually to into the scene and possibly contaminate the evidence that is present."

Officer, First-in -State OSCR User
Why Investigators love the Capture Kit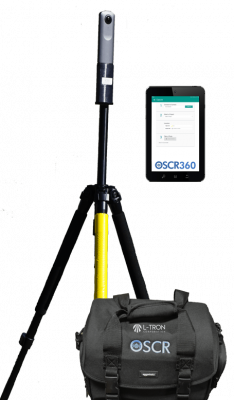 The entire capture kit weighs under 10lbs and is stored conveniently in one bag.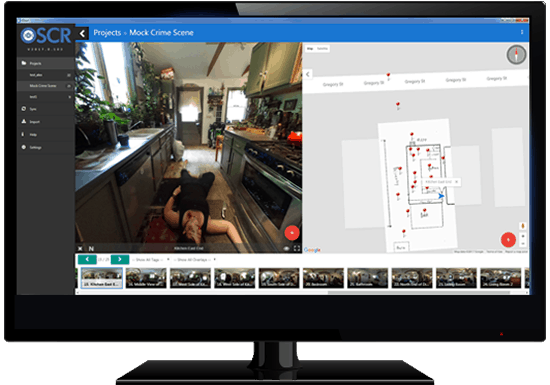 Built from the Voice of Law Enforcement
"We don't have a lot of time and we don't have a lot of resources but we need something to add to our toolbox and this is exactly what I've been looking for for my team."
"I have been using OSCR like crazy. It has really been a great purchase and time saver."
"OSCR is doing great! It is a huge asset to our department!"
Frequently Asked Questions (FAQs)
How long does it take to capture a 360 photo?
OSCR360 works as quickly as you do. Capture a 360 degree image in under four seconds. Capture an entire house in under 15 minutes.
What is HDR and why is it important?
HDR is the acronym for High Dynamic Range. This feature on the Capture Kit allows you to capture 360 degree images exactly the same way your eye sees the space you are documenting. HDR captures images in three exposures and automatically pulls the best of each image together. Capture 360 images in any lighting condition.
OSCR has been purchased by agencies across the country. OSCR360 users include:
Boston Police Department
Austin Police Department
University of New Haven, Henry C. Lee Institute of Forensic Science
Orange County Sheriff's Office
Sacramento Police Department & Fire Department
Scranton Police Department
Virginia Department of Game and Inland Fisheries
Interested in Meeting oscr Or talking with other Crime Scene Investigators who have used the system?
Fill out the contact form and Julianne will respond to your request within 1-2 hours on the same business day.