Everywhere. Every case. Every time.
Team with OSCR360 for fire scene and arson investigations, building documentation and code enforcement, HAZMAT incidents and training. Quickly and easily capture 360 degree spherical photos and present a virtual walk through of a fire scene or pre-fire plan. OSCR was built to fit your budget.
OSCR360 Capture Kit & Desktop Software For Fire and Arson Investigations
OSCR is a two-part multi-use system made up of a 360 degree capture kit and desktop software. Capture 360 degree images of a fire scene in seconds, instantly view your photos on the OSCR tablet, and sync your photos to the desktop software to create virtual walk through presentations. OSCR is easy to use and requires little to no training.  OSCR360 was built from your voice by collaborating with Public Safety agencies. See how you can use the system for fire and arson investigation below.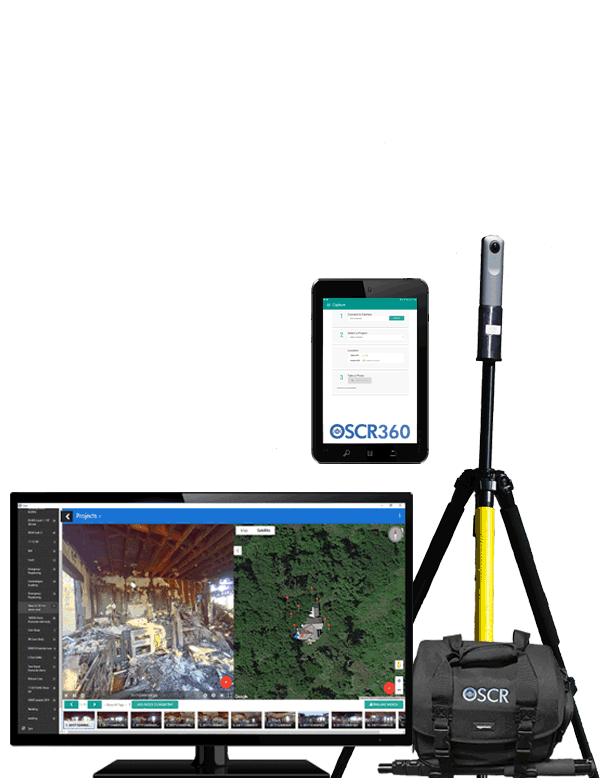 "Your representative Alex Myers was an excellent ambassador to represent the OSCR Software Program. Her intelligence, expertise with the product and dedication to the mission of the L-Tron Corporation to deliver a superior program to photo document the investigative process was clear and impressive to all members that she had contact with during her visit to the Unit. I will be meeting with Cmdr. and requesting his permission to initiate a research project on the potential to utilize the OSCR Camera and Software Program within the Chicago Fire Department Office of Fire Investigations Unit."
Special Case Fire Marshal
Chicago Fire Department
"This saves us time. Instead of taking 20+ photos just to get your overalls you can take what, 3 or 4, and then move on? That's awesome. For 1 man operations, when you're the only investigator that responds, this would be huge."
Assistant Fire Marshal
Fire Department, NY
"This is absolutely phenomenal. Juries want to see the scene and sometimes we end up doing scene visits with our juries because they so badly want to see the scene. As soon as that person sits in the jury box, they think they're instantly an investigator and are trying to evaluate if you did your job. This allows them to think they're an investigator and also take them to the scene remotely. I absolutely love this."
Fire Department
California
"We just bought a laser scanner…as in, it's still in the box. It's going to take us months to get trained, operational, etc. with it. [OSCR] is super easy and it's going to make a huge impact for us."
Fire Investigator
California
"Oh there's so many uses for this. I can see us using this [OSCR360] in operations, fire prevention, fire investigations, pre-planning… Yeah this is great."
Fire Marshal
North Carolina
[VIDEO] How the Sacramento Fire Department Uses OSCR360
How OSCR Assists on a Fire Scene or Arson Investigation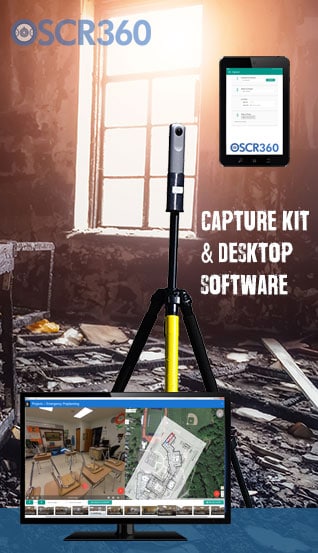 Common OSCR Uses for Fire Departments & Agencies
How Fire Departments use the OSCR Capture Kit
Capture perimeter photos, images of the crowd inconspicuously, and structural damage. Put OSCR on a tripod and take 360 photos through a window or open area to help you determine if a structure is safe to enter.
Once the scene is deemed safe to enter, OSCR captures point of origin and burn patterns, documents the digging process, and interior structural damage. OSCR orients North and allows you to orient yourself at the scene using GPS.  
Code Enforcement & Special Operations
OSCR can also assist Fire Departments & Agencies with documenting code violations, structure damage or potentially unsafe buildings. Special Operations teams use the system to document hazardous materials incidents, water or boating incidents and more.
Favorite OSCR360 Software Features from Fire Departments
"I could definitely see ourselves using this. Everything about your software and camera is as quick as it can be."
"You can put a big 'L' next to our name because we LOVE this! I understand it. It's what we've been looking for. You've sold me."
"We could use this for pre-fire planning in hospitals, pre-incident planning & active shooter response. If there's an active shooter, we are going in the school to respond because we are law enforcement. We could use it for that. We could use this for training sessions."
Here are some frequently asked questions we have heard from Fire Marshals, Fire Investigators, and Fire Departments.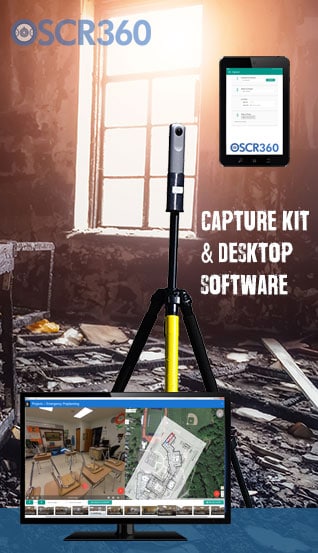 How much does OSCR360 cost?
A complete OSCR360 capture kit and (1) desktop license starts just under $12k. Accessories, such as a 27ft tripod, and additional licenses are offered for an additional cost. First-in-State discounts are available. Make sure you ask us about this! Click for more on pricing.
Can I bring OSCR to a wet scene?
Yes. You regularly enter dark, wet, dangerous scenes. An add-on OSCR360 Rain Kit is available to protect the OSCR360 system in wet and dripping environments. The protective housing can easily be wiped down after use. OSCR is being used by Fire Agencies in wet environments, during chemical and biological threat incidents, meth lab investigations, MRSA scenes and more.
How quick can I take 360 degree photos?
OSCR360 works as quickly as you do. OSCR360 can take pictures as quickly as you can walk from room to room. Quickly capture your overall photos in 360 degrees in under 4 seconds.
Why is HDR important and what is it?
The OSCR360 Capture Kit allows you to take photos in HDR mode. Use HDR mode to capture charring and scaling, even in poorly lit and dark conditions, which are often present during an arson investigation. HDR stands for High Dynamic Range. This setting allows you to take and view photos exactly how your eye sees the room. 
How will OSCR benefit my Department?
OSCR brings speed and ease to arson investigation and scene documentation. Quickly take overall photos in 4-10 seconds. Instead of 40-60 individual DSLR photos, take 3-4 OSCR photos to capture your scene overalls. Build your OSCR360 project with the desktop software. Embed points of interest and use OSCR projects to show context and burn patterns, use in the courtroom, and /or use for preplanning and training.
Why do I need the desktop software?
The OSCR360 software gives you the ability to walk through a space as if you were there.  It not only contains your 360 degree photography, but allows you to add in multi-media files (including blueprints, video files, audio recordings, and more). Create a fully interactive project within OSCR360 and use the final project for continuous training. You can choose to share the OSCR projects with other agencies including schools, hospitals, Police Departments, or county officials. You can even use the OSCR360 projects for joint agency training for active shooter drills and pre-fire emergency response plans.
What is the First-in-State Discount?
Additional Fire & Arson Resources
Here are some additional resources for first responders, arson investigators and fire marshals. Read more about how OSCR is the fire investigation tool assisting agencies across the U.S., or hear about our most recent trip to the NYSIAAI conference.
Interested in hearing more about OSCR360 for fire & arson investigation? Fill out the contact form and Julianne will reach out to you within 1-2 hours on the same business day.
For immediate assistance, you can reach us by:


7911 Lehigh Crossing Suite 6 Victor, NY 14654