Laptop Computer & Tablet Docking Stations for your Patrol Vehicle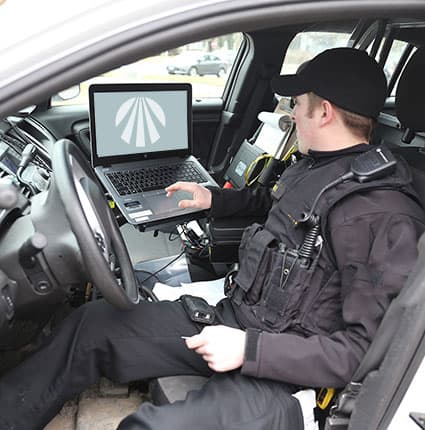 Docking stations and cradles keep your laptop/tablet securely in place within your patrol vehicle's mounting system.
What's the difference between a docking station and a cradle?
Docking stations provide an additional power source for your vehicle. They offer built-in port replication and power supply, including USB ports and Ethernet ports. Simply put, docking stations replicate the connectivity options found on your laptop or tablet. Plug your 4910LR Driver's License Scanner or your mobile printer directly to the docking station. Once your laptop or tablet is in the docking station, you are automatically connected to these devices. Easily remove your computer or tablet without unplugging everything else. The price point is higher than a cradle, but many consider the convenience worth it.
Cradles are offered at a lower cost than docking stations, but be aware that cradles may or may not offer a power supply. If you are plugging in additional devices, they will be connected to your computer and not the cradle. If you need to remove your laptop, you will also need to unplug the additional devices from your computer and reattach later when you return the laptop to the mounting system. 
We partner with leading docking and cradle manufacturers (including Havis) to bring you rugged options that will withstand your patrol car environment. Below you will find popular docking stations for Law Enforcement. Don't see what you're looking for? No worries – there are dozens of other models available and we ask the right questions to help you find one that will meet your specific requirements and needs. We provide support for the life cycle of the product/solution.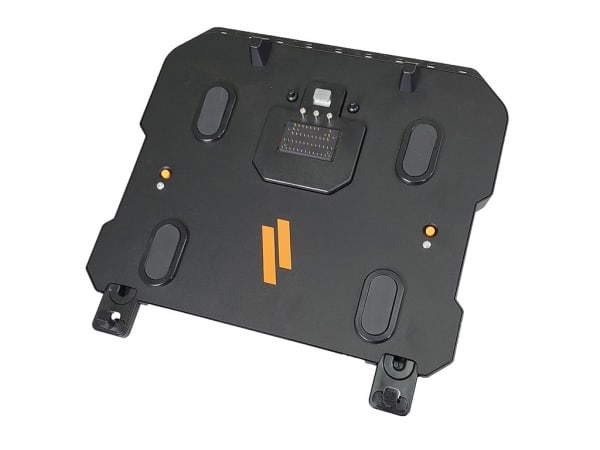 Quick Facts:
Height: 11.8" (30.0 cm)
Width: 12.8" (32.7 cm)
Depth: 3.5" (8.8 cm)
Weight: 5.5 lbs (2.4 kg)
Best-in-class circuit and power system supports fully powered USB 3.0
USB: Fully-Powered USB 3.0 (3)
USB: Fully-Powered USB 2.0, front accessible (1)
Ethernet: RJ45 (1)
Vibration Testing: MIL-STD 810G 514.5
Havis Laptop Docking Station for Dell® Latitude Rugged 14" & 12" Notebooks/2in1 (5414, 7414, 7214, 5420, 5424, 7424) containing Internal Power Supply (Basic port replication)
Part Number: DS-DELL-417
Why we love it: The DS-DELL-417 has both fully functional front and rear facing port replication for maximum in-vehicle flexibility. There is also strain relief for connectors to prevent accidental cable disconnection and loose cable connection. Make sure you are always connected to the devices you need.
This Havis Docking Station securely holds your Dell Latitude Rugged 12″ and 14″ laptops in place in your patrol car. This docking station offers computer charging, security and connections to additional in-vehicle peripherals (like your 4910LR Driver's License Scanner or mobile printer). 
Designed with safety in mind, the docking station is lightweight, has a low profile and rounded edges. Havis' locking system and front hooks on this dock prevent theft by keeping your rugged laptop secure.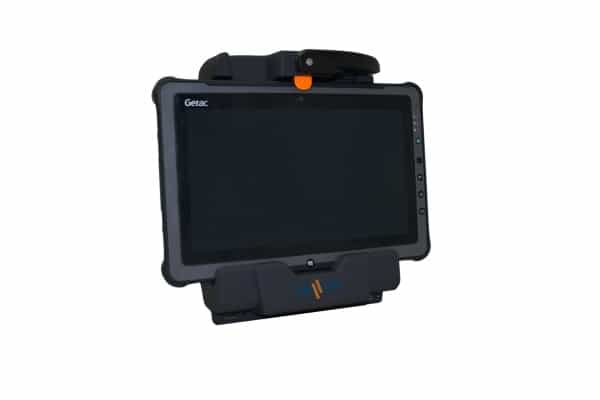 Quick Facts:
Height: 11.1" (28.2 cm)
Width: 8.7" (22.2 cm)
Depth: 4.4" (11.1 cm)
Vibration Testing: MIL-STD 810G 514.5
Connectivity includes: 
Serial: DB9 (9-Pin) connection (2)
USB: fully-powered USB 2.0 (3)
fully-powered USB 3.0 (1)
Ethernet: RJ45 Ethernet (1)
video: VGA (1)
HDMI (1)
speaker & mic: (1 each), input voltage: 19V DC
Havis Docking station & Power Supply for Getac F110 Tablet
Part Number: DS-GTC-212
Why we love it: This Havis Docking Station for the Getac F110 Tablet provides peripheral connection to commonly used DL readers, printers, and keyboards while securely holding your tablet in place. The downward facing port replication protects the cables from strain and accidental disconnection. 
The DS-GTC-212 securely holds your F110 tablet in place while providing charging capabilities. This docking station also comes with a lock and key for theft protection. 
Fill out this Contact Form
Interested in more information on laptop/tablet docking stations for your patrol vehicle? Fill out this contact form and Julianne will respond within one-two hours on the same business day. 
Need immediate assistance?
Call Julianne at 800-830-9523 x115.