Driver's License Scanners/Readers for Electronic Ticketing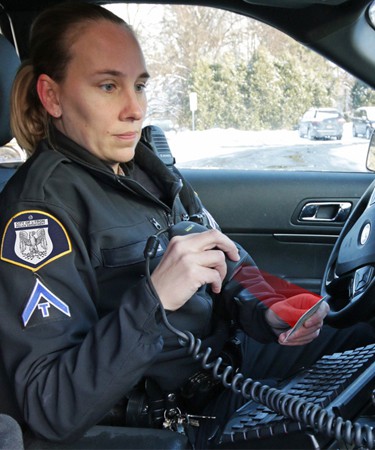 What is a drivers license scanner?
A drivers license scanner is used for e-citation and incident reporting to electronically capture the information on the front of a driver's license. 
Driver's licenses each come with a unique PDF417 barcode on the back which is approved by the AAMVA (American Association of Motor Vehicle Administrators). All of the motorist's personal information that is found on the front the license is neatly stored within this barcode.
Instead of manually hand-writing or typing in this information, Officers can instantly scan the barcode with the 4910LR Drivers License Scanner and the information will automatically populate into the traffic citation or incident report being filled out on your in-car computer.
The 4910LR DL reader is purpose built from the voice of law enforcement, created directly by collaborating with state and local Law Enforcement agencies.
Discover more about electronic ticketing in: [eGuide] Your Guide to eCitation from Start to Finish.
The Benefits of Electronic Driver's License Data Capture
4910LR Drivers License Scanner:
Built directly from the voices of Patrol Officers and State Troopers
The 4910LR is a purpose-built drivers license scanner for ecitation, crash and incident reporting. The 4910LR is the only eCitation scanner built for Law Enforcement, directly from the voice of patrol officers and state troopers. 
After a casual conversation with a state police agency, it was uncovered that law enforcement had many pain points with their current ecitation barcode scanner. Utilizing our knowledge and ability in AIDC technology (Auto Identification and Data Capture – a fancy term for data collection technology) and our internal engineering capabilities, we jumped at the opportunity to build a new ecitation barcode scanner by collaborating with Law Enforcement.  Over the years of collaboration and feedback, three generations of the 4910LR were created: the 4710LR, the 4810LR and the 4910LR. Each generation of the driver's license barcode scanner was updated from your voice – and were improved to meet an Officer's unique needs. 
We are proud to work with and for Law Enforcement – bringing your ideas to reality.
2018 4910LR Magnetic Mount
In 2018 the Magnetic Mount for the 4910LR was launched, again created from Law Enforcement feedback. 
We heard from many Officers that they were not using the mic-style clip as much as they wanted to and often times didn't clip their 4910LR in place at all.
We went to work and created a magnetic mount. All you need to do is get the scanner near the magnetic mount, and the scanner grabs the magnet and is held firmly in place. 
During the lifespan of the 4810LR, the L-Tron team was documenting all feedback from Officers using the 4710 and 4810 driver's license scanners – recommendations for improvement, wish lists, new features they wanted to see, etc. Again, working alongside local & state agencies,  L-Tron engineers went to the drawing board (the first concept drawing of the 4910LR was on a napkin!) Evaluation units were sent out for agencies to test and we continued to gather feedback. The end result was the 4910LR – an ergonomic, heavier, microphone-style driver's license reader with many enhanced scanning and imaging features. The Black Beauty was born.
Our engineers went back to work to create a new DL Reader for the patrol car when the 4710LR hardware was nearing end of life. This required a redesign and focused on form, fit and function. A smaller and lighter form factor was selected, and the new 4810 resembled the familiar radio microphone found in patrol cars. More robust mounting was added, as well as a coiled USB cable and custom firmware. This second gen model was not a product designed for a retail counter or a factory floor, it was again built from the voice of Law Enforcement.
The 4710LR was designed and built from the voice of Law Enforcement. This DL reader was the first electronic ticketing scanner designed and built for law enforcement. We worked alongside several agencies throughout the whole process. What made the 4710LR unique were features incorporated directly from agency feedback: 
• It didn't have a handle (like your librarian or grocery store scanner).
• Officers could now easily & safely mount and store this scanner.
• Ended the need of an added power brick (your vehicles are crowded enough).
• Added functionality of grayscale image capture to easily attach images to incident reports.
4910LR Driver's License Reader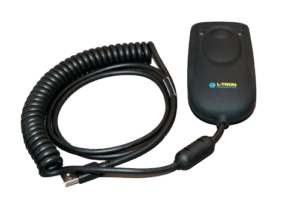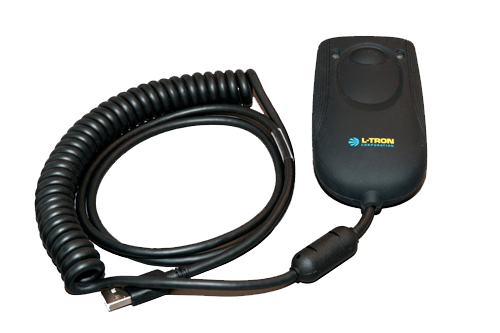 Quick Facts:
Scans in all lighting conditions 

Gray-scale image capture capabilities

Upgrade your 4910LR with a magnetic mount clip for easier mounting and storing
Click for Mag Mount Details
L-Tron 4910LR DL Reader
PN: 4910LR-152-LTRK
Why we love it: This DL Reader was developed by you, for you, specifically for eCitation. 
It has a familiar microphone style size and weight and scans in all lighting conditions. It even scans hard to read, highly reflective surfaces and damaged barcodes. Use the gray-scale image capture for report-enhancing photos, ink on paper sketches, and intelligent signature capture. We work to serve you. 
The latest model, the 4910LR-152-LTRK, is purpose built from the voice of Law Enforcement.
You've told us that you don't like those heavy, clunky 'Walmart scanners' and 'library scanners' so we went to work for you. We first came out with the first gen 4710LR, and have since made improvements to the design with your thoughts, feedback and ideas. What's even better? The 4910LR is compatible with most public and private eCitation software applications including: TraCS, digiTICKET, MOVE, eCWS, KYOPS, SECTOR, and E-TIX. For more information on software information, click here.
Thousands of 4910LR DL Readers are deployed across the country and are being used by Officers every day.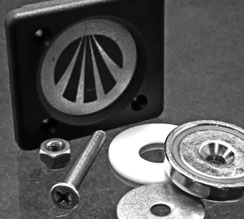 Quick Facts:
70lb engacement force
Keep your 4910LR secure, prevent it from going airborne
Compatible with the 4910LR-151 and 4910LR-152 models
L-Tron Magnetic mount for the 4910LR DL Reader
PN: 4910LR-MM
2018: Officers and police agencies were telling us that they usually didn't like the standard mic clip for the 4910LR. Listening to feedback and Officer pain points, our team went to work and developed the easy-to-use magnetic mount designed for the 4910LR. 
 The magnetic mount was built with a self centering design making it quick and easy to place the 4910LR to the mount. As soon as the scanner mag mount is close, the magnet engages the 4910 scanner, holding it securely in place. Its just as easy and quick to release the 4910LR for use.
The 4910LR magnetic mount uses an N52 grade Neodymium magnet. It is a high grade, small magnet with a lot of power. It has rare earth properties to withstand rugged environments like your patrol car.
4810LR Driver's License Reader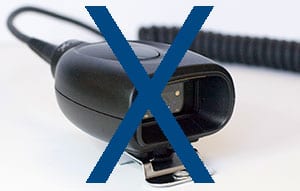 Quick Facts:
PDF image Reader decodes linear and PDF-417 symbologies and captures images
Omnidirectional reading of linear, AAMVA PDF-417, MicroPDF417

TraCS compatible imaging firmware

EOL (date)
L-Tron 4810LR DL Reader (CCD 2D Barcode Reader for in-vehicle use)
PN 4810LR-153-LTRK
Note: This product has been replaced with the 4910LR.
The TraCS compatible 4810LR was launched in 2008. This ecitation barcode scanner reads the barcodes found on driver's licenses and registrations to automate data capture for ecitation, crash and incident reports. It also has imaging capabilities. 
The 4810LR-153-LTRK kit came ready to install. Connect the compact scanner to the USB Port of the vehicle computer including drivers for Microsoft Windows 2000, and XP which map the USB connection to a virtual com port. 
Features of the 4810LR include: 
– Optimized focal point and illumination for reading driver licenses and registrations
– Small size
– Integral microphone button compatible with microphone clip
4710LR Driver's License Reader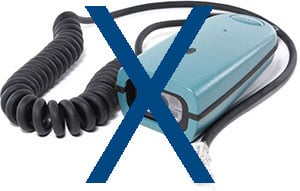 Quick Facts:
2D image reader decoding linear and 2D barcodes
Omnidirectional scanning of AAMVA and PDF-417 barcodes

TraCS compatible imaging firmware
L-Tron 4710LR DL Reader (Hand Held Products Custom Imaging Scanner)
PN 4710131-LTRK-USB
Note: This product has been replaced with the 4910LR.

The first law enforcement barcode scanner, the 4710LR, was launched in 2004. This drivers license scanner was purpose-built from the voice of Law Enforcement to easily scan drivers license barcodes and registrations for electronic ticketing and incident reporting.  
The 4710131 Kit is not the traditional gun-style scanner. It doesn't have a handle and fits nicely into your hand. It is easy to install and connects to the USB port of your in-vehicle computer. 
The 4710131 Kit contains all you need for install and connect a compact 4710 scanner to the USB port of the in-vehicle computer including drivers for Microsoft Windows ME, 98SE, 2000, and XP which map the USB connection to a virtual com port at installation.
"I was using an old scanner that looked like a gun with a big heavy cord on it - like those Walmart scanners. The lights didn't work and it was bulky. It wouldn't read in the sunlight. It wouldn't read when the license is faded. I ended up manually typing my tickets and hating it. With the new [4910LR] scanner, I love how you push the button one time and it reads the license."
Officer
South Carolina
"We have over the past several years ordered approx. 20 of your 4910LR's. and I will only order your product for my people."
Chief
"There's a huge difference between handwriting and writing the ticket with a scanner."
Officer
New York
"I must say, dealing with your company has been a great experience. The promptness of the responses and communication has been outstanding and I will be recommending your company to everyone in the law field."
Chief
Visit our eCitation Resource Center for case studies and videos, read Officer and Agency success stories, whitepapers and eGuides, and explore more e-citation products and mounting options.
Fill out this Contact Form
Interested in more information on the 4910LR Drivers License Scanner? 
Fill out this contact form and Julianne will respond within one-two hours on the same business day. 
Need immediate assistance?
Call Julianne at 800-830-9523 x115.