Faster, More Efficient & Safer eCitations
Designed and Built from the Voice of Law Enforcement
Authored by: Carmella Giancursio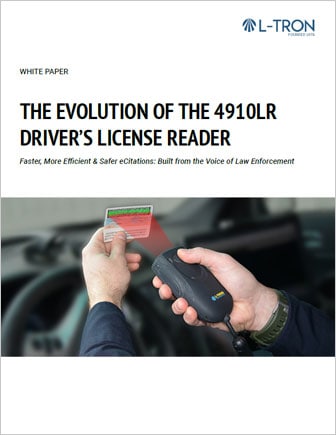 White Paper Summary
The Evolution of the 4910LR Drivers License Reader white paper is a free resource for law enforcement agencies from state and local municipalities.
Discover how the law enforcement community contributed to the development of the 4910LR Drivers License Reader. The current model provides a solution to common officer challenges and addresses the pain points Law Enforcement has experienced with handwritten citations and previous driver's license scanners. 

Serving Your Community with the 4910LR 
Law enforcement exists to serve the community. Keeping the peace, ensuring the public's safety, helping those in need, and enforcing laws are all within the job description of a patrol officer.  
The 4910LR, built for electronic ticketing, is fast, efficient and designed to assist patrol officers at roadside stops, traffic incidents, and collisions. Officers no longer have to spend large portions of time on the roadside, filling out tedious handwritten forms, reports, and tickets. Instead, the 4910LR instantly scans a motorist's license and auto-fills the information into the appropriate form(s) electronically. Within moments, the citation is complete and the officer is back on patrol, keeping the community safe – and keeping officers and motorists out of harm's way. eCitation requires a fraction of the manpower, and results in huge time and cost savings for the greater community. 
"The Evolution of the 4910LR Drivers License Reader" white paper talks to the evolution of two previous scanner designs, a highly involved engineering process, and ultimately, the adoption of the 4910LR by thousands of agencies and officers nationwide.
White Paper topics covered include:
Electronic Ticketing before the 4910LR Drivers License Scanner 
Voice of Customer Collaboration
Previous Scanner Versions (4710LR & 4810LR) 
Law Enforcement eCitation Challenges
Features of the Current 4910LR 
The Magnetic Mount Add-on Accessory
Components of an eCitation Solution
User Testimonials
Helpful Links and More
"The value for us is quicker turnaround on jobs. Traffic stops and motor vehicle accident times are drastically cut when we use the 4910 to scan licenses and registrations. This makes our jobs easier, more efficient and gets us back on the road. When we have to manually enter data, we not only take longer, but human error occurs. I don't know how many times I may have typed a name too fast and have transposed the letters only to find this out when I send my MVA in for review. The 4910 scans fast, accurate, and is very reliable."
Police Officer, New York
---
What is "Voice of Customer?" 
In short, "Voice of Customer" means we couldn't have done it without you. Prior to engineering a solution, we listen. The thoughts, feedback, needs, and challenges of our clients guide our next steps. Then, we work hand-in-hand with our clients to develop a solution. 
As this white paper explains, the 4910LR is not an "L-Tron Solution," but rather a "Voice of Customer Solution." Through each iteration of the drivers license scanner, we listened to and collaborated with Law Enforcement to make the 4910LR what it is today: a valuable, well-loved tool that is used in over 5,000 law enforcement agencies across all 50 states and Canada.  
Fill out the form below to download the white paper:
'The Evolution of the 4910LR Driver's License Reader'

At L-Tron, our mission is to educate and give back by sharing knowledge. We create educational content from the expertise of our team of engineers, retired Law Enforcement, developers and client success managers.
We believe knowledge is power and we want to share that knowledge to anyone who might benefit from it.
Once you submit the form, you will receive a download link to the email address provided in the form.
This white paper is a PDF so you are able to view it on any device.