St Matthews PD was hand-typing all citations before the 4910LR DL Reader was implemented. Learn about their results with eCitation and the 4910LR in this case study.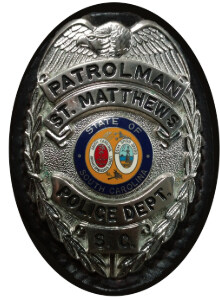 Setting the Stage with St Matthews Police Department
A two-minute read…
See all the benefits St Matthews Police Department is now experiencing by switching to eCitation with the 4910LR DL Reader.
After contacting L-Tron to order a Brother Pocketjet 7 mobile printer, the Police Chief at St Matthews requested a 4910LR T&E unit and gave it to one of his patrol officers for a test run. Due to budget constraints, the department did not have funds to purchase the 4910LR scanner. The Officer loved the 4910LR driver's license reader so much, he offered to purchase it out of his own pocket.
Benefits & improvements for the South Carolina department included;
Improved performance
Convenience
Increased speed
Efficiency
Improved Officer safety
Increased situational awareness
"I love how you push the button one time and it reads the license. I probably went from writing 10 citations a week to 30 with my new [4910LR] scanner."

Officer, St Matthews Police Department
[Video]: How eCitation Assists with Officer Safety
How eCitation Assists with Officer Safety.
Thousands of our 4910LR DL Readers have been deployed in 49 states.
Click to view who we work with.
Download the St. Matthews Police Department Case Study
Fill out the form below. Once the form is submitted, you will receive an email with the link to the case study. This case study is in PDF format, viewable on all of your devices.