VICTOR, N.Y. – Oct. 4, 2017 — L-Tron Corporation is proud to be a sponsor of the 31st annual Traffic Crash Reconstruction Conference in Springfield, Illinois from October 3-6, 2017. The conference is presented by the Illinois Association of Technical Accident Investigators (IATAI) and is designed to provide education, training and networking opportunities for professional crash investigators and reconstructionists.
What is OSCR360?
L-Tron is exhibiting OSCR360, designed to revolutionize the way you capture, preserve and present a fair and accurate representation of a crime or crash scene. Not a Total Station, not a 3D laser scanner, OSCR360 is designed for traffic crash and crime scene investigations to capture, preserve, and present the ancillary evidence to improve efficiency and prevent scene contamination. Clear the road quickly after a crash, use the irrefutable evidence photos to support the facts in court. As equipment that is made in America, cost effective, no training required, OSCR recently made the news when it was used successfully in court by prosecution during closing arguments in the high profile Rideout Murder trial in Rochester, NY.


The picture below shows an example of how OSCR can best be utilized to present a crash scene's evidence. The user-friendly equipment allows investigators to group together all the 360° pictures to present ancillary evidence as if someone was looking through their eyes.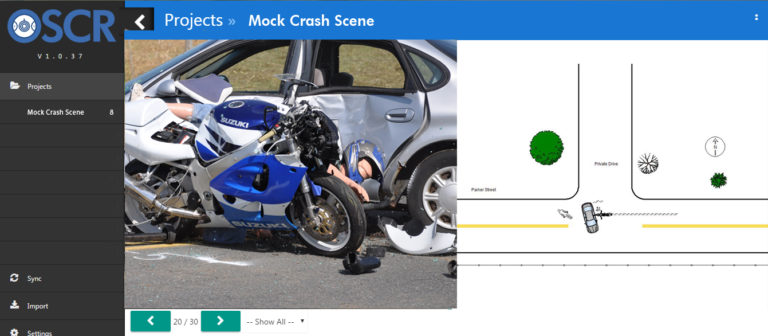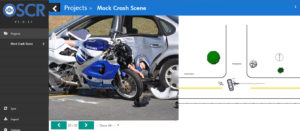 L-Tron sponsored a networking event at IATAI on Tuesday, October 3, from 6:00 pm until 8:00 pm. Industry experts, Trevor and Julianne attended the conference to provide a demonstration of the OSCR360 Equipment for Crash Investigation and Reconstruction as well as answer questions and provide information about the equipment. On Wednesday, October 4, OSCR was used in a crash test, that will be followed by a presentation on Friday, October 6 where the OSCR360 equipment and software will be used to summarize the test and outcomes.
About L-Tron
L-Tron is proud of its 17+ year working relationship with Law Enforcement, Public Safety and Government Agencies. Deployed across 2,000 municipalities in 48 states nationwide, our equipment offerings are purpose built from your voice – including both the 4910LR DL reader as well as Light Grenade. Our portfolio expands through our partnerships to bring you world class solutions tailored to meet your needs. Our partnerships include: Honeywell, Zebra Technologies, Brother, Getac, Havis, and more. Information about L-Tron and their other Law Enforcement solutions can be found at https://www.l-tron.com/law.