The process that once took 20 minutes to file and weeks to process through the system has finally come to and end. That's right, the times of manually writing citations and incident reports are long gone – and replaced with eCitations. If you're unfamiliar with the term, eCitations are digital versions of the reports and citations that aim to fulfill three main objectives:
Increase public safety
Increase efficiency and accuracy
Increase return on investment
Rather than writing up blocks of text explaining how eCitations accomplish these objectives, this infographic says it all: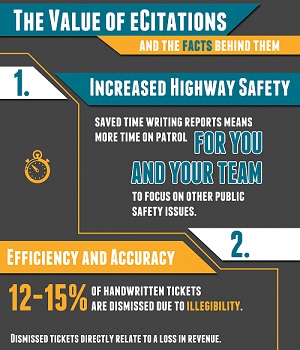 Click here to view the full eCitation infographic.
Now introducing the hardware that makes eCitations possible: L-Tron's 4910LR. This in-car license reader gathers information through the barcode on the back of a license to collect data instantly. Saving time and increasing efficiency, here are the benefits of the 4910LR:
Scan 2D barcodes
Capture images and signatures
USB-compatible
Ruggedized
Compatible with most eCitation software, including TraCS
No moving parts
Green aiming light, red scanning light
No installation
We're here to help and answer any questions you may have. Contact us at info@L-Tron.com or at (800) 830-9523.
About the author: RAD DeRose is the President & CEO of L-Tron Corporation. He has over 30 years of experience in industrial automation and data collection solutions and brings a deep knowledge-base on the challenges faced in commercial and public safety sectors.