As the L-Tron team is working with Law Enforcement agencies, traveling, and attending conferences and events, we hear many questions about Law Enforcement technology products and solutions.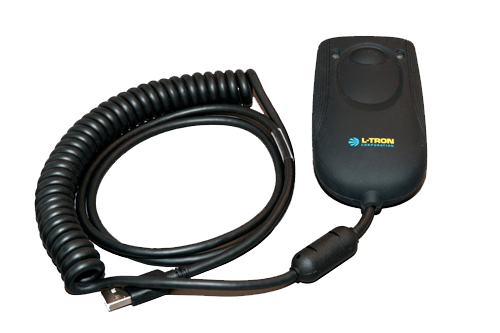 Agencies want to discover more about all sorts of Law Enforcement technology topics. This ranges from information about our 4910LR Driver's License Scanner, a virtual demo of OSCR360 to suggestions from our team on the in-car computers, printers, vehicle consoles, media and accessories we provide.
This particular blog is intended to answer some of the most frequently asked questions we hear about the 4910LR.
You Asked, We Answered: 4910LR Driver's License Scanner FAQs
1. What is the 4910LR?
The short answer: The 4910LR is a barcode reader for police officers to scan driver's licenses and vehicle registrations. This allows officers to complete electronic citations and reports more quickly and easily. With the 4910, agencies report significantly reduced time on the roadside and fewer dismissed tickets due to errors.
The longer answer: About 20 years ago, a large law enforcement agency expressed interest in an eCitation scanner built just for them. They found traditional grocery store-style scanners big, cumbersome, and unreliable. After L-Tron engineers gathered police officer input and identified the technology that could make such a product possible, they got to work developing a new product. Today's 4910LR Driver's License Scanner allows patrol officers to complete accurate, efficient electronic tickets and crash reports in a fraction of the time that it took them to handwrite or manually enter driver information into citation forms.
2. Is the 4910LR plug and play?
Most of the time, the 4910LR requires a driver update to work with your specific equipment and eCitations software. However, the 4910LR drivers are readily available on our website here.
All of the law enforcement agencies we talk to have a huge commonality: the desire for simplicity and ease of use. Our engineers designed the 4910 to be easy to set-up and perform from the moment of installation and onward. A partnership with L-Tron ensures that you'll receive tech support from us at any point in the future, should the need arise. It's all part of the value-add we provide our customers.
3. What software is the 4910LR compatible with?
The 4910LR is compatible with and certified by dozens of public and private citation software programs. Chances are, the 4910LR is going to be compatible with any eCitation software you have or are planning to purchase, but to be sure, it is best to check with someone on L-Tron's Law Enforcement Support team. We can also make recommendations for the ideal software program for your agency. Some well-known software programs the 4910LR is compatible with include digiTICKET, eCWS, E-TIX, KYPOS, MOVE, SECTOR and TraCS.
4. What kind of lighting does the 4910LR scan in? Will it work in the dark or with a lot of sun glare?
Sure will. The 4910LR is designed for field use and performs effectively in any lighting in your patrol car , whether you're patrolling on a bright, sunny day or working the night shift. When you press the "scan" button, a red LED lights up to guide your aim so that the barcode scans on your first try.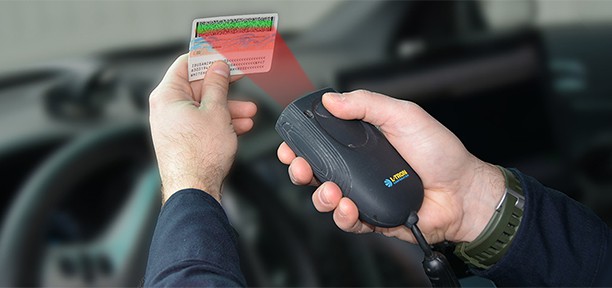 5. What are the operating temperatures for the 4910LR? Will it work in extreme heat or cold?
The 4910 is built to work in all sorts of environmental conditions, as evidenced by the thousands of agencies using the 4910LR across all 50 states and Canada. The ideal operating temperature range is between 32° F to 104° F, with storage temperatures between –4° and 158° F.
6. Does the 4910LR have any additional features?
In addition to reading barcodes, the 4910LR is able to capture gray-scale photographs. Some officers like to attach photos of the motorist's license plate, driver's license, a fake ID, crash scene sketches, signatures, or fingerprints. We've even talked to officers who like to snap a photo of the driver's license next to the speed results on the radar gun.
7. How and where can I mount the 4910LR in my patrol car?
The 4910LR is small – about the same size and shape as your radio-mic – and designed to fit easily within the patrol vehicle. Mount it wherever it will be readily accessible using the standard microphone-style clip or the add-on Magnetic Mount. The Magnetic Mount automatically centers the 4910LR securely into place when the scanner is placed nearby.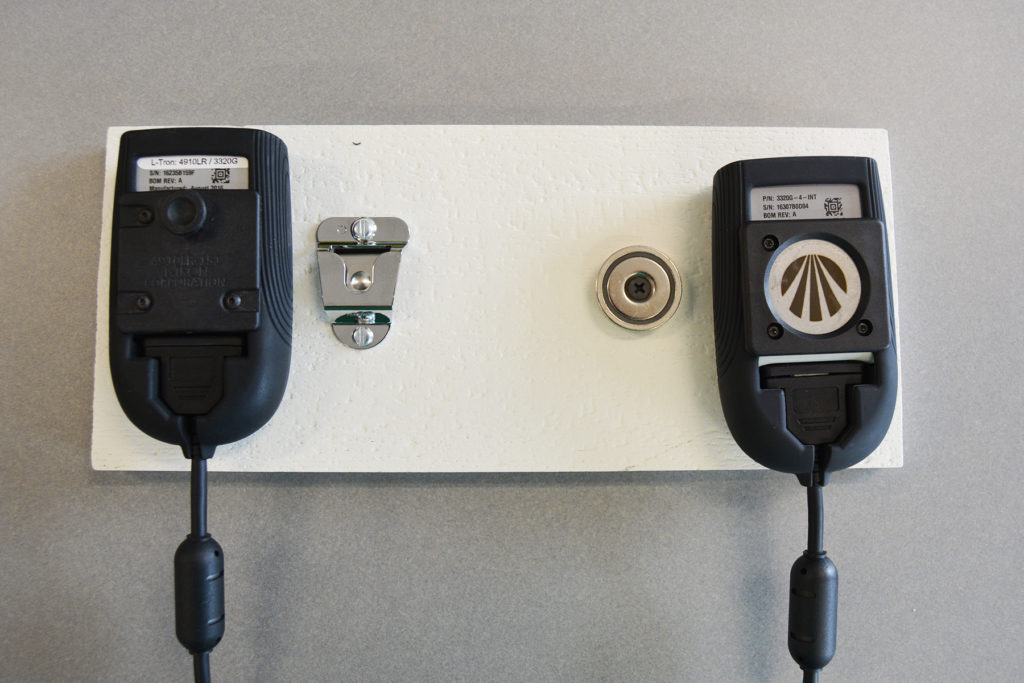 8. Do I need any additional equipment?
In addition to the scanner, the 4910LR comes with a boot and cable. The scanner works seamlessly with a variety of eCitation equipment, including laptops and tablets. You will likely need other patrol vehicle equipment to complete in-vehicle electronic ticketing. For a comprehensive list of eCitation equipment check out our "Ultimate eCitation Checklist."
9. What if I need to update or reconfigure my 4910LR scanner?
Visit our downloads and drivers page at any time, or feel free to reach out to our law enforcement support team. As mentioned in FAQ #2, the L-Tron team is always on-hand to assist – "Your Success is Our Purpose."
---
We hope we were able to answer your common 4910LR Driver's License Scanner FAQs, For additional information on the scanner, check out the links below: