Patrol PC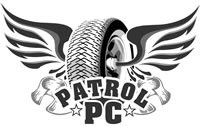 Patrol PC's sole focus is designing and deploying products used in the American patrol vehicle. Our purpose-built platforms are designed and manufactured 100% on American soil. Our products are not designed for multiple applications allowing us to focus solely on American Patrol Vehicle deployment. Patrol PC has focused it's software and hardware on this one specific application providing Law Enforcement specific computing platforms. We understand our systems are in use 24/7/365 and we have developed and deployed reliable platforms understanding this ever-changing environment.
Patrol PC offers three ergonomically safe and officer friendly platforms that are designed to fit almost all presently deployed Patrol vehicles in the US. We understand one platform does not suit all commands. Thank You for interest in our products and as always thank you for keeping our communities safe.
Advanced Electronic Design, Inc., the parent corporation of Patrol PC has been designing and deploying Tablet computers for over a decade. We are a service disabled veteran owned company that prides itself on reacting to our customers needs. Headquartered in North Attleboro, Massachusetts, Patrol PC is a leading provider of mobile computing platforms for the American Patrol Vehicle. Since the launch of the company's rugged Tablet, Patrol PC has transformed it's offerings to include three application specific products.