One perk of being a law enforcement officer in the 21st century is having many types of equipment and technology at your disposal. Today, your patrol vehicle can easily be outfitted with a computer, printer, driver's license reader, gun rack, camera, mounting equipment and more.
The downside of adding new pieces of equipment one-at-a-time is that your patrol vehicle/mobile office can end up looking…well, a mess. Your patrol car can end up with mismatched pieces of equipment mounted wherever there's available space.
With space maximization and safety at the forefront of their minds, Havis engineers developed the VSX Console for law enforcement SUVs, including the Chevy Tahoe and Ford Interceptor.
Check out these interior photos that were captured post-VSX installation. The appearance of the VSX Console blends-in with the vehicle interior, as if it were delivered straight from the factory. The equipment looks like it's built-in and an original part of the patrol car. This opens up all sorts of space and organization options.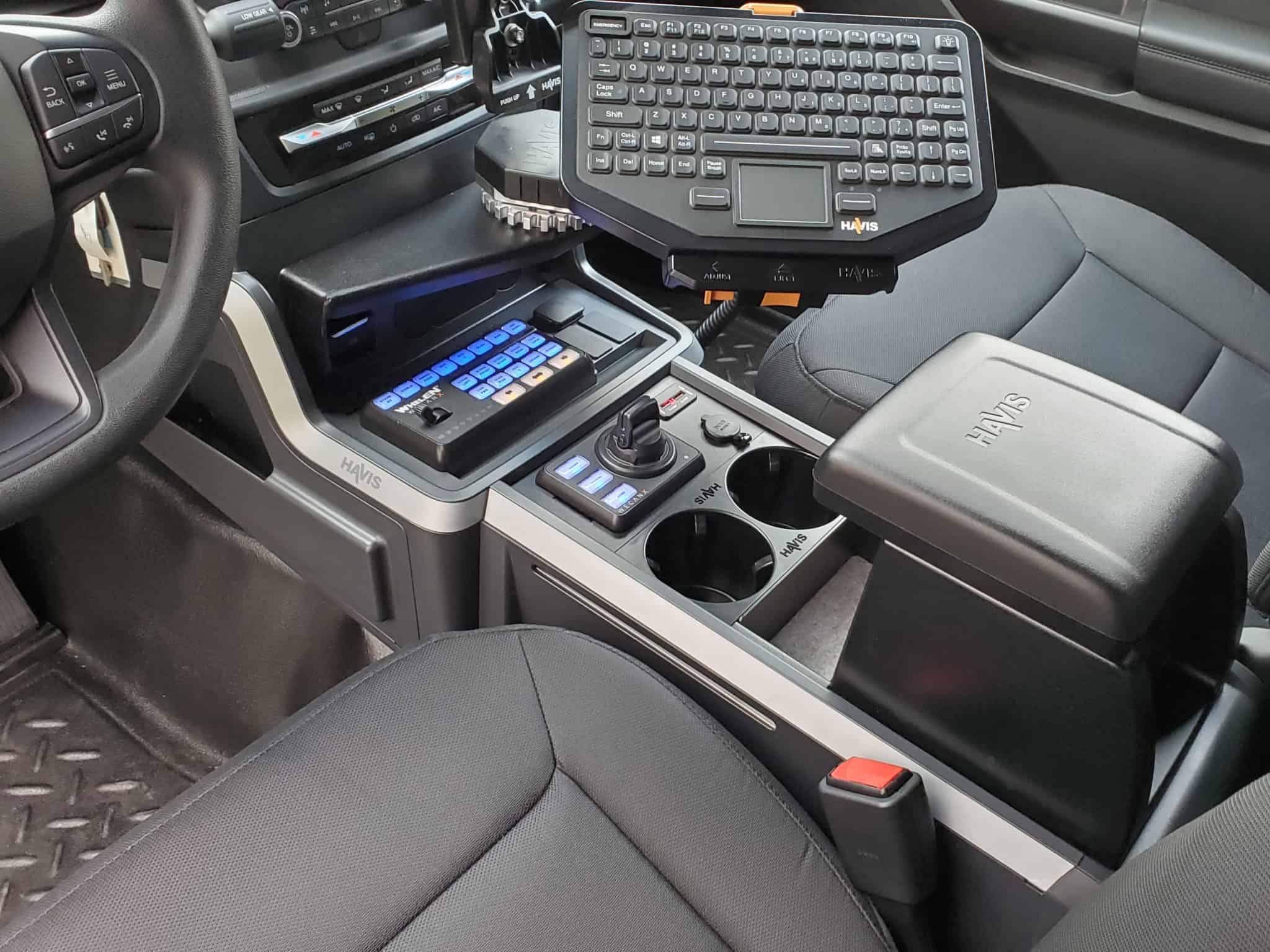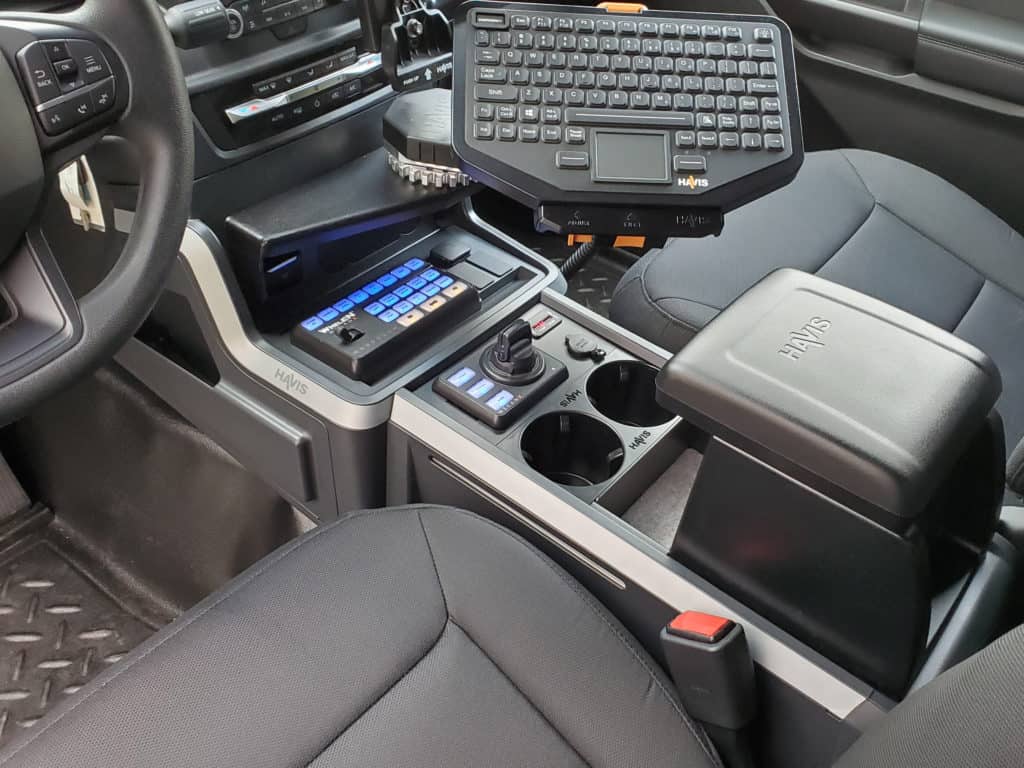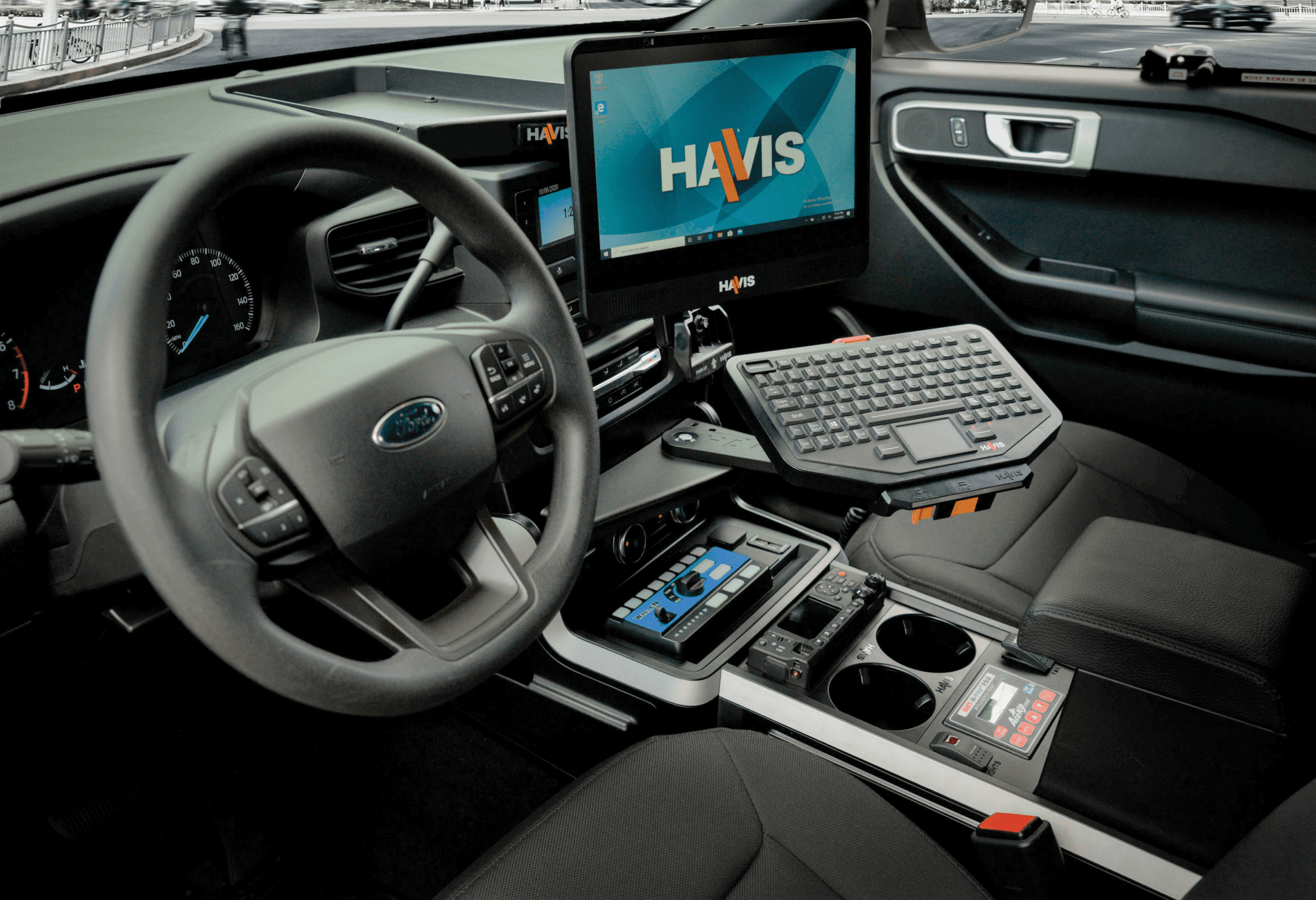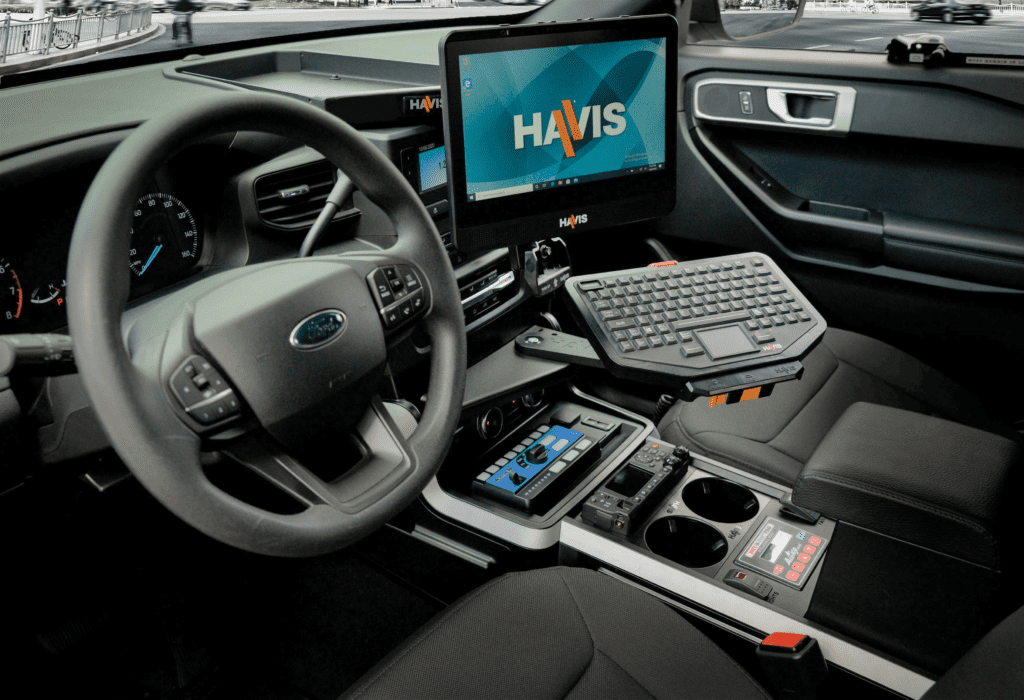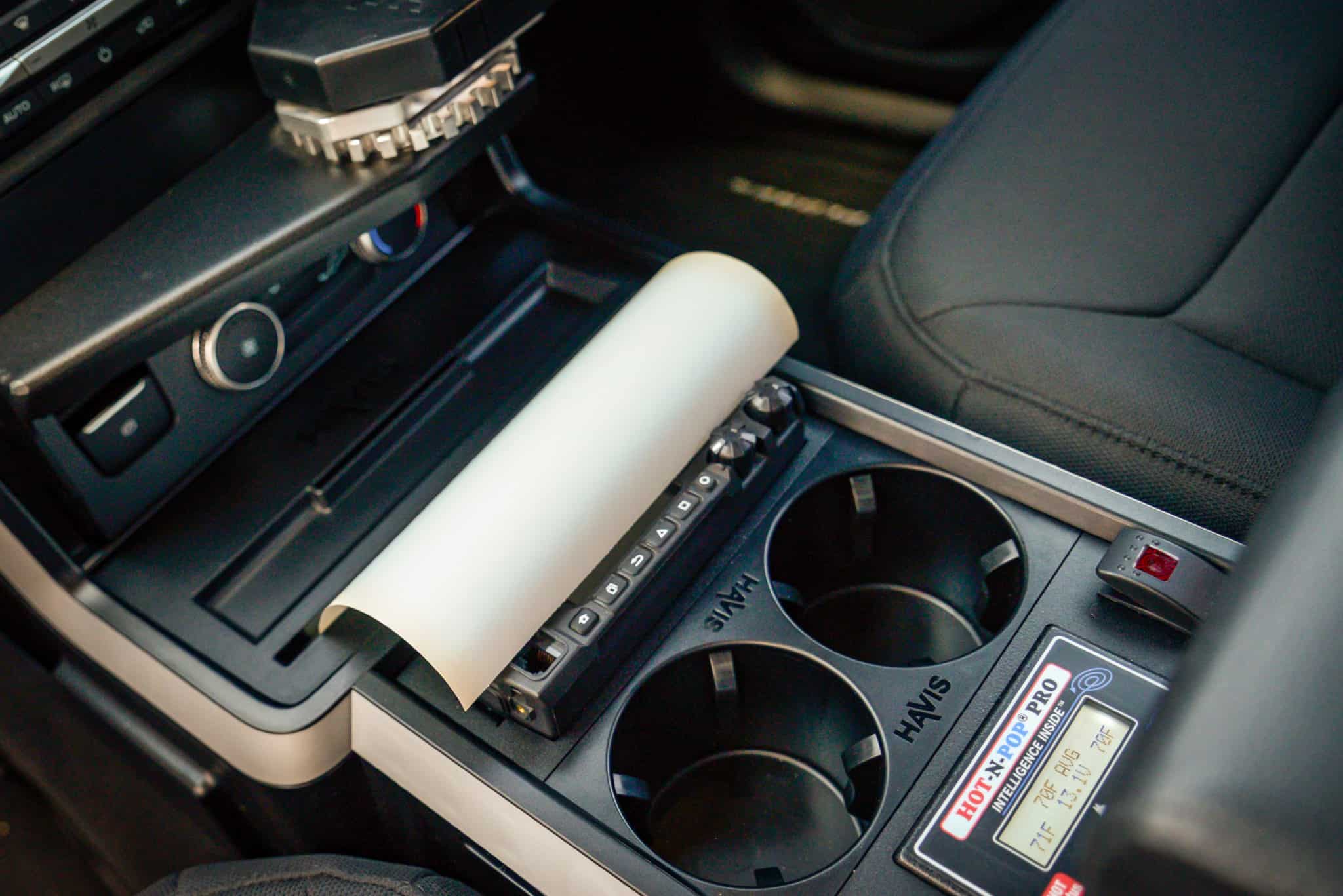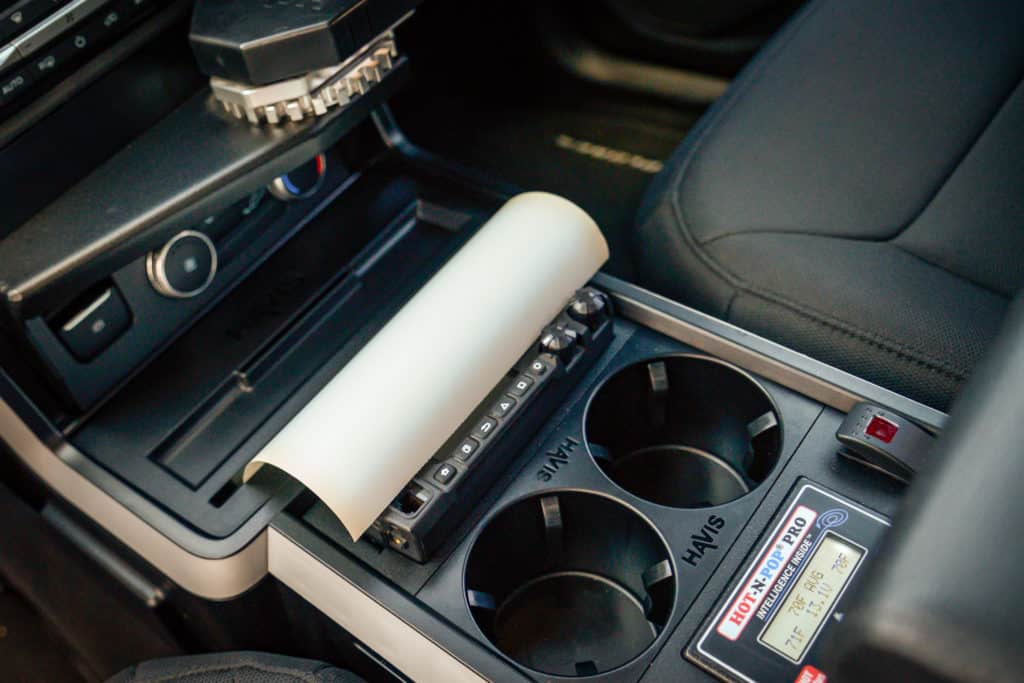 Benefits of the Havis VSX Console
Safety and Durability
Despite its low profile and unassuming, attractive design, the Havis VSX Console is impact resistant and designed with officer safety in mind. Constructed with lightweight, yet highly durable 10-guage steel, the VSX is physically durable and securely mounts interior equipment in its place when job demands intensify. Furthermore, the VSX Console's organization enables officers to instinctively locate vital equipment and controls, regardless of the circumstances. This allows Officers to keep their attention on whatever unpredictable situation is at hand.
Storage
Officers are used to operating in tight quarters. Designers of the VSX Console did an incredible job maximizing every single bit of potential storage space. There's a spot for everything, and all of the most important equipment is within arms' reach. There are storage pockets, cup holders, equipment brackets, filler plates, switch panels, sirens, a platform for mounting equipment, and easy accessibility to the vehicle's built-in features. The Havis VSX Console provides a comfortable feel because everything fits into its own place.
Equipment Integration
Does your agency have eCitation equipment that needs to be integrated into your patrol vehicles? The VSX Console has got you covered. Common equipment like the Brother PocketJet® 7 Mobile Printer, L-Tron's 4910LR Driver's License Reader, and various laptops, tablets and mounts are all fully compatible. There is a platform to mount a rotating arm for your computer, and even a spot to flush-mount your printer between the two front seats. There are several configurable options available to customize the design for your in-vehicle needs, ensuring that all of your patrol vehicle equipment is installed in your car correctly.
Appearance (and Function)
The VSX console is certainly eye-appealing. It looks like all of your patrol vehicle equipment is built directly into and a part of the car. There is no reason to sacrifice appearance for functionality now that the VSX is on the scene.
---
L-Tron's premier partnership with Havis
When you're considering a Havis purchase, it's important to recognize that L-Tron and Havis are "Premier Partners." This means that Havis and L-Tron are both a trusted name in law enforcement. We are known for developing equipment based on market demands and customer feedback.
As a Havis Premier Partner, L-Tron provides:
Expertise
Sometimes products may catch your eye, but the products are not quite right for your needs. That's where we step in. Our knowledgeable team listens to your needs, asks clarifying questions to fully understand your requirements and wishes, and then makes equipment recommendations to build what you need.
Technical Support
We're knowledgeable about the Havis equipment we sell and can provide high levels of technical support. For any unique questions you may have, we are able to quickly access support from Havis engineers to get you the answers you need.
Cost Savings
Our partnership gives L-Tron the ability to pass the best pricing along to you.
Quality products
We're picky about who we partner with because we only want the very best for our customers. We've fully-vetted Havis over the years and recognize the quality and value these products provide to law enforcement.
---