Laptop Computer & Tablet Mounting Systems for your Patrol Vehicle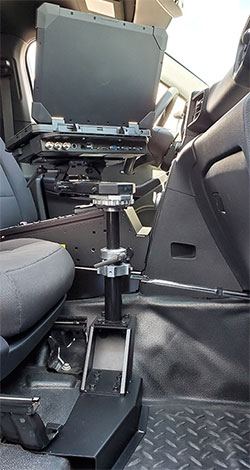 After you've selected a laptop or a tablet for your patrol car, you'll need to think about mounting options. You will need a docking station or cradle for the laptop computer, this will connect directly to your vehicle mounting system.
What types of laptop computer & tablet car mounts are available for your patrol vehicle? 
Mounting options include:
1. Console Mounts
Console mounts attach directly to your center console allowing for simple installation.
2. Passenger Side Mounts
This 3-part system is sold as a package, and consists of a base, a pole and a motion device. Commonly used for mounting laptops, passenger side mounts make a good rugged mounting options specific to your vehicle.
3. Dashboard Mounts
Commonly used for tablets, dashboard mounting solutions are not permanent fixtures in your vehicle and are quick to install.
There are so many possibilities available, the choices may seem overwhelming. Many mounting systems are manufactured specifically for common patrol vehicle makes and models, simplifying the ordering process. Otherwise, our knowledgeable Public Safety team can walk you through the pros and cons of each option according to the vehicle(s) you are looking to outfit and your budget. We provide support for the life cycle of the product/solution and we partner with leading manufacturers to provide you with the best mounting options for your patrol vehicle. Below are some popular computer & tablet car mounts. If you don't see the mounting system you are looking for, contact us and our team will make sure you get exactly what you need for your specific vehicle.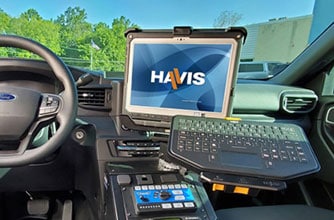 Quick Facts:
Lifetime Warranty

Made in the USA 

Heavy duty pole and motion device

35lbs
Havis angled Console for 2020-2021 ford interceptor® utility
Part number c-vS-1012-INUT
This angled console mount is made with heavy gauge steel and mounts between seats for the 2020-2021 Ford Interceptor Utility. With 22″ of internal mounting space, this console mount is great choice for optimizing internal working space.
Why we love it: 
Havis has spent significant time and energy developing and designing solutions for the newest line of police vehicles. Rest assured knowing that this console is not a generic solution; rather, it was created specifically for your new fleet of vehicles.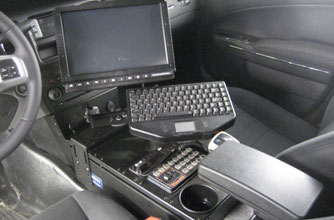 Quick Facts:
Measures 9″ high x 9″ wide x 28.25″ long 

Weight 24 lbs

Vehicle mounting kit included

Recommended for laptop applications
Havis 24" Console 2011-2020 Dodge Charger (Police Package)
Part Number C-VS-2400-CHGR-2
This 24″ console mount provides more space for control heads and accessories. This vehicle specific console mount is designed for easy installation by eliminating the need to drill holes. This custom fit console uses the existing OEM floor mounts.
Why we love it:
Customized for the popular Dodge Charger patrol vehicle, there are no modifications required upon installation. Designed with a "low profile," the console allows maximum space for control heads and accessories.
Popular Passenger Side Mounts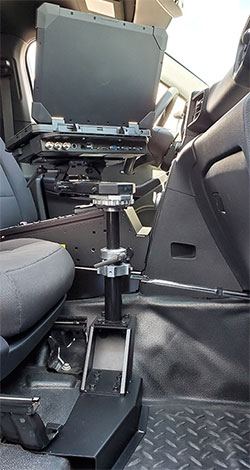 Quick Facts:
Weight 31lbs

Packages are complete, must be ordered as is.
Havis Passenger Side Mount Package - 2020/2021 Ford Interceptor® Utility & Ford Retail Explorer Premium
Part Number PKG-PSM-3006
Simplify the ordering process with this premium package. The Havis Passenger Side Mount Package includes a rugged base plate, an adjustable telescoping pole, a rotating arm and a stability arm. This computer & tablet car mount bolts to existing OEM seat bolts, making installation very simple. This model is ideal for driver and front passenger seat computer use.
Why we love it:
Literally everything you need in one package and customized specifically for your new vehicle model. No guesswork here. It's all included.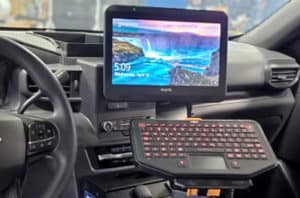 Quick Facts:
Vibration testing MIL-STD 810G 514.5

Crash Test SAE J1455 30mph crash testing

Weight 6lbs
Includes rugged mounting bracket and mounting hardware
Havis Dash Mount - for Ford 2020/2021 Interceptor® Utility Vehicle
Part Number C-DMM-2018
This patented Havis Dash Mount provides easy viewing for a driver or passenger. You can easily tilt or swivel this mount left, right, up and down. You are able to mount your monitor or tablet in 6 different positions and installation only takes 30 minutes. This dash mount can be rotated to display either landscape or portrait orientation. There is also no permanent modification to your vehicle with this type of mount.
Why we love it:
This dash mount is quick to install, created specifically for your new vehicle model, comes with a lifetime warranty, and is made in the USA.
Fill out this Contact Form
Interested in more information on computer & tablet car mounts? Fill out this contact form and Julianne will respond within one-two hours on the same business day. 
Need immediate assistance?
Call Julianne at 800-830-9523 x115.