What is a mobile printer? (The one you just threw into the wall doesn't count.)
Mobile printing sends data from a portable device to produce tangible print products. The benefits of mobile printers are in time and cost savings, productivity, improved customer service, and even safety.
The L-Tron team can help find what mobile printers best fit your needs. Whether it's a Brother PocketJet 7 (one of the most popular mobile printers for Law Enforcement), a Zebra ZQ520, or another brand of printer. A little knowledge takes the frustration out of your decision.
Mobile devices were thought of long before they became reality. Think Star Trek communicator. When the laptop computer appeared, so did printers and other peripherals – all destined to become wireless and more mobile.
Despite the "paperless" movement, the printer remains a mobile office mainstay because many government and business functions still rely on print of some sort. As simple as a printer seems, what goes into selecting the right one can be involved.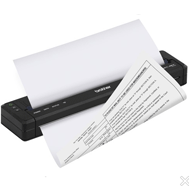 Purpose & Environment
What you're using the mobile printer for is THE biggest consideration and tied to its environment. The right printer for a warehouse inventory is probably different than the one inside a patrol car for reports and eCitations. Likewise, for the parking monitor who braves all types of weather.
Mobile Printer considerations directly affected by purpose and environment:
What device uses the printer?
Durability
Battery life/interchangeable batteries/charging options
Connectivity – WiFi? Bluetooth? Near Field Communication (NFC)?
Indoors or Outdoors? Both?
Will it be subject to heat, cold, moisture, vibrations, etc.?
Size and Portability
Mounts – in a vehicle? In an office? Carried by a person? On a cart?
Size and type medium printed on
Print Stock/Method
A consideration as important as printer choice is what you print on. Again, purpose and environment affect choice, but the extensive array of products can fine-tune your decision:
Use – Is it a simple black and white document, or is it color? Is there a printed image? Barcode? Is it a label or other single-purpose medium? Is in an RFID tag?
Durability – will the printed document sit in a file or be handled repeatedly? Just like a printer, will friction, heat, light, oils, chemicals, or moisture affect it? Will it need to "withstand the test of time?"
Plain paper or coated?
Single sheets or rolled?
Ink? If so, what type?
Direct thermal or thermal transfer?
L-Tron's blogs can guide you through the myriad considerations and printer options. Visit our eCitation page, which outlines some of the basic patrol car equipment needs.