Our Law Enforcement team speaks with agencies looking for mobile printers, paper and other eCitation equipment daily. Lately, we've been fielding questions about Brother's new PocketJet 8 Mobile Printers. This Brother PocketJet 8 FAQs blog is meant to answer the questions that are on your mind about these new mobile printers – other agencies have likely asked them too! 


Meet the PocketJet 8 Mobile Printer
The PocketJet 8 is a compact, lightweight mobile printer that can be installed in your patrol vehicle or carried in a case while on foot patrol. The PJ8 is extremely fast and reliable, printing crisp, clear text and images at up to 13.5 full pages per minute. Read on for your PocketJet 8 FAQs:
What is the warranty on the PocketJet 8?
Let's face it – the patrol car environment can be tough on equipment. Brother® has risen to the occasion, offering a 2-Year Limited Premier Warranty and customer support for the lifetime of your PocketJet 8 printer.
Will my old accessories still work with the new PocketJet 8?
Yes! If you have existing accessories and supplies from a previous PocketJet, such as a carrying case, mount, rechargeable li-ion battery, or thermal paper, you should be able to use them with your new PocketJet 8. An exception would be if you have a standard USB cable because the PocketJet 8 has updated to new USB-C technology. The older style USB cables will no longer work with PJ8. 
What connectivity do I need?
Each of the PocketJet models come equipped with a USB-C connection for corded communication between your printer and your computer. For a wireless connection that allows you to connect to your printer from almost anywhere, with almost any device, the PocketJet 8 offers several models with both Wi-Fi and Bluetooth connectivity.
*Note: the Wi-Fi-only model that was once offered with prior PocketJet editions has been discontinued.*
What is the value of USB-C?
A USB-C resembles a traditional USB cord, though the end that plugs in is much smaller on a USB-C. Brother has chosen to utilize USB-C versus as traditional USB cables, as traditional cables are being phased out in many industries. A major advantage of using a USB-C cable is that you can connect to and print from your computing device, while simultaneously charging your PocketJet, with just a single cord. A USB-C cable has the capability to transmit both power and data.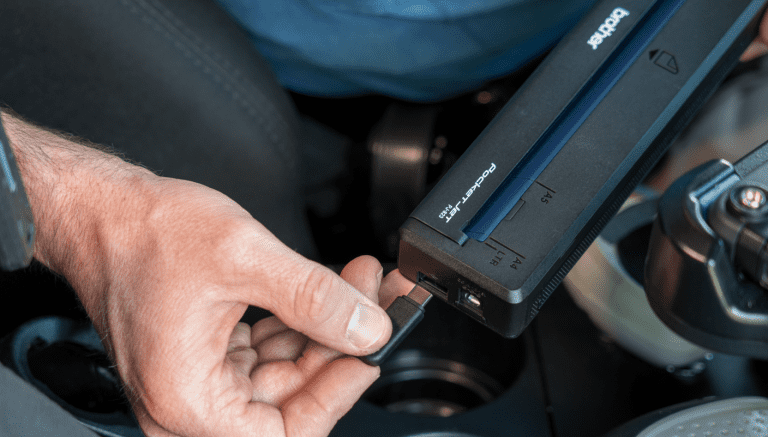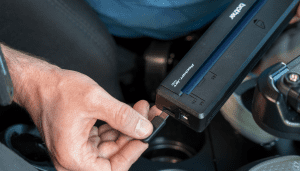 What print head does my department need? 
This is one of our most popular PocketJet 8 FAQs. If you're going to be printing simple documents, such as eCitations and reports, a standard 203 dpi resolution PJ8 model should do the trick. However, if you plan to print images, fine print, and other small details, you may prefer a high- resolution PJ8 model with 300 dpi capabilities for the highest quality results.
Is the PJ8 compatible with other eCitation equipment and software? 
Absolutely. Use any PJ8 model alongside your existing Windows® or MacOS®laptop/tablet. Some PJ8 models are compatible with Android™ or iOS® devices, as well. The PocketJet 8 seamlessly prints both eCitations and reports that have been created using the 4910LR Driver's License Reader and corresponding eCitation software. Please reach out to the L-Tron team if you have a specific device that you'd like to confirm that the PJ8 can work with.
How and where can I mount the PocketJet 8?
The PocketJet 8 is extremely versatile and can be mounted almost anywhere, provided it's a flat surface. In fact, it's a simple drop-in replacement for previous PocketJet models. If you're new to the PocketJet, it's compact size fits easily into the tightest patrol vehicle quarters. If you're shy on space and need to get creative, we've seen the PJ8 mounted sideways and even upside down. We've seen PocketJets mounted using passenger seat mounts, on a headrest mount, armrest mount, and in the center console. We can make a recommendation on mounting based on your patrol vehicle make and model, and the setup of your existing equipment.  
More about Brother and L-Tron
L-Tron has been a trusted Brother premier partner for over a decade. We have found Brother's law enforcement printers to be dependable, fast, and ideal for the patrol vehicle environment. As premier partners, we can offer you the best pricing and levels of service and support for your new printer.
Our Law Enforcement Team has a wealth of experience when it comes to eCitation, so feel free to reach out to us with questions, to compare printer options, or for any eCitation-related product recommendations. We're proud to say that we've "Backed the Blue" for twenty years and are dedicated to providing you exceptional service and quality. Your Success is our Purpose.