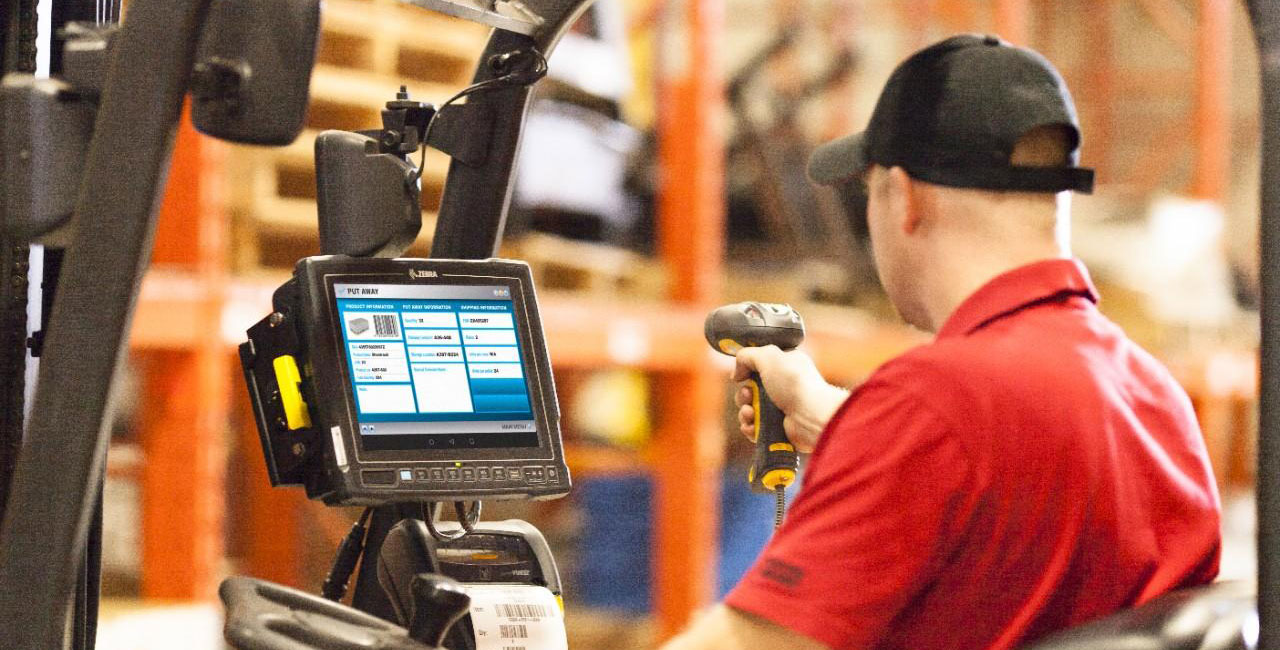 Improve Inventory Management and Workflow Performance
Connected solutions for a connected warehouse
Although this page is dedicated to inventory management, here is a preface: inventory management goes hand-in-hand with the entire order fulfillment process. From receiving, sortation, and stocking through picking, packing and shipment, how you handle inventory management will affect the entire process. Learn more about the individual steps in the order fulfillment process on these pages: Receiving & Sortation, Putaway & Replenishment, Shipping & Delivery.
Now, onto inventory management.
When inventory is tracked manually, human error is inevitable. Simple mistakes can include counting incorrectly or recording inventory incorrectly on a handwritten document, while more complex mistakes can include the oversight of inventory that is not put away correctly, is still in receiving, or has already been shipped out to a customer.
Warehouse automation can eliminate errors both in inventory counts and in the overall warehouse process, leading to more accurate and efficient workflows.
When a shipment arrives to an automated warehouse, receiving immediately inspects and then scans it into the system with a barcode scanner or RFID tag reader. The software system is accessible throughout the warehouse from all connected devices, including handheld mobile computers. From that moment on, the newly received shipment is accounted for – or traceable – within the entire system. It is tracked as it moves through the warehouse step-by-step, from receiving to sortation to stocking to picking to packing and then to shipment. One glance at the inventory management software provides accurate, real-time inventory counts – and information about where items are located within the warehouse.
Inventory management software works its magic even beyond inventory counts by allowing managers to make well-informed operational decisions, delegate warehouse employees to high-value tasks, eliminate manually performed quality inspections, and streamline day-to-day operations. Implementing warehouse automation technologies also enables pick verification, for example, to occur at the time an item is picked – notifying the warehouse worker immediately if the wrong item is picked.  
In short, an automated warehouse will benefit from:
Accurate inventory counts
Fewer missing/unaccounted for items
Saved warehouse space
Achieving/exceeding quality goals
Efficient operations and processes
Satisfied, repeat customers
Contact us for a no-obligation evaluation of your current environment and solutions to help you improve your connected warehouse and workflow performance.
Featured Inventory Management Products
The MC3300 – the next-generation mobile computer for more productivity and profitability. The MC3300 is full of innovative features:
multiple form factors for easier scanning
advanced long-range data capture capabilities
a tough and rugged exterior and much more.
This mobile computer is pre-licensed with "best for business" Android OS. 
It's the ground-breaking all new warehouse mobile computer designed to deliver productivity increases in the warehouse. On average, the TC8000 saves 14% per worker versus traditional form factors. Gain an extra hour of productivity, per worker, per day. This is the only device on the market that simplifies it all.
Interested in learning more? Click below:
[Featured Content]: Increase your Printer Data Security
Click below to view infographic:
[Featured Video]: Making your Manufacturing & Warehouse Operations Lean