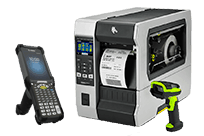 Automation and efficiency are critical components to your warehouse distribution center. Whether you are receiving product, stocking your shelves, managing inventory levels, or shipping product, having visibility into your processes is key. Use warehousing products including barcode scanners, mobile computers, printers, and vehicle/wearable computers to automate your data collection and increase efficiencies. A few changes can go a long way. See benefits including: accurate inventory counts, maximized warehouse space, increased productivity with lower operational costs, new insights into operational decisions, and more.
Zebra Technologies offers a wide selection of products for your warehouse. 
The products below represent a sample of top sellers in a large catalog of models to fit your exact needs. If you don't see what you are looking for, please call Julianne at 800-830-9523 x115.
Scan quickly and accurately. Zebra offers a wide range of 2D imagers, rugged and general purpose scanners for your warehouse distribution center.
 Zebra offers a wide selection of desktop, mobile, and industrial printers to incorporate into any area of your warehouse.


Utilize mobile computers that are user-friendly and secure in your warehouse. Zebra offers a variety of mobile computers for your warehouse.


Enable your frontline to work hands-free with mobile wearable technology & gain access to applications you need right from your material handling vehicles.
Fill out the contact form and Julianne will respond to your request within 1 hour on the same business day. 
For immediate assistance, you can call Julianne at 800-330-9523 x115