What are L-Tron's Offerings for Law Enforcement?
Download this free resource by clicking the button below.
This one-pager gives a quick overview of L-Tron's product and solution offerings for Law Enforcement, focusing on specific in-vehicle equipment for eCitation & investigations/SWAT. L-Tron is proud to have served Law Enforcement over the past 20 years.
We specialize in patrol vehicle equipment for eCitation (or electronic ticketing) and we offer investigations and SWAT/Tactical units a two-part multi-use system, OSCR360, used to document crime scenes of any size or scope.
Your job is to serve us, and ours is to serve you. We alleviate some of the burdens by creating purpose-built tools from your voice to make your job easier. Below is a list of equipment and solutions we offer.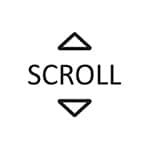 Law Enforcement Offerings: In-Vehicle Equipment for eCitation
We provide all the of the essential equipment your agency needs for electronic ticketing, eCitation inside your patrol car. Below is a list of hardware offerings we provide. All offerings are tailored to meet your specific fleet and agency requirements.
Drivers License Reader
Our start into custom-built offerings for Law Enforcement began with the 4910LR driver's license reader. L-Tron's 4910LR is a driver's license reader is used to capture information on driver's licenses and vehicle registrations for ecitation, crash and incident reporting. The 4910LR is built from the voice of Officers for use in their patrol car.
Computers & Tablets
We partner with leading brands to provide the best in-vehicle equipment to Officers. There are a variety of computers and tablets available fit to handle the environments you encounter.
Thermal Printers and Thermal Paper
Standard agency print sizes for electronic citations, incident reports, and crash reports range from 4″ to 8.5." Quality thermal media is also a must to make sure your citations hold up in certain weather conditions like extreme heat, sunlight, rain and snow.
Industrial IoT 4G LTE Router & Gateway
Get secure, reliable connectivity inside your patrol vehicle.
Mounting Equipment
We offer side mounts, console mounts and dash mounts for your in-vehicle computers, tablets and printers. We will help you select mounts that are best fit for the needs of your specific fleet.
Docking Stations and Cradles
We offer a variety of docking stations and cradles to easily secure your laptop or tablet to your mounting system inside your patrol vehicle.
Law Enforcement Offerings: Investigations, SWAT/Tactical

Everywhere. Every case. Every time.
Purpose-built from your voice.
OSCR360 is designed and built from the voice of Law Enforcement. This two-part multi-use system is being used to document scenes of all sizes including simple municipal code violations, biological threats and complex homicide investigations. OSCR includes presentation software and a 360-degree spherical capture kit to assist with crime and crash investigations, fire service, emergency management planning, active shooter training, forensic science curriculums, environmental safety, and more.
Click on the infographic below to open a linked PDF of this free resource. 
Easily print and download this PDF.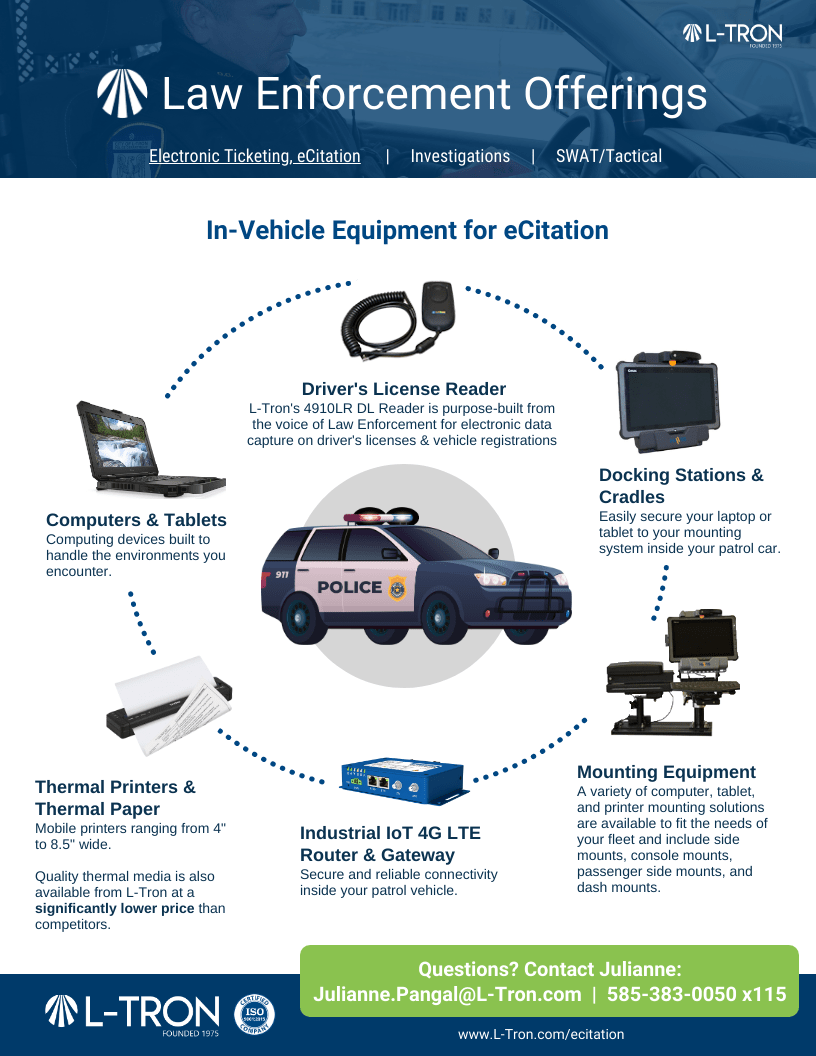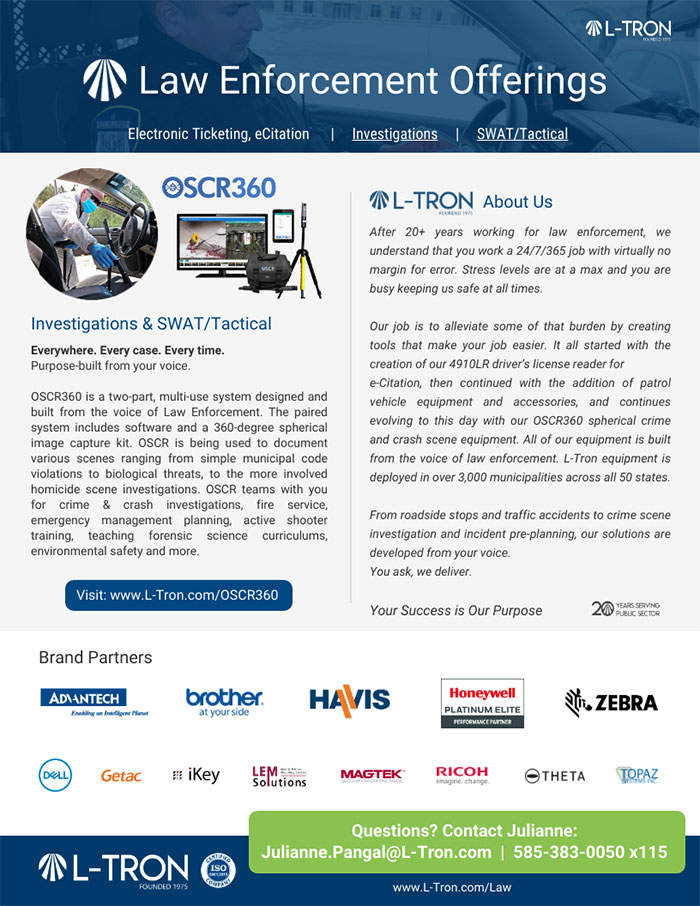 Interested in sharing this content?
Sharing made simple. Here's how you can share this content from your desktop or your mobile device:
Click on the URL in your browser
Copy the link
Paste the URL into an email, text message, or where ever you would like to share it
Do you prefer to share the PFD file? No problem.
Click the button above to view the Infographic.
Click on the 'Down' arrow on the top right of your browser. This will automatically download the PDF to your device, allowing you to print and share as you choose.
Questions on how we can support your agency?
Interested in more information on in-vehicle equipment for eCitation, or OSCR360? Fill out this Contact Form and Julianne will respond within 1-2 hours on the same business day.
For immediate assistance, please call Julianne at 800-830-9523 x115 or email info@L-Tron.com