As we all navigate through the COVID-19 crisis together we remain committed to you, our clients. We are open and here to support you. Our wish is for you to remain healthy & safe.
Across the country, life has changed in almost every way. Traffic jams are a thing of the past, a simple trip to the grocery store is a major outing, and people aren't going within 6 feet of one another unless absolutely necessary. Here in New York State, and more specifically at L-Tron, we have had to adjust to working remotely for over 8 weeks. Here's a glimpse into our "new normal."
Before the Coronavirus situation took a turn for the worse in NY, our company leaders, Gayle and RAD DeRose, were ahead of the curve, providing us with valuable research and data, proactive office cleaning procedures, and setting up individual team members for remote work, if needed. As the situation progressed, they sent us home to work remotely even before the state mandates came in from NYS Governor Andrew Cuomo. Our health and well-being is a priority to them, and their agility and forward-thinking has been a game-changer throughout these unprecedented times.
As a Technology company, we have been very fortunate in that our infrastructure was set up to make a smooth transition to the "working remotely" lifestyle. In fact, several employees successfully work from home on a regular basis. For those who are used to working in the office, however, the transition has remained fairly seamless.
So, how did we adjust to working remotely? What does working from home (WFH) look like to us?
Our New Workspace
Every L-Tron employee's workspace looks a little bit different right now. Some have designated home office spaces set up, whereas others are working from their couches, on their back decks, or from makeshift desks (we had to get creative). Several employees had the foresight to take their whole desktop setup home with them – dual computer monitors, keyboard, paper files, etc. Everyone's unique personalities are shining through, that's for sure.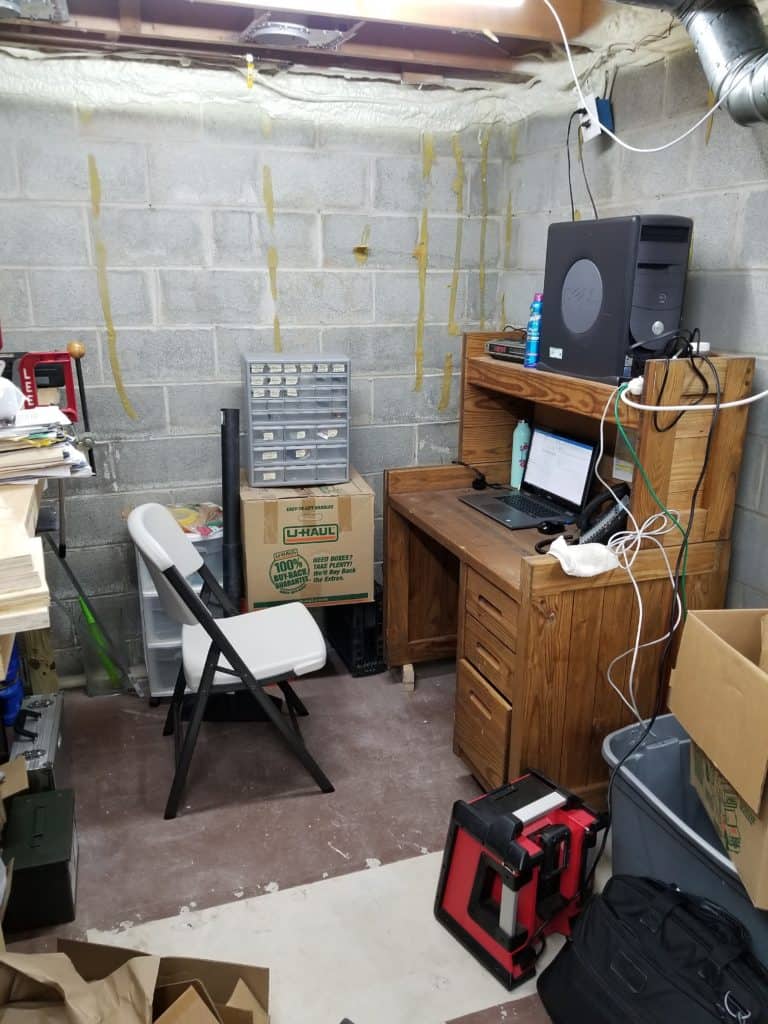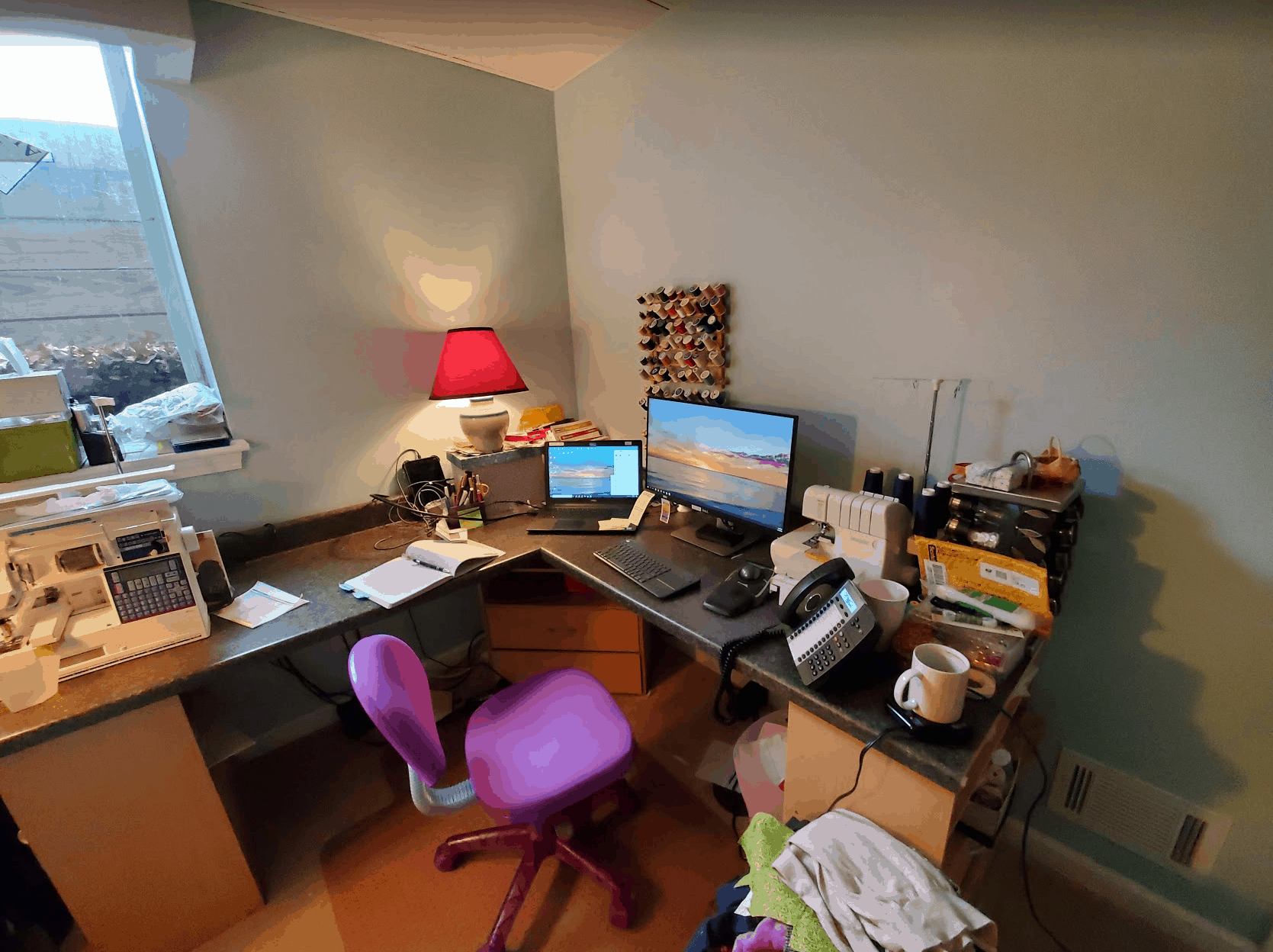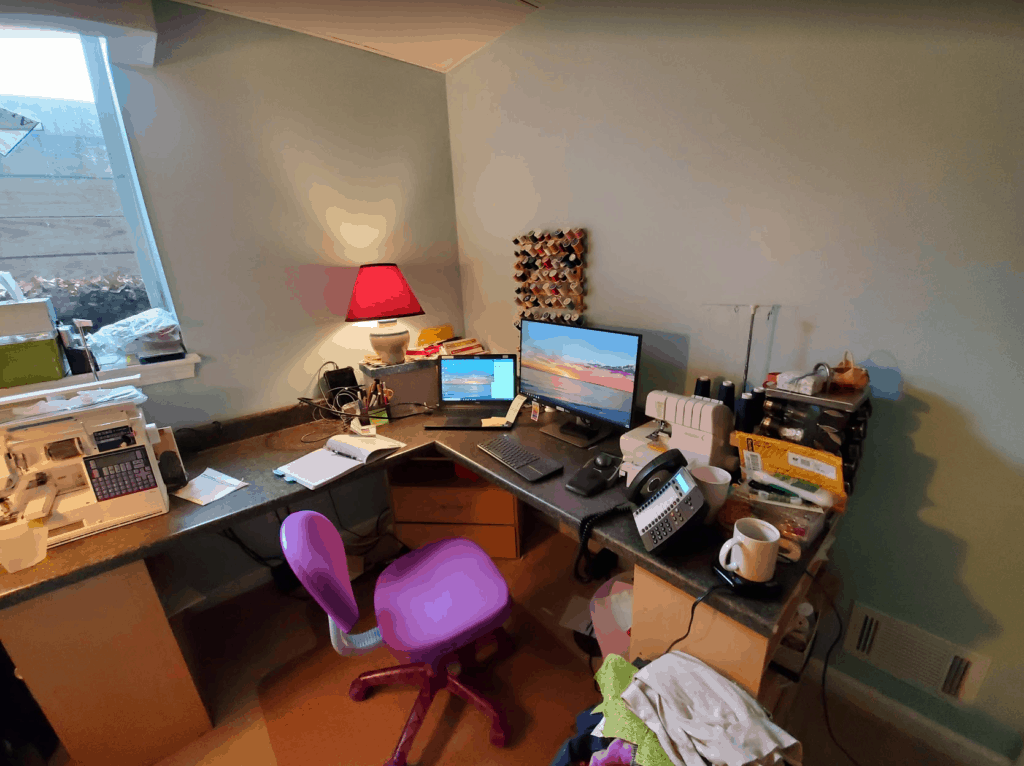 We're also using helpful technology, like Remote IP phones, "Hot Desking," Remote Desktop, VPN, and more. Although the transition appeared pretty seamless for most of the team, what went on behind the scenes is a different story. In addition to implementing new technology and procedures, RAD and Gayle have been working feverishly from Day 1 to forecast supply chain demands, work hand-in-hand with our partners, maintain relationships with clients, apply for government funding, and more. Check back next week to read our blog on what has occurred behind the scenes to make the most of this transition.
Although some L-Tron departments are well-suited to work from home, others required a greater adjustment period. The sales team, for instance, utilizes software programs that aren't easily accessible from home, so it took some time to get up and running to full capacity. The team has observed changes in customer needs during this time, with some sectors, such as healthcare, experiencing an increase in demand, while others are experiencing a decrease.
Our Meetings
The biggest difference right now is not seeing one another in person. Instead of popping over to a co-worker's desk, we are video conferencing, making more phone calls and shooting one another instant messages throughout the day. The communication technology we use allows all of us the flexibility to speak in large groups or one-on-one. Our new platforms are enabling us to connect and collaborate, while also getting a fun glimpse into co-worker's lives outside of the office. We get to see each other's homes, families, and pets!
In addition to day-to-day communication, Gayle and RAD are sending out weekly "State of the [L-Tron] Union" emails and scheduling weekly video meetings. In these meetings, the team can jump on to say hi, ask leadership any questions they have, innovate, provide feedback, discuss how they have adjusted to working remotely, and share what's working and what's not. It's an open forum where anything goes. We are all still getting 'comfortable' with our new normal and by keeping employees in the loop during this time of uncertainty, we feel more connected and empowered.
Our Culture
Our team is just as fun-loving as ever. Although we can't be together physically, we are connecting virtually. Our group activities include "beer-thirty" (BYOB – bring your own beverage) happy hours from home and online games like Scribble IO.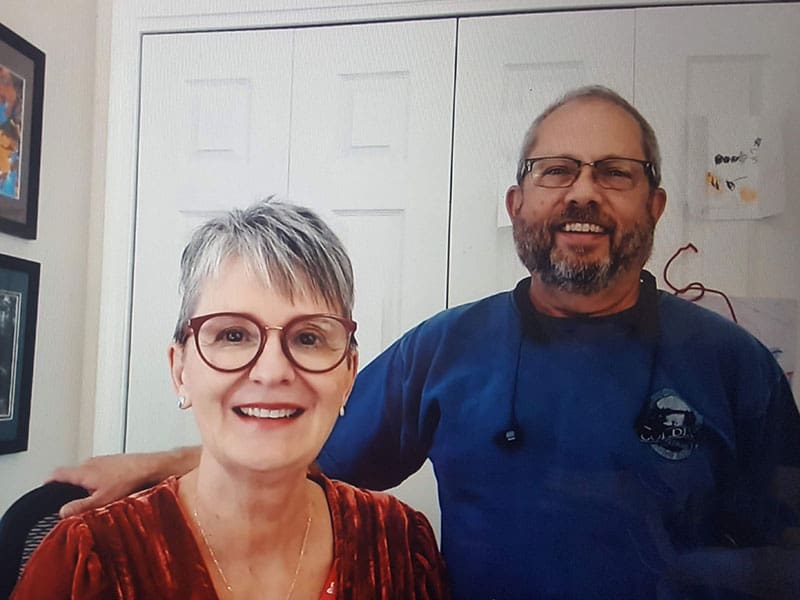 A few of our other favorite online games include;
Honestly, when it comes to our workdays, a lot has changed, including location. But we're still the same L-Tron team, with the same values, goals, and work ethic. We're here for you!
How has Covid19 affected your day-to-day work life? Did you or your team adjust to working remotely? What has the transition been like? How can L-Tron help?
Click below to read more about our commitment to others during the COVID crisis.