In March of 2020, the entire world shifted due to the biological threat of COVID-19. As a Law Enforcement agency, your number one priority is to keep the public safe – but you are also responsible for your Officer's health and safety when they respond to calls. COVID-19 has changed department scheduling, the consumption of PPE, and forced some departments to re-assess their processes. There are tools that can assist departments with these new challenges as they adjust to their "new normal." Limit your Officer's exposure at scenes, reduce biological threats, preserve PPE, and make decontamination of equipment easy.
The Center for Disease Control (CDC) recently released a list of guidelines for Law Enforcement agencies which can be viewed here.
How can OSCR360 partner with your Law Enforcement agency during the COVID-19 crisis?
Even though people throughout the U.S. are staying home to #flattenthecurve, Officers know that crimes ARE still happening. Investigators still need to respond to scenes, both big and small. OSCR360 is a tool that can help keep Officers healthy and safe during COVID-19. The 360-degree capture kit & desktop software can assist Officers in capturing, documenting and organizing evidence – more quickly and efficiently.
Limit Officer/Investigator Exposure at the scene
Officers need to get in and get out of crime scenes quickly, and at the same time thoroughly document the scene. Only one Officer is needed to operate the OSCR360 system. They can capture an image in under 5 seconds, or an entire house in under 15 minutes. Review the 360-degree photos outside with other Officers and command staff, using the OSCR360 tablet. This reduces Officer exposure to biological threats & hazards. Pan from floor to ceiling and in 360 degrees, ensuring that no evidence is missed.
OSCR is no stranger to biological threats, like COVID-19. The system has been used on a fire investigation involving MRSA.
"Because there were harmful chemicals in the scene, the lead fire investigators decided to put on Tyvek suits and used OSCR for their first walk through. OSCR was beneficial to them in this scene primarily due to its speed. In under 10 minutes, they were finished taking overall photographs and able to limit their exposure to harmful chemicals. Additionally, we used the rain tube to protect the camera body and lenses. Since it's a plastic covering, it's easily sanitized keeping our equipment protected."

Alexandra Myers, OSCR360 Account Manager
OSCR has been used in domestic violence cases, unattended deaths, burglary scenes and more. Place OSCR in the center of the scene, then, move through a house in minutes to capture all of your key overall photos. Attach close up images of assaults, injuries or damage. Then, if the case turns into something bigger or goes to trial, the department has not missed any crucial evidence at the scene. Users can still utilize the OSCR software to organize all of their critical evidence.
Limit your overall consumption of PPE
With OSCR360, only one Officer is needed on scene to operate the system, saving valuable masks, gowns & gloves for others.
The use of PPE (Personal Protective Equipment) has become necessary when responding to any type of scene. Additionally, PPE has been limited throughout the country, since mass supplies of protective gear are needed across many industries – medical personnel, Police Officers, First Responders and other essential employees.
What is your department doing to limit your overall consumption of PPE?
Currently, the CDC recommends the following PPE (at minimum) at every scene – especially when you do not know the status of a suspect or victim, and whether they have been exposed to COVID-19.
A single pair of disposable examination gloves
Disposable isolation gown or single-use/disposable coveralls
Any NIOSH-approved particulate respirator (i.e., N-95 or higher-level respirator); face masks are an acceptable alternative until the supply chain is restored.
Eye protection (i.e., goggles or disposable face shield that fully covers the front and sides of the face).
Decontamination of OSCR360 equipment is easy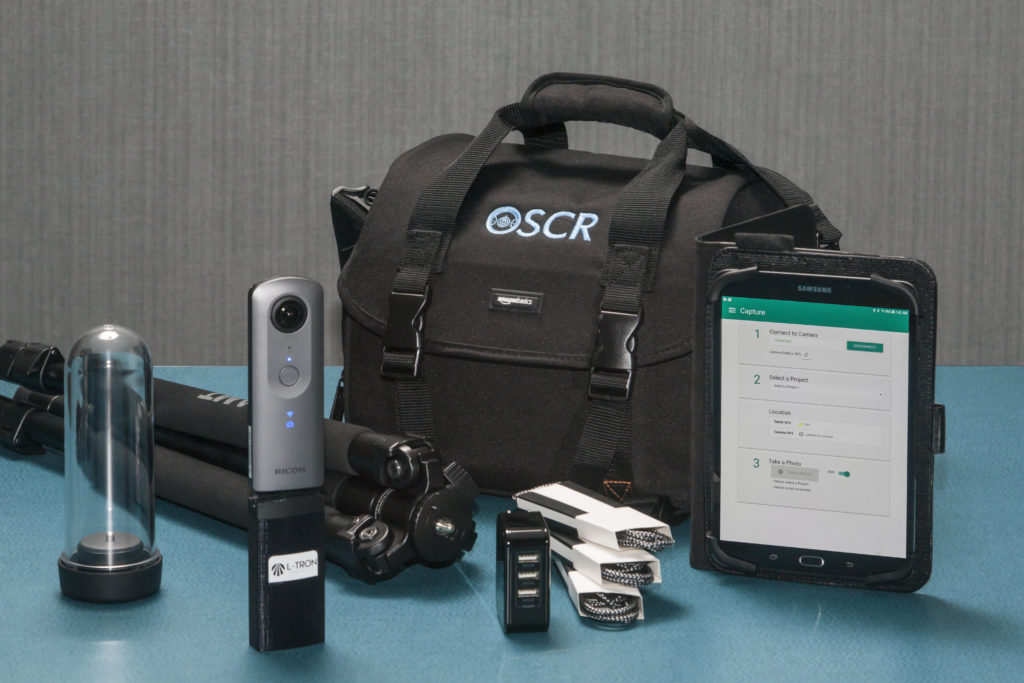 With the OSCR360 add-on rain kit, decontamination of the capture kit is easy. The rain kit includes an additional camera and a protective tube-shaped covering (we call it the rain tube) to utilize the OSCR system at any scene. The rain tube simply screws onto the OSCR tripod, covering and protecting the 360-degree camera. Use OSCR for biological/chemical threats or in inclement weather, and just wipe down the outside of the tube once OSCR is removed from the scene. There is no need to expose equipment directly to any biological threat or hazardous material. The rain tube has assisted Officers in many scenarios including; hazardous waste/dumping investigations, Meth lab searches, still wet (and dripping) fire scenes, investigations with blood splatter, and more.
OSCR360 partners with your agency to keep Officers healthy and safe during the COVID-19 crisis. If you haven't met OSCR yet, you can schedule a web demo here:
For more information, contact Juli at 800-830-9523 or email Info@L-Tron.com.