We have compiled some covid-19 resources and information for our clients, partners, and team members as we navigate the COVID-19 situation throughout the country. We appreciate the combined efforts of our company and community to help #flattenthecurve. We have implemented a safe workplace procedure at the L-Tron office and are committed to the health, safety and well-being of our clients, partners, family & friends.
Thank you to our Law Enforcement Officers & First Responders for being on the front lines and assisting in our communities. We are proud to back the blue.
A letter to our clients and partners: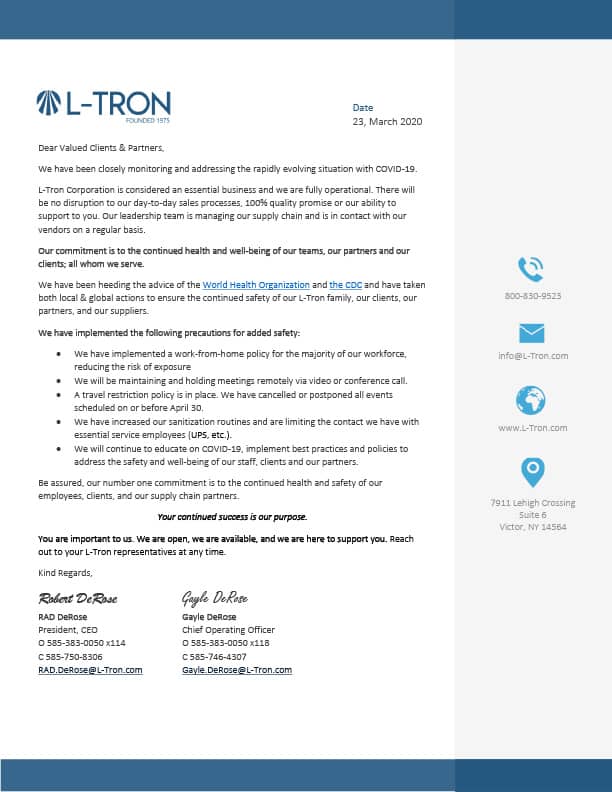 Additional COVID-19 Resources:
We believe that knowledge is power. Here are some additional resources, please feel free to reach out to our team if you have any questions.
For Public Safety:
[Infographic]: 5 Ways OSCR360 Keeps Officers Safe During COVID-19


[Infographic]: How OSCR360 Assists First Responders During the Coronavirus Pandemic


The Center for Disease Control (CDC) guidelines for Law Enforcement: https://www.cdc.gov/coronavirus/2019-ncov/community/guidance-law-enforcement.html
The IACP information for Law Enforcement Fact Sheet: https://www.theiacp.org/sites/default/files/IACP_Covid-19_General_Factsheet.pdf
The National Police Foundation COVID-19 Resources: https://www.policefoundation.org/covid-19/
General COVID-19 resources:
The World Health Organization (WHO): https://www.who.int/
New York State Department of Health: https://coronavirus.health.ny.gov/home
FEMA – How to Apply For & Manage Grants: https://www.fema.gov/how-apply-and-manage-grants
New York Forward: Industry Guidance and Re-opening https://forward.ny.gov/
Find your L-Tron Representative: https://www.l-tron.com/our-people/
Have more questions? Feel free to reach out using the form below: