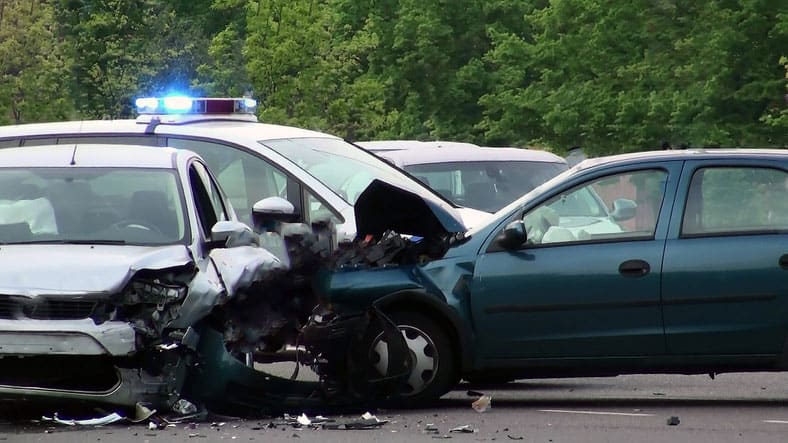 Well, for starters, what is crash reconstruction?
Crash reconstruction is the process through which investigators determine how and why a collision occurred, ultimately determining whether or not a crime has been committed. A crash reconstructionist, or reconstruction team, must observe, gather, and preserve evidence from the scene, study the events surrounding the crash, and piece the evidence together to form a well-documented conclusion. A Crash reconstructionist must be focused, highly efficient, and recognize that attention to detail is paramount. Reconstruction is similar to meticulously putting together pieces of a puzzle. 
What are the steps of a crash scene investigation?
There are many steps to a crash scene investigation. The first priority upon arrival to a scene will always remain the same: protect the safety and well-being of the victims, bystanders, and other first responders. Once medical care has been provided, traffic management has been established, and the scene is safe, evidence preservation and documentation become the top priorities for law enforcement. In many cases, the roadway is closed to traffic during an investigation. Reconstructionists are encouraged to work quickly in order reopen the road as soon as possible. 
Motor vehicle collisions can occur as a result of numerous factors, including: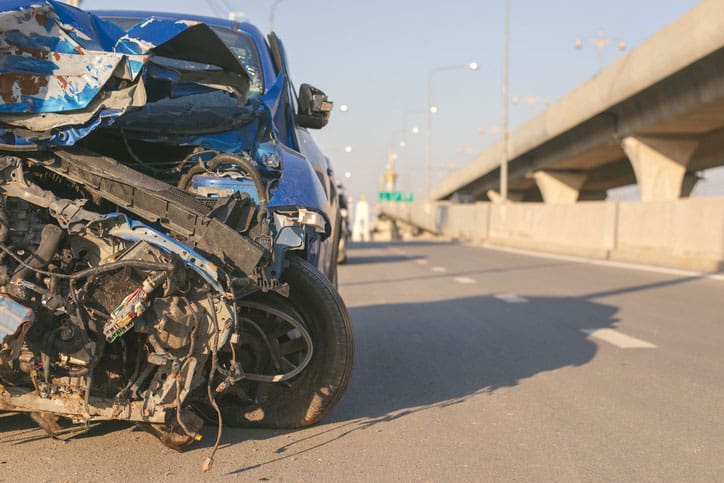 Speed.
Traffic law infringements – like running a red light or a stop sign.
Road and/or environmental conditions – including inclement weather or poor visibility.
Vehicle malfunction.
Motorist error – such as failure to signal a lane change.
Distracted driving – like using your cell phone.
Impaired driving – such as operating a vehicle under the influence of drugs/alcohol.
A medical condition.
A crash reconstructionist must be incredibly thorough because of the wide variety of factors that could be involved in a crash. After all, once a scene has been cleared, there is no going back.
Here are a few examples of evidence collection.
Driver contact information and interview.
Witness contact information and interview.
Passenger contact information and interview.
Traffic conditions.
Injury/death documentation.
Close-up photos of evidence.
Spherical photos of teh scene.
Documenting the precise crash location (GPS).
Vehicle contents.
Injury patterns.
Skid marks and pavement scarring.
Traffic signs.
Debris patterns.
State laws.
Speed calculations.
Aerial photos.
Vehicle damage.
Scene measurements (point of impact, final resting position, etc.)
Lighting and visibility notes.
Environmental damage.
Road surface conditions.
Weather conditions.
Police reports.
Alcohol/drug involvement (toxicology reports).
Crash data retrieval results.
Security camera footage.
Red light camera footage.
License plates/vehicle information (VIN).
Other objects involved in the collision.
Once all of the evidence has been collected and compiled, reconstructionists review the findings. They use the laws of physics, mathematical calculations, photogrammetry, computer applications, and more to recreate the events around the collision piece-by-piece. 
There are a wide variety of tools and equipment available to aid reconstructionists both at the scene, and back in the office. Some types of equipment, like OSCR360, may serve multiple purposes and save valuable time and resources. OSCR is useful for capturing overall images of a crash from multiple vantage points – including the perspective of the driver, under the car or aerial images using a 27 ft. mast. Click here to see how the Bettendorf police department in Iowa is using OSCR360 at major crash scenes.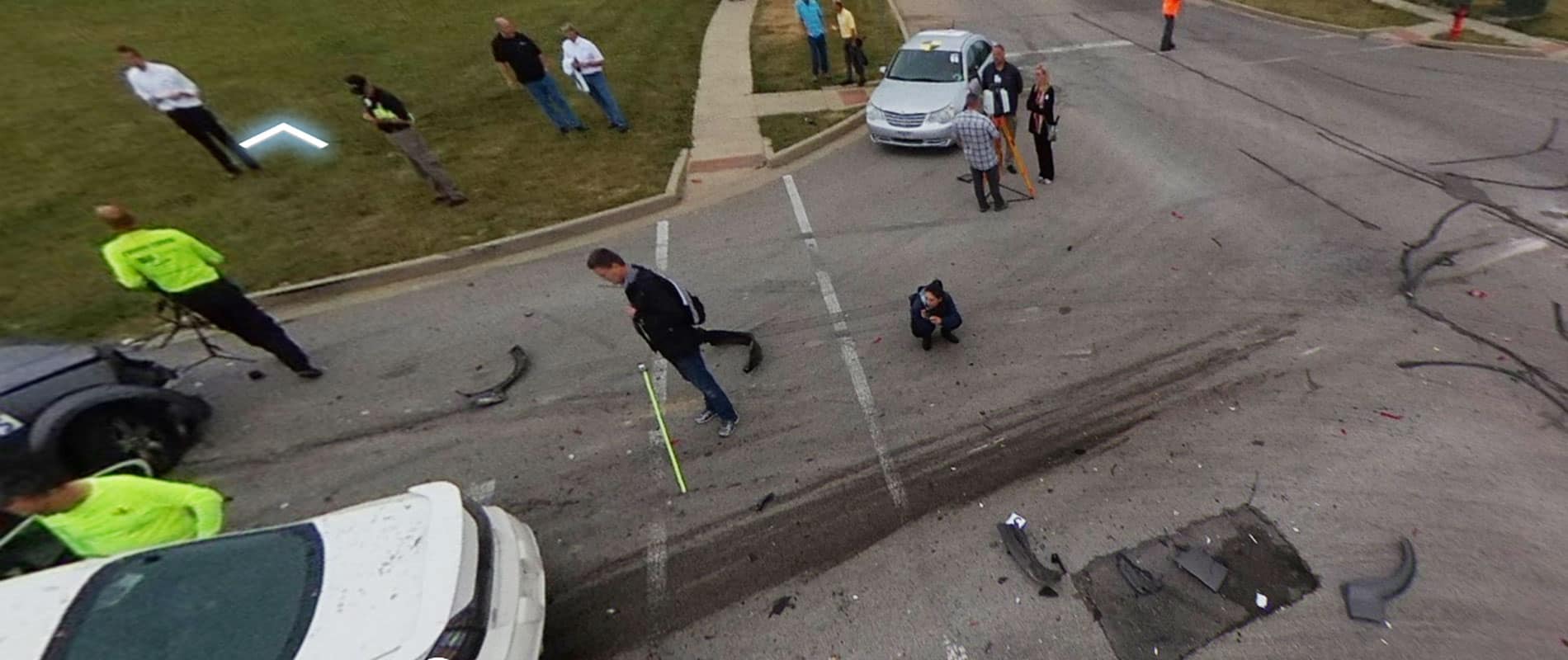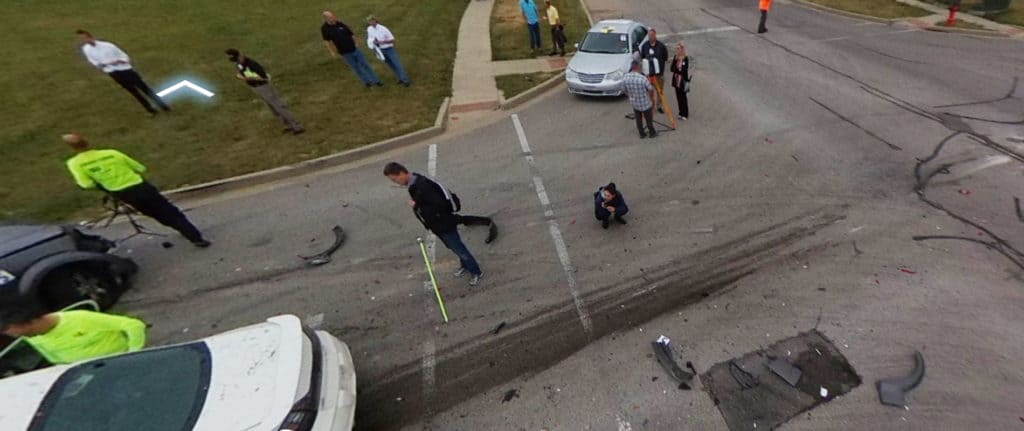 Certifications for a crash reconstructionist
Crash reconstructionists attend hundreds of hours of training to receive and maintain their status as experts in the field. When a motor vehicle collision case goes to trial, a crash reconstructionist will typically be asked to provide expert testimony. Courts can be critical of expert testimony, so it is important for crash reconstructionists to have a strong background in law enforcement, accident reconstruction, and physics.
Up-to-date certifications, such as ACTAR (Accreditation Commission for Traffic Accident Reconstruction), can also make a big difference in the credibility of a reconstructionist on the stand. Trainings and certification courses are made available through law enforcement agencies and state, regional, and national conferences. States may also issue Professional Engineer (P.E.) licenses to reconstructionists. 
While the words of a crash reconstructionist are powerful, an OSCR360 virtual walkthrough allows the courtroom audience to experience the scene through the investigators eyes.