Tips for a virtual holiday party & keeping your team's holiday spirits high
For many of us, 2020 has been the year that wouldn't end. It's been challenging in many ways and different than any year we've known in our lifetimes. At L-Tron, we've certainly seen our fair share of ups and downs, but we are so grateful that we've been able to continue serving our customers without interruption.  
Now that 2021 is quickly approaching, we're setting aside some time to celebrate the holiday season. We want to recognize the entire L-Tron team for their hard work, appreciate their dedication, and throw a (virtual) holiday party to remember.   
In past years, our celebrations have included happy hours and networking events at local hot spots, food trucks, parties and grazing events in the office (food and drink for days!), fundraising and charity efforts (Shop with a Cop, Cards for a Cause, etc.), and plenty of fun contests and games (ugly sweaters, wine tasting, and more!).   
This year, we want to ensure the safety and well-being of our employees, so we're social distancing and taking things virtual. Sure, it's going to look way different than any holiday celebration we've had in the past, but, if you know our team at all, you know we're quirky, creative… and we're determined to make it special!  
---
Is your company transitioning to a virtual holiday event this year?  Here are some of our tips for a virtual holiday party that will bring your team together & provide a unique celebration:
Choose a familiar platform to mingle & jingle
Though your mingling and jingling might not be in person, there are plenty of virtual outlets readily available to throw an online party. At L-Tron, we'll be connecting on Zoom to chat about our holiday plans, sharing our favorite holiday food and beverage ideas, and more. Other virtual formats that your team could use to connect include Microsoft Teams & Google Meet. Choose the option that works best and is most familiar to the majority of your team. 
Take plenty of "Elfies"
Traditionally, our holiday office party has been a great opportunity to snap a few group pics. This year, our webcams will be coming in handy as we snap "elfies" together! These photos will be our quirkiest yet, complete with photo bombs from our pets and family members. Encourage your team to wear their holiday best, to ensure your pictures are fun & memorable.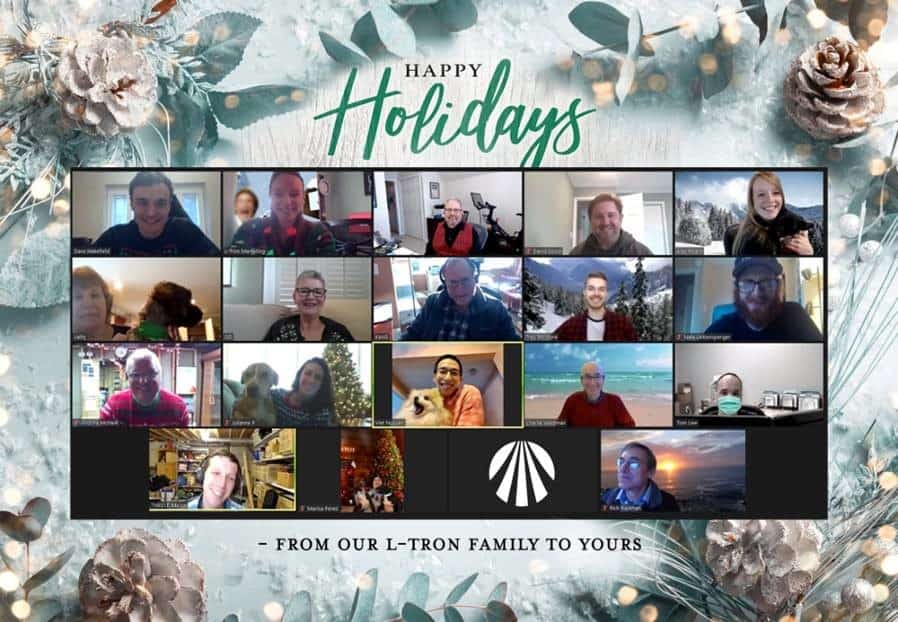 Get a little personal – share pictures of your decorations & light up the night  
A holiday party is the perfect opportunity to share your holiday décor with your teammates. You can take your colleagues on a tour of your home using your phone or computer, or step it up a notch like our team member, Andy. This year, Andy volunteered to put together a virtual tour of all of our team member's holiday decorations, by using our OSCR360 system to capture our yards & the decorations in front of our homes. Team members can also embed interior images of their homes within their 360-degree OSCR photo!  
(For those unfamiliar with OSCR360, it's a system to assist investigators in capturing and organizing evidence from crime, crash, and fire scenes. Check it out here.)  
Incorporate a Holiday Game. We're seeing who's on the Naughty List  
There are lots of possibilities when it comes to virtual games, but this year, we're going to be entertaining ourselves by playing a spirited game to see who is on the naughty list vs. nice list. We'll be answering questions like, "Have you ever re-gifted a present?" and "Have you ever unwrapped a gift early?"  
We already have an idea of which team members might be on the naughty list…but we'll have to wait until the party to find out for sure! 
Some additional game ideas include:
Include a Holiday Contest  
We're sticking with tradition this year and pulling out our ugliest holiday sweaters to showcase on the computer screen. Our reigning champs up until this year have been RAD, our CEO, and Andy, from our Law Enforcement Support team. We can't wait to see who will take home the award this year!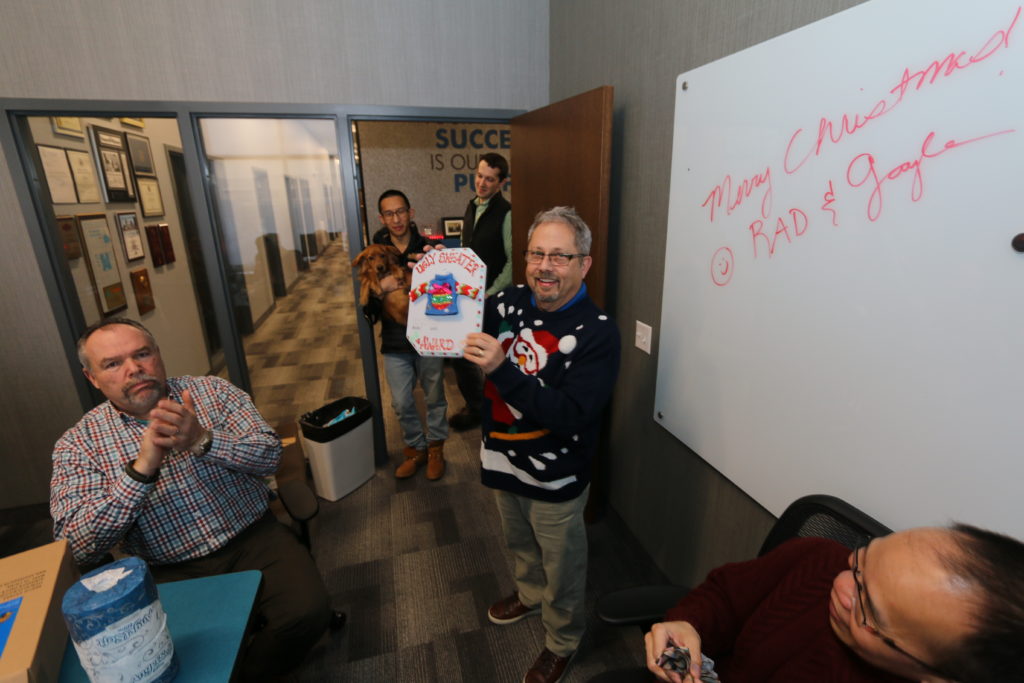 ---
All in all, our virtual holiday party was a blast. Our team had fun and we really made the event our own. We shared some of our own quirky holiday traditions and some embarrassing stories from our own family celebrations. We learned who on our team has re-gifted a present, or who has had to "fake" surprise when they opened a gift. The best part was getting together with the team and seeing one another on camera. Even virtually, we were able to connect and share in the holiday spirit.
We hope these tips for a virtual holiday party serve you well. Whatever your plans might be this year, we wish you a happy holiday season, filled with good health.
Cheers to a Happy New Year as we ring in 2021!