National Ugly Holiday Sweater Day is this Friday.
How are you celebrating?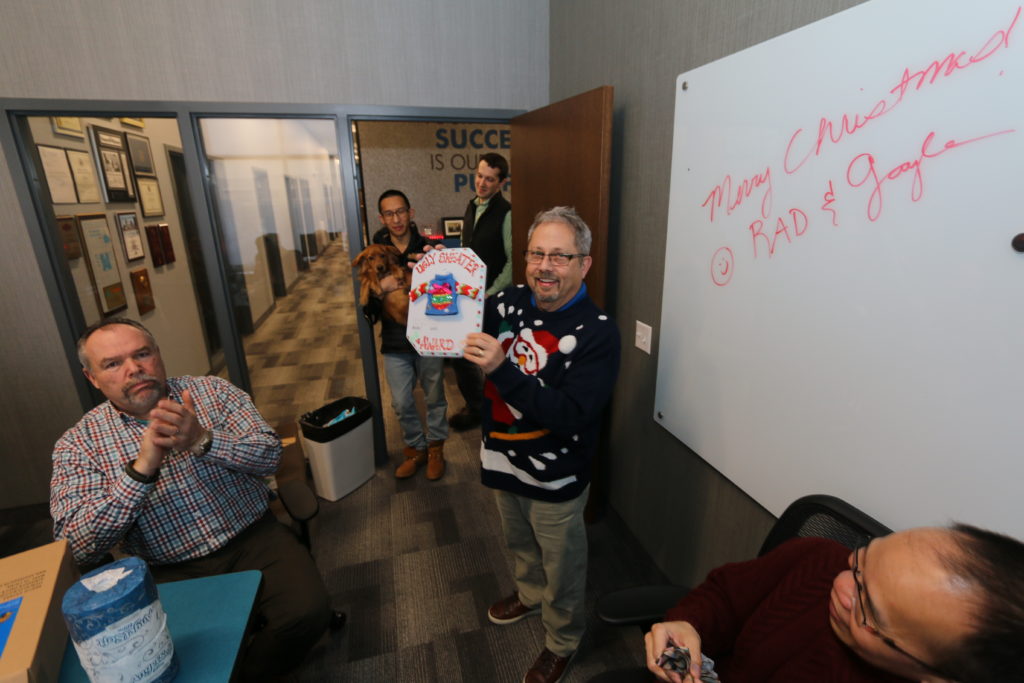 Embrace the quirk. Quirkiness is a key part of the L-Tron company culture – we believe that quirky is the new cool, and that being unabashedly yourself is the best thing you can be.
Which is why the L-Tron team loves National Ugly Holiday Sweater Day. A day that encourages people to embrace everything that is quirky and weird about the holidays and wear it on display for the day.
That tinsel that was popular in the 60's that you threw all over your tree? Today is the day to braid it in your hair. Love that tacky metallic garland from the 70's? Hot glue gun that to that sweater your mom knit you 10 years ago.
National Ugly Holiday Sweater Day is celebrated on the third Friday of December each year. This is typically the Friday right before Christmas, allowing employees to break from their corporate image and put on their goofiest holiday sweaters (although this is never an issue at L-Tron).
To celebrate the day, the L-Tron team arrived at the office in an assortment of holiday garb. Julianne rocked a Christmas cat sweatshirt, complete with bells. Andy wore his Tran Siberian Orchestra sweater with a fire-breathing lizard. Elyse wore a holiday sweater with little dancing santas all over it. Nate and Alex both wore simple "ugly" sweaters with holiday colors. The winner of our Ugly Christmas sweater contest was RAD with his 3D snowman sweater (an L-Tron favorite).
Get involved – all you need is a tacky holiday sweater to take part in National Ugly Holiday Sweater Day. You can purchase a sweater, or make your own. Here are some DIY holiday sweater ideas. Then, commit to wearing your holiday sweater for the entire day.
Snap a pic of you in your sweater and tweet @LTronCorp or tag us on Instagram @Ltronteam.
Happy Holidays from the L-Tron team, see you in the new year!


Questions? Interested in learning more about our company culture?
Get in touch with the L-Tron team.
Call 800-830-9523 or Email info@L-Tron.com
Have a Happy Holiday!