As employees return to offices nationwide, keeping team members, customers, and vendors safe and comfortable has been top of mind for many companies. Having a process, and an easy way to identify who's been vaccinated for COVID-19, helps to ease some of the tension around the big migration back to the office.
The ubiquitous employee ID is found everywhere … on lanyards, clipped to pant and shirt pockets or belts, tossed on desks with keys and flash drives attached, thrown in purses or the center consoles of cars. Add exposure to heat, cold, moisture, sunlight, food, drink, even little kids – ordinary wear and tear requires an extraordinary label.
Extraordinary? Welcome to customization.
---
Meet this Western NY Manufacturer who Needed Assistance with their Vaccine Labels
For this private, family-owned manufacturing company, in business for more than 40-years, putting customers and employees first has kept them successfully servicing the medical, aerospace, energy and automotive industries. A commitment to quality that includes ISO 9001 certification, as well as integration of new technology, explain continued success that includes a recent expansion of their manufacturing facility.
The plan: Add visible COVID-19 vaccine labels to employee ID cards to identify who's been vaccinated. Seemed simple, but after trying to create their own labels, everyday use resulted in worn and torn-looking stickers.
The challenge: As durable as their employee HID access cards were, finding a practical wear-resistant label that would "stay stuck" to the ID and look good became increasingly difficult.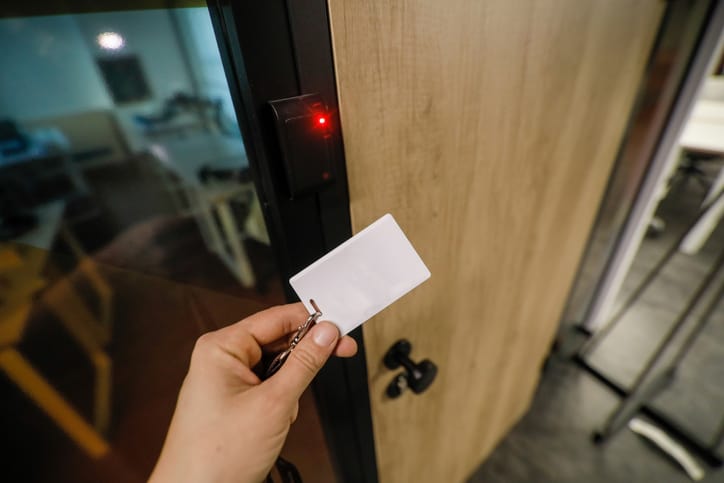 Why L-Tron?
Having worked with together in the past, the company sought out L-Tron, a trusted supplier they could count on, to recommend labels that would meet their needs. After working with L-Tron's Gary Seiko, Senior Account Manager, the company purchased customized labels – designed to stand up to the manufacturing facility's daily wear and tear.
According to Gary, everyday usage isn't the only measure to consider when selecting the right label media.
There are other factors to consider in selecting the right label for specific purposes:
The wrong label surface can be damage printheads and lead to equipment failures.
Labels mismatched to a printer can clog equipment and result in delays through frequent adjustments or repairs, as well as poor quality printing.
Selecting an off-brand, cheap label likely won't adhere efficiently and will fade, defeating its purpose.
The wrong label that causes poor quality printing mean barcode scanning will be compromised as well.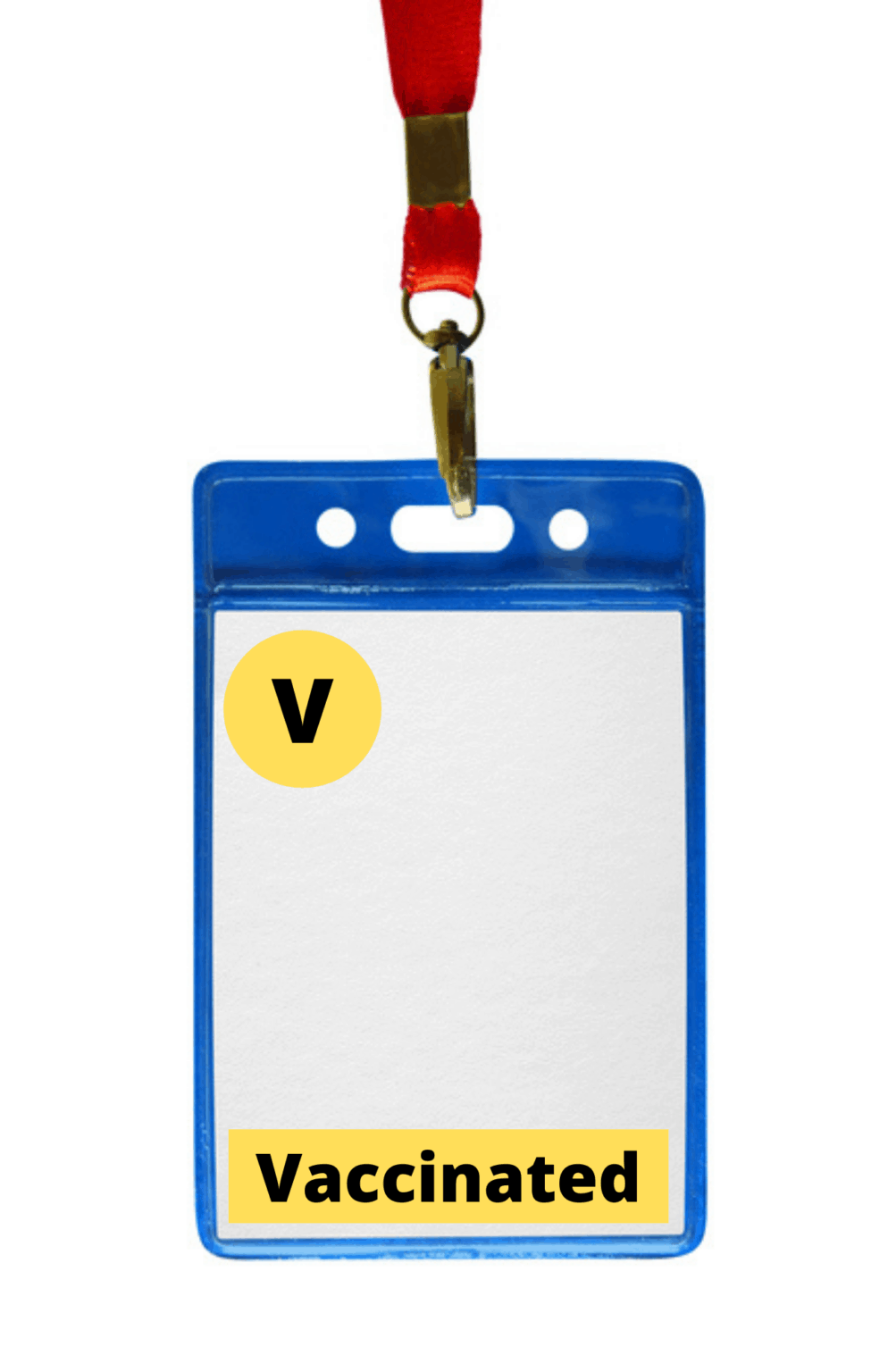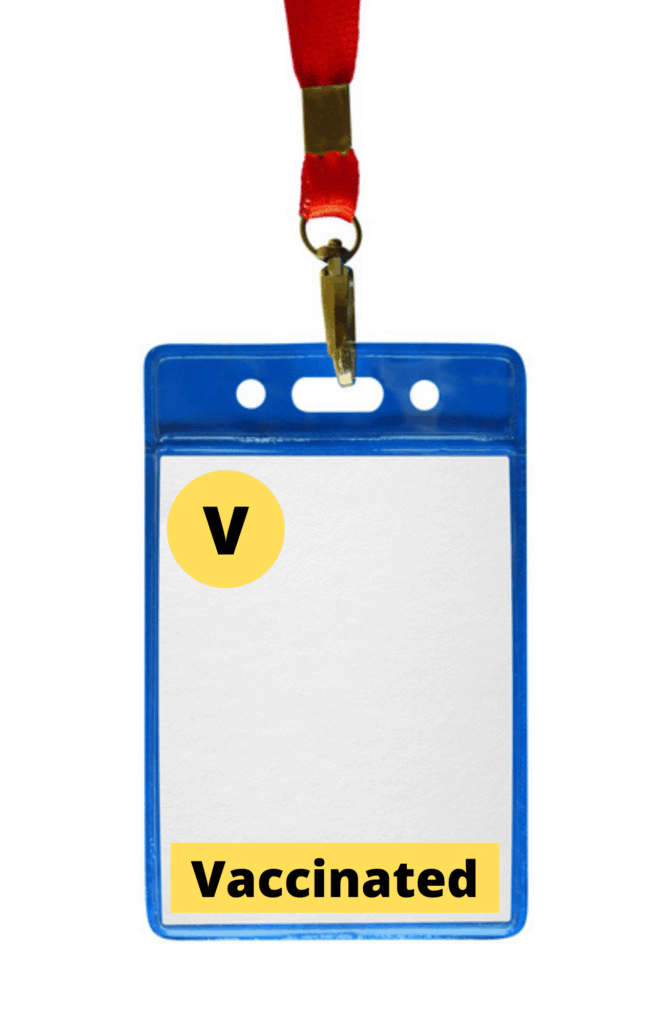 Supplying customized labels and other media designed for specific applications is a big part of what L-Tron does. Clients range from manufacturing, industrial, and retail markets to government agencies. Seiko cites specific applications in law enforcement — customized legal printing or logos on the back of e-citation tickets, and tamper-proof seals as just two examples of the type of one-stop shopping customers can expect from L-Tron.
The solution to this company's vaccine label challenge? A durable, flexible thermal transfer-coated polypropylene that doesn't tear, with permanent adhesive. The yellow flood-coated labels come pre-printed on rolls with "Vaccinated."
And now Seiko is helping the company replace all their HID cards.
The Future of Vaccine Labels.
Seiko believes the simple vaccine label may become commonplace as offices, industrial facilities, and retail locations reopen in the wake of COVID-19 shutdowns.
"I'm thinking these products are going to become very popular in identifying those who are needing their employees vaccinated and require them to be identified with these labels. Finding a durable label that can withstand any number of environments has long been critical to safety, manufacturing and product distribution. This is one more example of how important it is that you choose the right type of label and printing."

Gary Seiko, L-Tron Senior Account Manager
---
L-Tron has a long history of customized solutions in data collection, barcoding, workflow process hardware and software solutions. Our company's success is founded on collaboration with clients to define, develop and deliver the best solutions for their needs.
Looking for a similar COVID-19 vaccine label solution? L-Tron can assist you in choosing the right labels and/or printer for your company's needs. Contact us here for additional information.
---
Co-Authored by: Hank Kula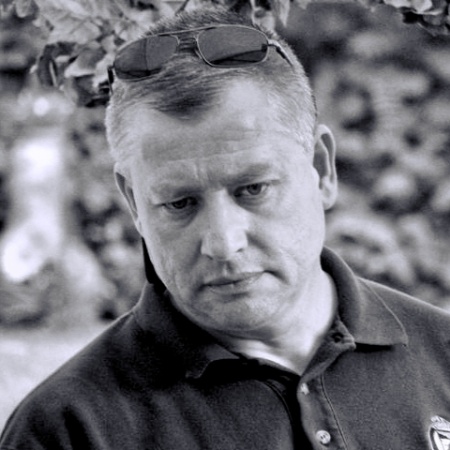 Hank is a retired police sergeant with 26 years in law enforcement. A certified crime scene investigator and crash reconstructionist, Hank instructs police recruits in general topics. He also instructs veteran police officers in crime scene investigation and management, photography, and latent fingerprint processing. As a former road supervisor and manager of a forensics unit, he continues to instruct new sergeants in communications, writing, and report review. A former journalist, he has coordinated a biennial public information officer school for emergency responders. Click to read more blogs from Hank.