Over the past couple of weeks, I have introduced several new scanning and mobility devices from our premier partners, Honeywell (Part I) and Zebra (Part II). Today, I am switching gears and focusing on the industrial automation sphere. Our long-time partner, Advantech Industrial Group, is always on the cutting-edge when it comes to industrial automation.
This blog will highlight 3 new product lines, including flat panel monitors, touch panel computers, and embedded PCs.
Flat Panel Monitors

Advantech FPM-7121T
According to Advantech, the FPM-7000T Series is the "first true-flat design in 4:3 industrial grade monitor." With IP66-rated durability, these monitors are highly resilient and function normally in a wide temperature range, whether it is well below freezing or a sweltering 60 degrees Celsius. Various mounting methods, including panel, wall, desktop, rack and VESA, enable users to incorporate this FPM series easily.
The FPM-7121T model is of interest with its resistive anti-glare 12.1" touchscreen.
The FPM-7151W model is ideal for those in need of a large (15.6") projected capacitive touchscreen that supports 10 points multi-touch via USB interface.
Additional features of Advantech's FPM-7000T Series include:
OSD control panel on rear cover
Lockable I/O connectors
Two types of video port selections
Magnesium or Aluminum alloy front panel
Touch Panel Computers (TPCs)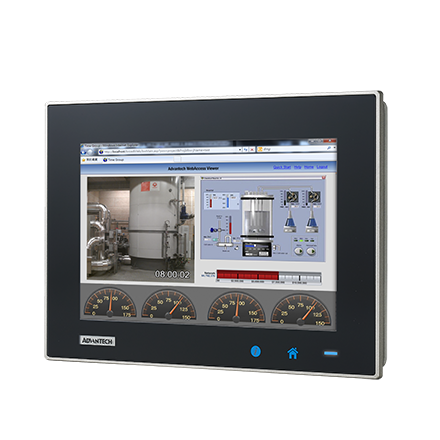 Fanless and compact, the TPC-1051WP thin client terminal has a 10.1" WXGA LCD true-flat touch screen display with IP66 front protection and projected capacitive touch.
Also a thin client terminal, the TPC-1251T is slightly larger than the 1051WP model, with a 12.1" XGA LCD display. Another differentiator is that the 1251T model supports a wide range of operating temperatures from as low as -20 degrees to as high as 60 degrees Celsius.
Both of these Advantech TPCs have front LED indicators to show operating status and Advantech iDoor technology is an optional add-on for those in need of additional I/O connectors, isolated digital I/O, Fieldbus protocol, and more.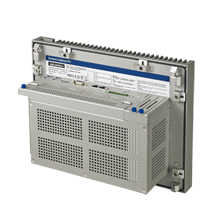 Embedded PCs
Looking for a high-performance embedded PC that supports Fieldbus communication, Wi-Fi, 3G or Digital I/O?
Look no further than the fanless UNO-3483G, a control cabinet PC that supports 2 displays, 4 USB ports, 2 mPCIe sockets and up to 3 expansion slots.
Other features include:
Hot-swappable HDD/SSD support for RAID 0/1
IP67 certification
Chassis grounding protection
Thumb screw for easy maintenance

If you need an industrial computer or peripherals that were not mentioned in today's blog, keep in mind that Advantech has hundreds more products to choose from – and we are able to provide completely customized industrial PC solutions to meet virtually any type of specification requirements. Contact us to learn more!
Questions?