L-Tron's 4910LR DL Reader Magnetic Mount was featured in the July Edition of LEPN Magazine

The L-Tron Corporation is excited to announce that the Magnetic Mount for the 4910LR Driver's License Reader was recently featured in the July 2018 edition of LEPN Magazine (Law Enforcement Product News). L-Tron's Magnetic Mount appeared on the front cover and was one of the 'editor's picks." LEPN's July issue focused on investigations and forensics, with an added active shooter response supplement. The magazine shared products used to assist detectives, collect evidence and solve crimes (like L-Tron's OSCR360 Solution). Other article topics included "Sex offender investigations" and "Is there a place for VR in corrections?"
Read the July Edition of LEPN Magazine here:

Learn more about the Magnetic Mount for the 4910LR Driver's License Reader
The 4910LR Driver's License Reader gets officers off the curb and back on patrol quickly. Electronic ticketing is a more efficient way to complete citations and reports from the patrol car. Officers can scan barcodes on driver's licenses, registrations and more to capture information into forms and reports.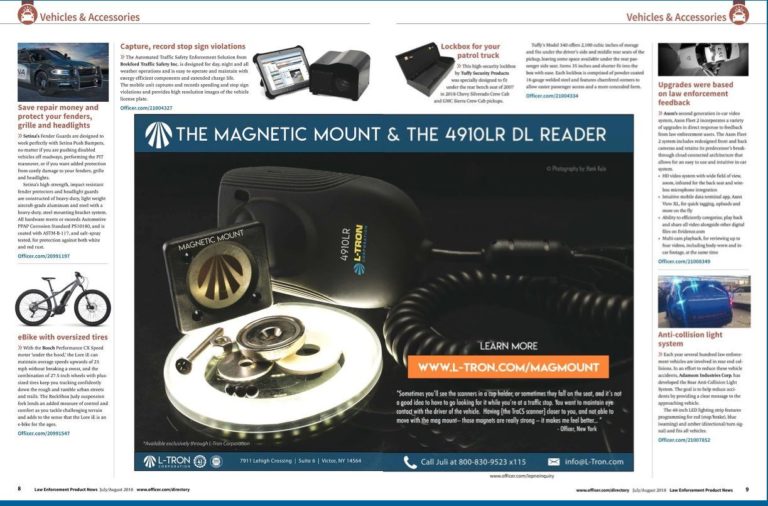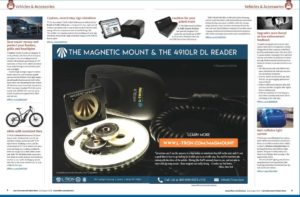 New in 2018: The Magnetic Mount for the 4910LR. The Magnetic Mount helps to limit distractions and keep Officers safe while they are on patrol.  Purpose built from your voice, the mount is offered at $29.50. The Magnetic Mount is rated for up to 70 pounds of force, so it will hold the scanner firmly in place. Installing the DL Reader Magnetic Mount is easy, and the location does not necessarily have to be visible (just within arm's reach). Officer's no longer have to worry about locking the scanner in place or having it fall off the plastic-style mic clip. The Magnetic Mount quickly engages and automatically self-centers. Users can even engage the scanner when it is still mounted and locked in place (the scanner button will still activate).
Watch Officer Ed use the scanner and speak to how the Magnetic Mount will help him feel safer while on patrol.
Officer Ed Discusses the Magnetic Mount for the 4910LR
The 4910LR Magnetic Mount (Part # 4910LR-MM) is available exclusively through L-Tron Corporation. The product data sheet can be found here.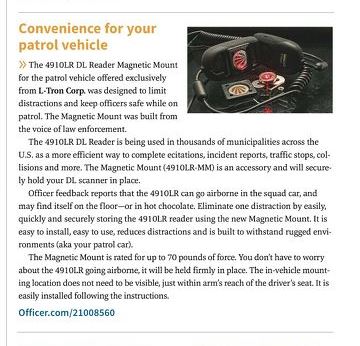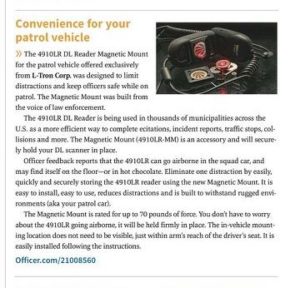 About Law Enforcement Product News
Law Enforcement Product News (LEPN) Magazine is considered the most thorough product magazine for law enforcement. The magazine provides updates on the latest technology trends, including new products at tradeshows, new employment opportunities, new platforms and law related websites, upcoming events, trainings and other up-to-date news within the industry. L-Tron's OSCR360 Solution was also featured in last year's July/August issue – and was called out on the front cover as a new crime scene solution.

Questions? Interested in learning more about the 4910LR DL Reader Magnetic Mount?
Get in touch with the L-Tron team.
Call 800-830-9523 or Email info@L-Tron.com