Today we honor slain New York State Trooper Nicholas F. Clark by 'going blue.'
The 29-year-old Troop E member was killed by a suicidal male on July 2nd in Erwin, NY.  Troop E covers the counties of Cayuga, Chemung, Livingston, Monroe, Ontario, Schuyler, Seneca, Steuben, Wayne and Yates.
We encourage everyone within reach to "Go Blue" tonight (Friday, July 13th):
Place and shine a blue light on your porch or in the front of your business tonight 7/13
Encourage other local businesses to go blue, your neighborhood to go blue, and your towns to go blue
Share your blue light photos and help spread the word on social media with the hashtag: #SupportTrooperClark
"We're looking to the power of social media – all platforms – to get the word out and turn our region blue tonight," said L-Tron COO Gayle DeRose.  "Trooper Clark's sacrifice needs to be marked now, and his memory cemented forever. A blue light gesture tonight, and over the weekend is a small way each of us can start to keep him in our hearts." 
Do you need a blue light?
We are giving them away at L-Tron. Call Elyse at 800-830-9523x 131 or stop by the office and grab yours.
The Blue Light effort began late last week with a Facebook post from the New York State Trooper Police Benevolent Association (PBA) Troop E members requesting residents display blue lights in honor or their fallen comrade.
Please help us turn the Troop E region blue in Trooper Clark's honor. 
Please help by sharing this and displaying blue lights tonight and throughout the weekend.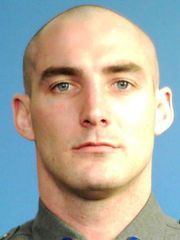 About Trooper Clark
Trooper Nicholas Clark lived his 29 years to the fullest. He was a standout athlete in both high school and college. In high school, he was a two-time wrestling champion in New York State. He was a two-time All-American football star at Alfred University, earning numerous honors and becoming one of their most decorated players in program history. Clark joined the NYS Police in 2015 and put the community's life before his own
every day.

To Trooper Nicholas Clark, his family and friends, to his family in the thin blue line: We remember you. We appreciate you. We honor you. 
Below are related links, tags, and hashtags to include in your posts to help spread word about the effort:
HASHTAGS
#BackTheBlue  #SupportTrooperClark #LTCbackstheblue #ThinBlueLine #LawEnforcement #LODD #BlueLivesMatter #GoBlue #HonortheFallen #NeverForget #EOW #EndofWatch #NYSP
NYS Troopers Troop E PBA
Facebook Page: https://www.facebook.com/pg/Troop-E-PBA-Information-363750500763923/posts/?ref=page_internal
New York State Troopers / Troopers PBA
Facebook Page: https://www.facebook.com/TroopersPBA/
Twitter: @nystroopers, https://twitter.com/nystroopers
New York State Police
Twitter: @nyspolice, https://twitter.com/hashtag/nysp?lang=en
L-Tron Blog on 'Go Blue' – Remembering NYS Trooper
https://www.l-tron.com/Go-Blue-Support-NYS-Trooper-Clark
L-Tron Blog on Big Things Come in Small Packages – supporting Law Enforcement
https://www.l-tron.com/Share-your-blue-for-Trooper-Clark
More Media Stories on the effort
https://www.whec.com/news/go-blue-friday-to-honor-fallen-trooper-nicholas-clark/4986576/?cat=565
https://www.wgrz.com/article/news/local/turn-the-night-blue-friday-to-honor-fallen-trooper/71-573268456
http://www.mpnnow.com/news/20180713/go-blue-friday-to-honor-slain-trooper-nicholas-clark
https://cnycentral.com/news/local/go-blue-friday-to-honor-fallen-trooper-nicholas-clark

Questions? Need a blue light?
Get in touch with the L-Tron team.
Call 800-830-9523 or Email info@L-Tron.com