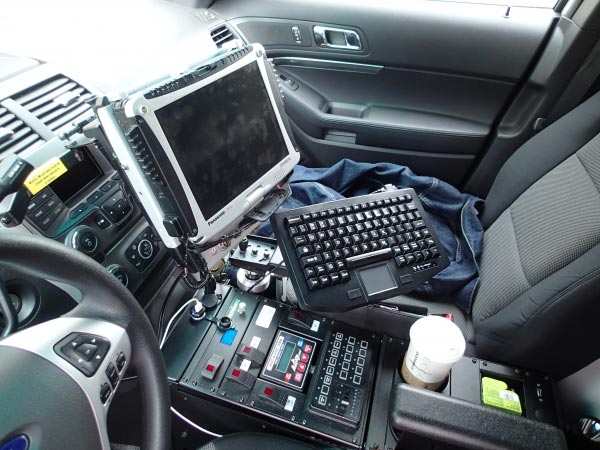 Patrol car or fire rig, vehicle specific mounting brackets, or bases, are the foundation for making the right choices to keep your in-vehicle technology from flying around.
Mounts made for specific manufacturers' vehicles are increasingly designed for tablets, phones, and other patrol vehicle equipment, as they start to supplant laptop computers in today's mobile office. The continual move from brick and mortar offices to doing business on wheels relies on mounts that consider user ergonomics, environment, functionality and safety.
L-Tron sales team member and Product Specialist Jason Culliton sells a lot of vehicle-specific mounting brackets, braces, and components for mobile technology. He can sell other bases and brackets which require drilling into floor pans and transmission tunnels, or cheaper hardware, but bases from Havis, Inc. remain his preferred recommendation.
"A mounting base made specifically for a particular manufacturer's vehicle is always the best choice. Components from Havis are typically heavier-duty, and designed for both vehicle and specific mobile device right down to the exact dimensions of both."

Jason Culliton, L-Tron Sales Team Member & Product Specialist
The work takes place well before grabbing a wrench – from the right choice of a vehicle-specific base to stabilizer arms, brackets, clamps, and braces.
Research into the right vehicle specific mounts is something agencies often take for granted – opting not to measure or consider other equipment like airbags, weapons, radios, or other mobile peripherals.
Things to consider when choosing proper hardware:
What device needs to be mounted? Is it a laptop, or something much smaller?
Is it a permanent installation, or will the device need to be taken in and out of the mount?
What other equipment will the mount need to work around?
Is it stationary, or will it need to move and be adjusted for individual users?
What are the dimensions of the device, the mounting hardware, and the vehicle interior?
Do you want a docking station or simply a "cradle" to hold the device?
What about theft prevention? Tamper resistance? Vibration protection?
Straight stand? Articulating arm? Tilt? Swivel? Tilt-swivel? Adjustable height or angle?
Does the device have aftermarket ruggedized housing or the manufacturer's original equipment?
Considerations for mounting any gear inside a vehicle should always account for safety first, according to Culliton. L-Tron designed its Mag Mount hardware for its 4910LR DL Reader specifically taking into account officers' input. The Magnetic Mount is rated for 70lbs, ensuring that the 4910LR is secure enough in the case of a major crash or rollover. Built from their voice, Police officers had reported difficulty securing the scanner in the traditional microphone-style clip. L-Tron's Mag Mount contains a magnet that only requires the officer to get the scanner close to it. The Mag Mount helps officers keep their eyes on the road and maintain situational awareness. No more distraction of a scanner falling out of the clip, or struggles in securing the device.
The L-Tron Law Enforcement support team has over 100+ years of combined experience. These retired Officers, Sergeants, and Investigators are happy to share their experiences on patrol and the equipment that made their jobs easier.