So, you're the IT Department at a local law enforcement agency – we know this could mean a number of thing. Maybe you're the most tech-savvy officer who is tasked with downloading new software. Maybe, you are a dedicated civilian who manages the department's servers, computers, etc. Or, maybe you work for a large agency, and you are lucky enough to have a team of IT personnel.
Whatever the case may be, our team is excited to work with your agency on their latest software tool – OSCR360. We have received a number of FAQs from new OSCR users, specifically related to their IT departments. This blog may answer some of your most pressing questions related to downloading the OSCR software & getting your law enforcement department up and running. Read on for our OSCR360 IT Department FAQs.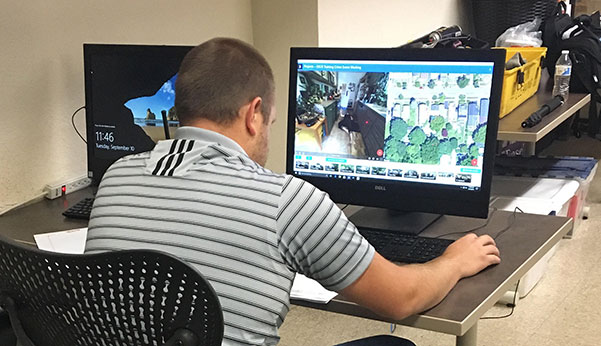 ---
OSCR360 IT Department FAQs
---
Operating System & Updates FAQs:
Q: What OS is the OSCR tablet running?
The tablet is an Android™ Rugged Tablet.
Q: How does the tablet stay updated? Does it need to connect to the internet? Do we manually patch it?
We recommend periodically connecting the tablet to the internet to ensure that you receive OSCR updates. After connecting and opening OSCR, the OSCR360 tablet app will prompt you to update if any updates are available. If you employ a firewall to limit internet connectivity, you must enable access to the URL https://oscr.l-tron.com/.
The first year of updates is included in your OSCR purchase. After that year, there is an optional fee to continue receiving updates. These updates ensure that OSCR is compatible with any Android software updates that may be released in the future. You can also apply Android updates if they are available from Samsung®.
Photo Storage & Sharing
Q: How do OSCR photos transfer from the OSCR tablet to our desktop?
Photos transfer via a simple Sync function built into the OSCR software. Users can either sync with a USB cable, or sync wirelessly by scanning a QR code on their computer screen with the tablet's camera.
Q: Where are the photos stored in the OSCR tablet?
Photos are stored in the OSCR software framework using the internal memory of the tablet. You can typically store around 8000 photos before the memory is full.
Q: What is the photo file format? Will we need to convert the file format to easily share an OSCR project with other agencies?
OSCR projects are easily shared via an export function in the software. The person viewing them (DA, PDs, Feds, etc.) will need their own copy of the software or our free viewer, which can be downloaded here.
The photos themselves are .JPG files. While they are best viewed within an OSCR project, it is possible to copy them out of the project for discovery or archiving purposes.
You can also export the entire project, creating a proprietary .oscr file.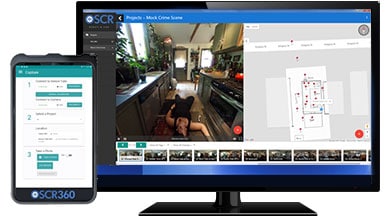 Software & Licensing
Q: Does the software require any other plugins or software, such as Java or Flash?
No.
Q: How does the licensing for the software work?
The floating license works on a 16-digit code, presented in the form of a string of letters and numbers. This is used to activate the editing capabilities on whichever computer(s) you choose to install OSCR. If you employe a firewall to limit internet connectivity, you must enable access to the URL https://oscr.l-tron.com/.
This is a dongle concept, except with no physical plug-in. This means that the computers that share a floating license do not need to be on the same network, but they do need to be connected to the internet so that L-Tron's license server can verify whether the floating license is in use or available.
The single computer license stays on one computer at all times but is available to multiple users.
Q: Is the viewer free? Are there a limited number of installs available?
The "OSCR360 Free Viewer" can be downloaded from our website at any time. It can be used to view full OSCR projects that have been created and shared – but it does not allow the projects to be edited. Installations for the free viewer are unlimited.
Additional Questions
Q: How do I receive additional tech support or answers to any other questions?
L-Tron is always here to help. For your initial questions, we suggest checking out some of our other FAQ blogs or visiting our OSCR360 home page. If you're brand new to OSCR and would like to learn more, we would be happy to set up a web demo with your agency.
For current customers, you can access a series of help videos within the OSCR360 software. In addition, every OSCR360 Capture Kit comes with a set of laminated troubleshooting cards for quick reference.
We have a 24/7/365 hotline for any urgent questions or tech support that may be needed while you're out in the field with OSCR. Your success is our purpose!