On Scene with OSCR360: Fatal Fire Investigation with a Northeastern State Fire Marshal
*Note to readers – I have been doing online demos and complying with all recommended health and safety practices since the on-set of COVID-19. I hope to see you all in-person again soon!
My name is Alex (Alexandra) Myers and I work with OSCR360. My job is pretty sweet – the OSCR team travels nationwide demo-ing OSCR360 to law enforcement agencies, public safety departments, educational institutions and private agencies. We've experienced food, culture and history from all over the country and we're having a blast…but best of all, we've had the opportunity to SEE and LEARN so much from investigators and detectives. I've written this blog series to give you a sneak peek at some of my most memorable stops and to share how other agencies have been using OSCR. Enjoy!
---
Diving into Public Safety
I went to school for Marketing and Management Information Systems…which is not even close to law enforcement, criminal justice, or public safety. To say that I was unprepared for some of the situations I would be presented with in this job, might just be the understatement of the year.
That said, I absolutely love meeting all of you and learning so many new things. And on that note, I'd like to share a story about one of my "firsts" in this job: experiencing my first fire scene. And not just any fire… it was a fatal fire investigation.  
Heating Up – Literally
Our team was presenting OSCR360 to a State Fire Marshal and his accompanying Assistant Chiefs in the Northeastern United States. As we left, we offered, "Call us if you get anything," explaining that L-Tron would drive OSCR out to them to use on scene while we were demo-ing in the region. Most agencies appreciate testing something out before deciding whether to purchase. 
Thinking that there was no way a fire was actually going to occur over the next 2 nights, we were surprised to receive a call around 5 pm that very evening requesting OSCR at the scene of a fatal fire investigation in the suburbs. We headed straight to the scene. 
Upon arrival, we noticed that there were two different engine companies on scene, crime scene tape, and a significantly damaged house. The fire was extinguished and the investigators had just completed a walk-through of the scene. They came out to get their investigation equipment ready to go – including OSCR360.
OSCR Lights Up the Scene
We handed over the OSCR360 Capture Kit and completed a quick on-scene training for those who had never used/seen the system before (OSCR is so user-friendly that it takes mere minutes to get up and running). At this scene, there were 2 rooms damaged by fire, 3 by soot, and a connecting hallway. Lighting quickly became a topic of conversation (as it often does among fire departments). It was around 7 pm at this point and dusk was starting to set in. We grabbed two external lighting sources from the responding engine company and turned on the HDR (high dynamic range) function of OSCR. Due to the circumstances of the scene, our team stayed back and let the investigators 'run' with OSCR.  
Roughly 15 minutes later, they come back out and said to us, "You have to see these photos." They showed us the 6 photos they took inside, all of which were in full color and full lighting with zero shadows. They were blown away; the lighting sources they had used were nothing special.  
I was curious as to why the department spent the time they did in the scene. Each OSCR photo takes approximately 4-10 seconds to capture, with minimal set-up time, I was expecting their total time spent inside the scene to be much quicker than 20 minutes.  
"So what took you both so long?" I asked. They started chuckling and replied, "We've been done with OSCR for a while. We were just comparing the photos to what the scene looked like in person! We couldn't believe the accuracy." 
As this was my first live fire scene, the Assistant Chief and I stood outside while his partner worked through the room of origin (dug and excavated) to get to the floor looking for burn patterns. My natural curiosity took over and I asked, "Okay, can you show me what I'm looking at here?"  
The Assistant Chief was happy to walk our team through the scene photos. I can't tell you how helpful it was as a layperson to see everything from the area of origin, the fire movement, the difference between movement and intensity, etc…in just ONE photo. For someone who is unfamiliar with fire, OSCR made all the difference.  
The department then used OSCR to take three exterior photos: two on the corners (A and D walls, B and C walls), and one to document the exterior utilities and their hookups to the house. Rounding out the documentation, the final OSCR photo was taken to document the burn patterns on the floor in the room of origin post-dig.  
In the words of the Assistant Chief, "This is going to change everything for us. Thank you. You're going to be a natural fire investigator after a while!"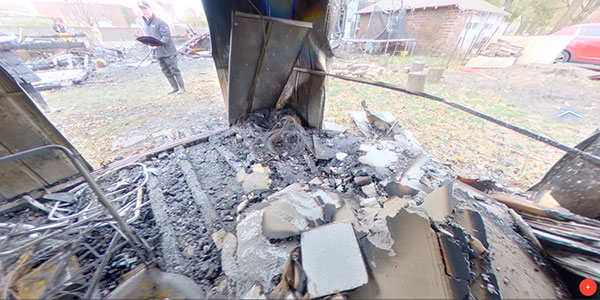 Summary
We later found out that the Assistant Chief and the investigator also took their overall photographs with their traditional DSLR. Comparing the two mediums, standard overall photography required 92 photographs whereas they were able to capture more complete overalls with just 11 photos from OSCR.  
Less photos. Less time on scene. Less storage. More information.  
Thank you to this Fire Marshal's Office and Fire Investigation Bureau for having L-Tron at the scene of this fatal fire investigation and being open to new technology! Hundreds of fire departments, law enforcement agencies, and other public safety officials are partnering with OSCR360 to keep their communities safer and accomplish their investigations more efficiently.  
---
"This saves us time. Instead of taking 20+ photos just to get your overalls you can take what, 3 or 4, and then move on? That's awesome. For 1 man operations, when you're the only investigator that responds, this would be huge."  

Assistant Fire Marshall, Virginia Fire Department
---
"Oh, there are so many uses for [OSCR360]… in operations, fire prevention, fire investigations, pre-planning… Yeah, this is great."  

Fire Marshal, South Carolina Fire Department
---
Are you ready to discuss how OSCR360 can assist your agency's scene documentation and case presentation? We can't wait to meet you – click below to schedule an OSCR web-demo with our team or to view other agencies that are using the system:

About the Author:

Alexandra Myers: Alexandra is a member of L-Tron's EduTechie and Solutions Team. She loves learning new things and reading about areas of interest including digital marketing, content design, business, and technology. Her motivation comes from combining marketing technique with data and customer feedback to achieve success. In her free time, Alexandra loves deal-hunting, trying new recipes, exploring her new home in Austin, TX, and taking some time to enjoy life!