As 2020 draws to a close (finally), our team has a lot to be thankful for as we reflect on the past year. Our clients, partners, vendors, family & friends are top of mind this season and we would like to extend warm holiday wishes to all.
What does our holiday celebration look like this year?
Like all things in 2020, L-Tron's holiday party looked a little different from previous year's celebrations. That doesn't mean that our festivities are any less interesting or unique – our team is quirky, and our celebrations are too.
Our company decided to hold this year's holiday party virtually. The festivities were planned for one of our L-Tron summer hour's slots – meaning that the team would have happy hour from 2:30 – 3:30 and then we would end our Friday early. Our company leaders generously extended summer hours (indefinitely) back in September, as a thank you and a way to support the team.
Our happy holiday party was planned from our internal team's feedback. We sent out a survey leading up to the event, and everyone was able to provide input & make suggestions. Our company culture is shaped directly by our team's voice.
Some items on our holiday party agenda include:
1. Our Holiday Happy Hour
The team will kick-off our party by connecting (via zoom) and catching up on one another's holiday plans. Although we are still working together daily, this is an opportunity for cross-departmental sharing that can get diluted because a majority of the company is working virtually. We also plan to share our favorite holiday drinks with one another (Hot Chocolate? Or perhaps a Pumpkin Spice White Russian?)
2. Let's take an Elfie
After we break the ice with some casual conversation (and a beverage of choice), the team will turn on their camera's for our annual holiday picture. Although we can't be together, this will be a fun "selfie" via our webcams. Office pets, friends and family members are welcome to photo-bomb! Check out our quirky photo from last year: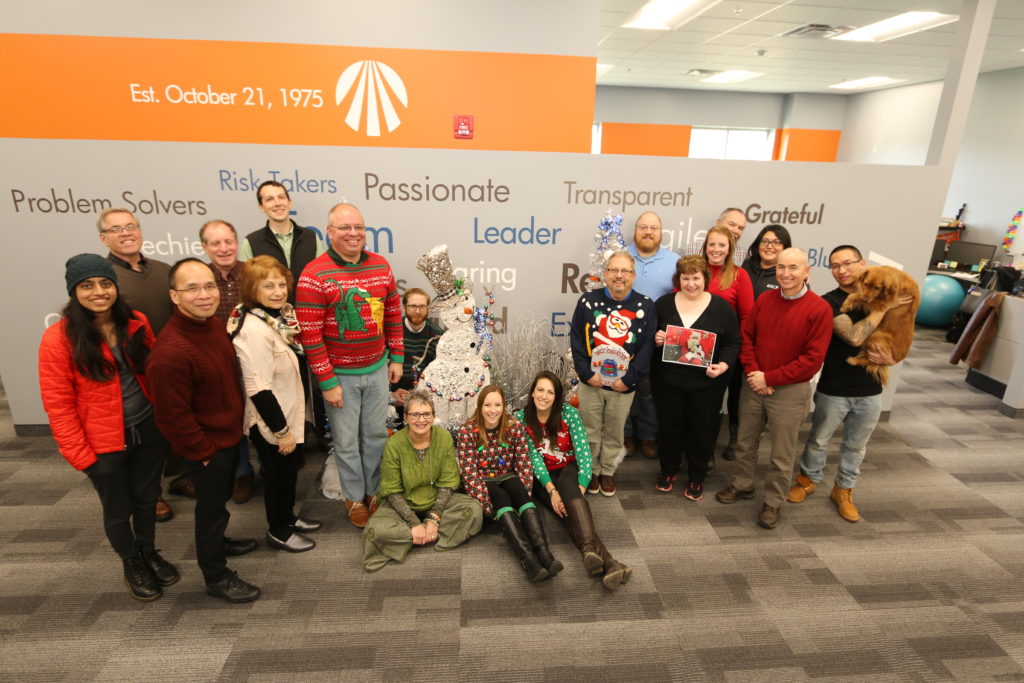 3. Andy's LTC Tour of Lights (with OSCR)
It's Lit! Andy, generously volunteered to stop by LTC team member's homes to capture OSCR images of their holiday decorations. Who or what is OSCR? OSCR360 is a system that includes a 360-degree crime and crash scene camera & associated software. The software assists investigators in capturing, and organizing all of their digital evidence – then creating a walk-through of the scene to share with judges, jurors, other investigators etc.
Using the system, Andy will create a walk-through of each employees' "holiday decorated" yards, then, match the 360-image to the team member's desk location inside the office. Each individual can also embed interior images of their decorations to their 360-photo. It will give the team a glimpse into one another's homes for the holidays.
4. Rebel without a Claus
As we start to wind down our happy hour, we will play a quick "naughty list" game. Have you ever re-gifted a present? Or perhaps you snooped under the tree or unwrapped a gift early? This game will decide who has been naughty or nice as the holidays draw closer.
5. The LTC Annual Holiday Sweater Award
Finally, our party will end with the announcement of our annual holiday/ugly sweater award. Each year, we pass this award down to the team member with the ugliest holiday sweater. Past winners have included our CEO RAD & Andy, a member of our Law Enforcement support team.
---
How is your company celebrating the holiday season? Check out our upcoming blog on tips for a great virtual holiday party.
L-Tron would like to extend a happy holiday to all! We wish you good health & happiness in the new year!