"…and the winner of the 2018 Pinnacle Marketing Awards goes to….
L-Tron Corporation!"
How did L-Tron Corporation, a data collection and industrial automation company – NOT a marketing firm, manage to win a prestigious marketing award from the American Marketing Academy (AMA)?


It all started about 8 years ago..
RAD DeRose, L-Tron's President and CEO, knew that marketing could help his company. He saw other companies achieving results with state of the art websites, social media platforms, press releases and more. But marketing technology is difficult and the marketing companies that L-Tron tried partnering with took their money without delivering the desired results.
So, what did RAD do next?
He consulted Gayle. The conversation went something like this:

RAD asked, "Something needs to change. Would you like to be the L-Tron Marketing Director?"
Gayle, while feeling completely UNSURE, replied, "Sure."

If you know Gayle, you know that she doesn't shirk away from a challenge – she runs to it! Her first order of business was to purchase a book from Amazon, entitled 'PPC for Dummies.'
Next up, she formed a team, which is now known as "The M-Team." Competitive by nature, Gayle sought the best of the best. She turned to Rochester Institute of Technology (RIT), a local university known for producing top talent, and found a marketing intern, Tony. Tony was immediately given a project and expected to deliver results.
He did.
Tony and Gayle meshed. They brainstormed together, learned from one another, and developed a quirky working relationship. Gayle has a fond memory of the early L-Tron marketing team years, when she was in a meeting with Tony and a roomful of other website experts. She made a comment, to which Tony simply replied, "That's irrelevant."
Reflecting back on the past 8 years, Gayle recognizes that her challenge from RAD was a true gift. That day she opened a new door to what would become a true passion of hers. She has always loved to learn – and has never stopped. She knows that, even as department head, there is a wealth of information to be learned from those around her.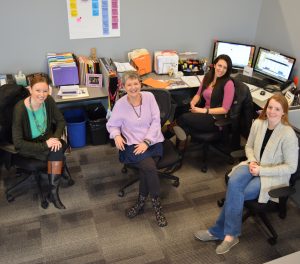 The beauty of the L-Tron Marketing Team (M-Team) is found in the collaboration and passion among its members. The mutual desire for success is why the M-Team is, quite literally, award winning.
To learn more about Gayle's history and leadership within the company and the community, read 'L-Tron's Beginnings' here.
Questions?
Call 800-830-9523 
Email info@L-Tron.com