Western NY Company, L-Tron Corporation, wins prestigious AMA Pinnacle Award from the American Marketing Association.
L-Tron Corporation is pleased to announce that its Marketing Team won the 'Best in Print Advertising' award at the 2018 American Marketing Association (AMA) Pinnacle Awards in Rochester, NY on May 17, 2018. The philosophy behind the AMA Pinnacle Award is to honor marketing teams with proven results. L-Tron's "M-Team" was recognized for its print advertising campaign published in Officer.com in the March 2017 Edition of Law Enforcement Product News.
The award-winning 2017 advertising campaign in Officer.com featured L-Tron's 4910LR Driver's License Scanner. Print ads in the Law Enforcement vertical need to quickly grab attention using visuals that resonate. The 4910LR print ad approach was a result of improvements L-Tron's M-Team made by analyzing metrics and data from previous year's metrics for print ads. The goal of the print ad was to increase 4910LR sales, the 2017 ad campaign performed 4-times better than the previous years' ad. Click to read more about the entry.
"I love this award because it is from our peers. It validates and affirms that as a team, we deliver beautiful work and results. We are a small/medium sized business with a small, passionate group of marketers going up against well-known marketing powerhouses in the area. We are honored…it was truly a team effort. Congratulations to all of the other finalists and winners of this year's Pinnacle Awards!"

– Gayle DeRose, Chief Marketing Officer, L-Tron Corporation
"Now more than ever Police Officers need our support and that's why we are so proud to have to the support of companies like L-Tron who use use their skills and capabilities to help the Badge of Honor Association fulfill its mission and demonstrate time and again that they have our organization's back as well as the entire law enforcement community when we need it most."

– Gina Bamonti, Rochester NY's Badge of Honor Association
"Congratulations to the L-Tron Marketing Team!  Having worked very closely and collaborating with L-Tron over the last five plus years, I couldn't be more proud of this talented group of individuals.  This award is well deserved."

– Nikki Lawson, former Officer.com Sales Manager
"I have had the pleasure of working with Gayle for over 10 years in her capacity as COO / CMO of L-Tron Corporation. Gayle leads a marketing team which designs and optimizes their digital presence and footprint into new vertical markets. She and her team deliver meaningful metrics for each campaign that show the ROI of her team's efforts."

– Paul Babiarz, Professor at SUNY Oswego School of Business
"L-Tron marketing consistently plans & executes innovate and successful campaigns which contribute greatly to our mutual growth. They're pushing boundaries in digital marketing and always looking to explore new, creative avenues to drive revenue. It's a pleasure collaborating with their entire team!"

– Lynette Andersen, Director of Marketing, Advantech Corporation, IIoT Group
"Law Enforcement Product News (LEPN) is honored to have the opportunity to work with many exceptional marketing professionals in the law enforcement industry. Congratulations to the L-Tron marketing team on their Pinnacle Award, and for achieving such excellent results from their March 2017 print ad."

– Megan Russell, Law Enforcement Product News (LEPN) Sales Manager
"L-Tron's marketing team has an amazing capacity to design the right approaches using the right technology tools to generate the right leads that deliver the right results to grow their current and new products businesses. Under the leadership of Gayle DeRose who creates a collaborative environment with a team of passionate and creative change makers and high achievers, they create success for all."

– Roberta Goheen, CEO/President at Synthesis Management Group
"I have had the honor of teaming up with L-Tron Corporatipn over the years on so many successful marketing initiatives. The L-Tron marketing team is hardworking and dedicated. Divine Designs wants to offer our best wishes and congratulations to Gayle DeRose and the L-Tron marketing team on a well deserved recognition of merits!"

– Carly Perez, President at Divine Design & Marketing, Inc.

The American Marketing Association is a national organization with chapters across the United States. This year's judging process was conducted by the AMA chapter located in Columbus, OH. Award finalists were selected based on a scoring rubric that measured strategy, execution and, the highest scoring factor, measurable results. For more information about the AMA Pinnacle Award, please visit http://www.ama-rochester.org/events/2018-pinnacle-finalists/.
About the L-Tron Marketing Team
L-Tron Corporation's Marketing Team started just over seven years ago. There was a Director of Marketing position open within L-Tron, and CEO RAD DeRose asked Gayle to take on the challenge. Gayle runs to a challenge. Her first introduction was a book she purchased, titled 'PPC for Dummies' and her love for learning continued from there. The true gift was a door opened to a new passion and a new career. This passion and drive led her to develop the team we are today. That team is made up of the best – we teach and learn from each other every day by working alongside and together. Starting as a team of one, the rest is history. Our expertise spans across every marketing platform from traditional marketing to digital marketing. Our goal is to continue to get better every day. We deliver results, we are fierce.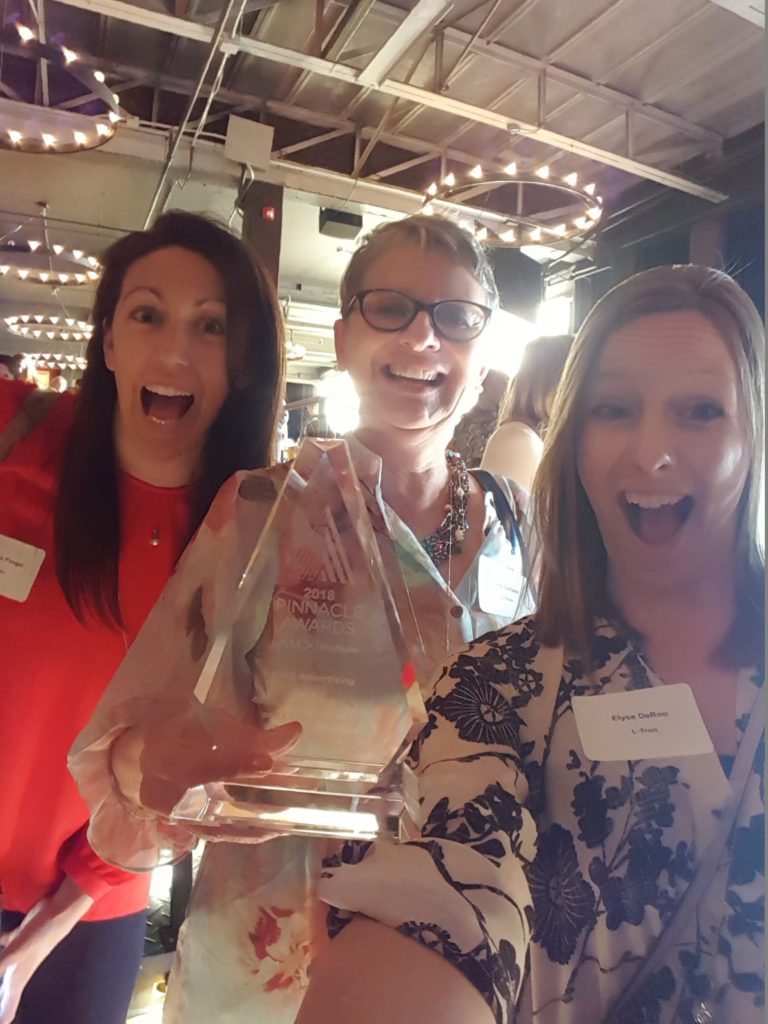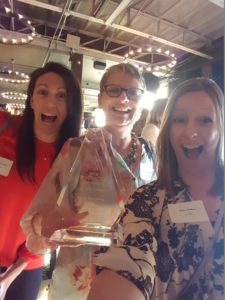 Congratulations to all the AMA Pinnacle Award Winners! #ResultsROC #ResultsRule

Questions? Interested in learning more about the AMA Pinnacle Award?
Get in touch with the L-Tron team.
Call 800-830-9523 or Email info@L-Tron.com