L-Tron Corporation is proud to be named a finalist for the 2018 Digital Rochester GREAT Awards.

L-Tron is honored to be named a finalist in the 'Best Tech Workplace' category of the 2018 Digital Rochester GREAT Awards. The GREAT Awards were created to recognize and celebrate "technological achievement in the Greater Rochester community, by highlighting the organizations and individuals that show leadership and innovation in the field of technology." (Digital Rochester)
The 'Best Tech Workplace' recognizes a company that excels at achieving an engaged and productive workplace, focused on the development or manufacturing of technology. The award winner is determined based on workplace culture, employee engagement, innovation and company creativity.
The award winners will be recognized at a ceremony on Wednesday, September 26th from 5:00 pm to 9:00 pm at the Joseph A. Floreano Rochester Riverside Convention Center. Tickets are $110 for Digital Rochester members and $125 for non-members. Click here for more information or to purchase tickets.
Digital Rochester GREAT Awards Agenda:
Exhibitor Showcase & Networking 5:00pm to 7:00pm
Digital Rochester GREAT Awards Presentation 7:00pm to 8:00pm
Cordial Hour – Exhibitor Showcase & More Networking 8:00pm to 9:00pm
L-Tron's Quirky Culture Results in Growth

Your success is our purpose. We believe in bringing out the best in people – internally and externally. We believe in creating individual leaders and building our solutions from the voice of our customer.
L-Tron is proud to be a finalist for 'Best Tech Workplace' and we attribute this to our quirky and unique company culture.
We prides ourselves on being a forward thinking company, encouraging all of our staff to be individual leaders and to educate first (internally and to our external customers). L-Tron's culture is collaborative, transparent and inclusive. From the first time an employee sets foot in the door, they are given a voice and their opinions are heard. L-Tron encourages 'intellectual sparring' across all company levels. While this makes for interesting meetings – all decisions are made from data, logical thinking, and the collaboration of ideas from the entire company.
L-Tron does many little things to make the office feel like home. Gayle DeRose, our COO & Marketing Director, believes in RAKS (random acts of kindness) and it is not uncommon to find a small gift – like a piece of chocolate, a nice card, flowers or even a pair of socks – on your desk in the morning.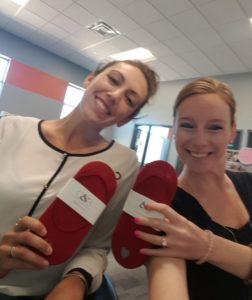 The team celebrates numerous major holidays in the office, as well as random "national days." Some examples include Flag Day, National Chocolate Day, and Wine Day, in addition to more recognized holidays like the 4th of July and Labor Day. For each holiday, the team has a 'grazing day' for lunch. Team members will each bring in a dish and we will pick throughout the day on the delicious snacks. Teamwork is behind all of the company culture at L-Tron. Employees will volunteer to grill, clean up, and help out throughout the day.
L-Tron also has initiated regular celebrations for employee anniversaries and birthdays.
The L-Tron team acts as a family. Everyone is always willing to pitch in when a team member is in need. For example, when one of our team members broke his ankle, the rest of the staff pitched in to make his family dinners throughout the month. When another team member was in a car accident, the rest of the employees provided rides to work while her car was getting repaired. The L-Tron team takes care of one another.
L-Tron's innovative culture (one of inclusion, transparency, and collaboration) is what has allowed the company to continue to grow. By supporting our staff, employees are invested in their jobs, the company and one another. L-Tron is also able to determine the best ideas and make data-driven decisions by hearing all of their employees voices.
L-Tron's OSCR360 solution was built from the voice of Law Enforcement. This software solution, built originally for crime scene investigators, involved collaboration from District Attorneys, Law Enforcement Officers, Crime Scene Investigators, photographers and the L-Tron Solutions Team. The OSCR software is never done. L-Tron continues to push new versions and improvements based upon L-Tron team and customer feedback. This would not be possible without everyone's combined efforts.
About Digital Rochester
Digital Rochester is a Western NY-based organization that provides educational and networking opportunities to local companies and individuals associated with the technology field. The organization promotes collaboration and helps to drive personal, business and community growth.
Digital Rochester sponsors numerous events focused on skills building and the development of local relationships. The ultimate goal is to strengthen the greater Rochester area's technology business community.
"Digital Rochester's mission is to strengthen and grow the region's technology community through education and relationship development"

– DigitalRochester.com

Questions? Interested in learning more?
Get in touch with the L-Tron team.
Call 800-830-9523 or Email info@L-Tron.com