The L-Tron team celebrated National Hot Dog Day (& Nate's Birthday) this week
Wednesday, July 18th was National Hot Dog Day, the perfect day to celebrate franks, dawgs, or sausages (whichever name you prefer). The L-Tron team came together on Friday to share delicious food, with most of the staff bringing in their favorite types of dogs. We had a large assortment, with everything from red hots to white hots, to vegan dogs and buffalo chicken sausages. RAD even made his famous 'Mexican Street Corn.' Other team members contributed potato salad, pasta salad, chips, Cheetos and egg salad – we had enough delicious food to feed an army.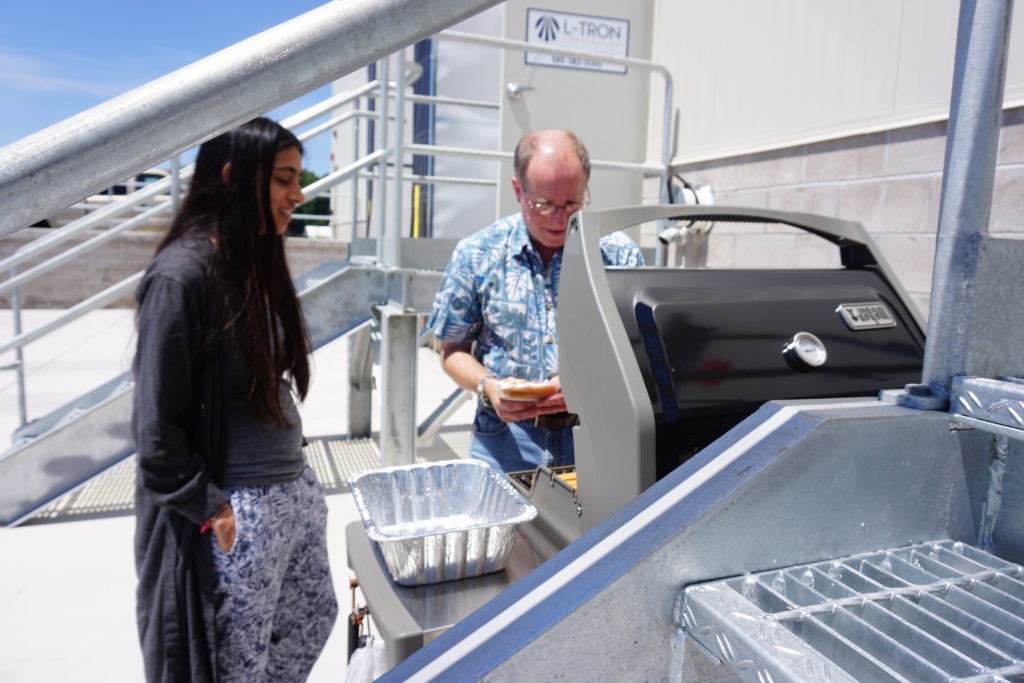 Thank you to Ken for taking care of all of the grilling. It was exciting to use our brand-new grill for the first time!
The team also celebrated Nate's birthday with cupcakes (raspberry white chocolate & Bailey's) and cake pops from Gourmet Goodies. We certainly love to eat at the L-Tron office.
Click here to check out some pictures from the day's celebrations.
About Hot Dog Day
Approximately 9 billion hot dogs are sold in the U.S. each year, with 26 million of those being sold at baseball stadiums across the country (holidayscalendar.com). Hot dogs even have their own governing body – the National Hot Dog and Sausage Council (NHDSC).  The NHDSC created the National holiday, and the first celebration took place in 1991. The day typically coincides with hot dog lunch on Capital Hill – usually the 3rd Wednesday in July each year. The NHDSC website shares facts, culture and history, and even provides planning guides and resources on where you can order sausages and dogs.
Some of the strangest varieties we could

find.
Mac & Cheese
Nacho
Pizza
Wonton (aka Hot Dog egg rolls)
Carrot
Peach Salsa
Reuben
What's your favorite hot dog or topping? Share with us on Twitter or Facebook @LTronCorp
---

Questions? Interested in learning more about our company culture?
Get in touch with the L-Tron team.
Call 800-830-9523 or Email info@L-Tron.com