*This promo has ended.
Well, it's that time of the year again!
Baked goods, holiday decor, hot cocoa and sparkling lights. The air is getting colder, UPS drivers are working overtime, and there are carols playing everywhere you go.
Ok…so this actually isn't going to be one of those blogs. This time of year in the law enforcement profession means something else entirely:
L-Tron's 2018 4910LR promo is back!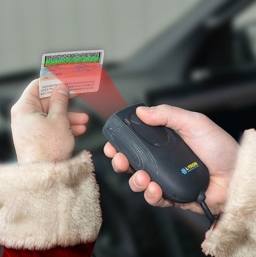 For the past few years, we have offered our customers some great promotions on our popular 4910LR driver's license reader and this year's promotions don't disappoint! But act quickly. These specials are good through December 31, 2018.
Here are your options for the year-end 2018 4910LR promo:
Receive a $25 instant credit on any new 4910LR by trading in an old driver's license reader.
Receive one (1) free 4910LR Magnetic Mount with the purchase any new 4910LR at contract pricing, by trading in an old driver's license reader.
Receive one (1) free Magnetic Mount with the purchase of five (5) 4910LR units purchased at contract pricing.
If you're reading this blog and don't quite understand why 4910LR promotion time is such a big deal, maybe these fellow police officers can convince you.
"[The 4910LR] never fails – I can write over 2,400 tickets a year."
"I had a license busted right in half. I held it together and [the 4910LR] STILL scanned. Out-of-state licenses, in-state licenses, anything. They're amazing."
"The value for us is quicker turn around on jobs. Traffic stops and motor vehicle accident times are drastically cut when we use the 4910 to scan licenses and registrations. This makes our job easier, more efficient and gets us back on the road. When we have to manually enter data, we not only take longer but human error occurs. I don't know how many times I may have typed a name too fast and have transposed the letters only to find this out when I send my MVA in for review. The 4910 scans fast, accurate, and is very reliable."
"I have used these [4910LR] scanners in multiple TraCs agencies on windows XP, 7, and 7 x64 platforms and these scanners have performed flawlessly and read incredibly fast. In almost 2 years with this model I have not had a single one fail."
In short, the 4910LR captures barcode information on driver's licenses and vehicle registrations so officers can populate reports instantly, spending less time on the roadside and more time on patrol. The 4910LR has image capture capabilities, allowing Officers to use the scanner to capture a quick picture of a license plate, road sign or vehicle. They can add this photo into their reports, so there is never a question in the courtroom. https://www.l-tron.com/ecitation-resources is the place to visit if you want to learn all the details about the 4910LR, how it works, and all of its benefits.
For more information and to take advantage of this limited-time 2018 4910LR promo, visit https://www.L-Tron.com/promos
We would also love to talk to you. Contact us with any questions!