Travel a 20-year detour in public service, stick to your standards, add some professional doubt, and you just might surpass your career goals after all.
That's what L-Tron Corporation's Andrew McNeill did last month at the 103rd International Association for Identification (IAI) Educational Conference.
The retired Monroe County Sheriff's Deputy and certified IAI Senior Crime Scene Analyst not only fulfilled his long-time ambition to attend the 103rd International Association for Identification held this year in San Antonio, TX, he found himself on the presenter roster as well.
"They were two separate goals," McNeill said.  "I always wanted to make it to IAI, but I was never able to, largely because of cost and travel.  When I was in law enforcement, it was a non-starter unless I wanted to foot the bill myself."
"L-Tron not only offered up sending me to IAI, but also gave me the chance to speak there," McNeill said.  "Out of the chute it was kind of intimidating.  I mean it's the largest and oldest forensic science organization in the world."  As L-Tron's Director of Forensic Education, McNeill presented two breakout sessions on spherical photography: "Introduction to Forensic Spherical Photography" and "Case Study: Use of Spherical Photography in a Greece, NY Homicide."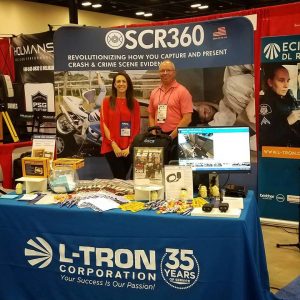 By way of paramedic, dispatcher, sheriff's deputy, crime scene investigator, collision reconstructionist and police instructor, McNeill's journey to San Antonio isn't exactly a well-worn path.  Along the way, he discovered that the academic mindset he relied upon to stay current with sound forensic practices isn't exactly commonplace in law enforcement.
McNeill believes in order to learn, practice, and train current forensic methods in the field and the lab, personal interest on the part of the practitioner and a financial investment in staff development by both agencies is required.  Enter IAI.
"This is where people from all over the world come to hear the latest and greatest news from various disciplines from within the forensic sciences," he said.  "You've got to cultivate your people, and that means setting money aside for training, and a regular presence at conferences like IAI."
The investment in people was obvious at the conference, according to McNeill.  While the new information on technology and methods was great, it was direct contact with other IAI members, where much of the real learning came from.
"There's definitely good information out there.  It's nice to see other perspectives.  Even though I'm not in law enforcement anymore, it's nice to see how civilian crime scene technicians think," he said.  "Because they're civilians, they've never been cops, so it's nice to see how their brains work – they're really in crime scene investigator mode, forensic mode.  They think more scientifically than from the law enforcement side."
McNeill had an advantage not all 103rd International Association for Identification conference attendees had – three perspectives – attendee, vendor, and lecturer.  Representing L-Tron Corporation, he got to show off OSCR360 as vendor, and former police officer / crime scene investigator.  "Working the booth, I got to meet a lot more people than I wouldn't have just as a conference attendee.  We had OSCR out on display next to us; once people saw the demo, and especially once they saw the spherical photo pop up on the tablet literally seconds after starting the demo, they were pretty amazed," McNeill said.