"What should I carry in my crime scene kit?"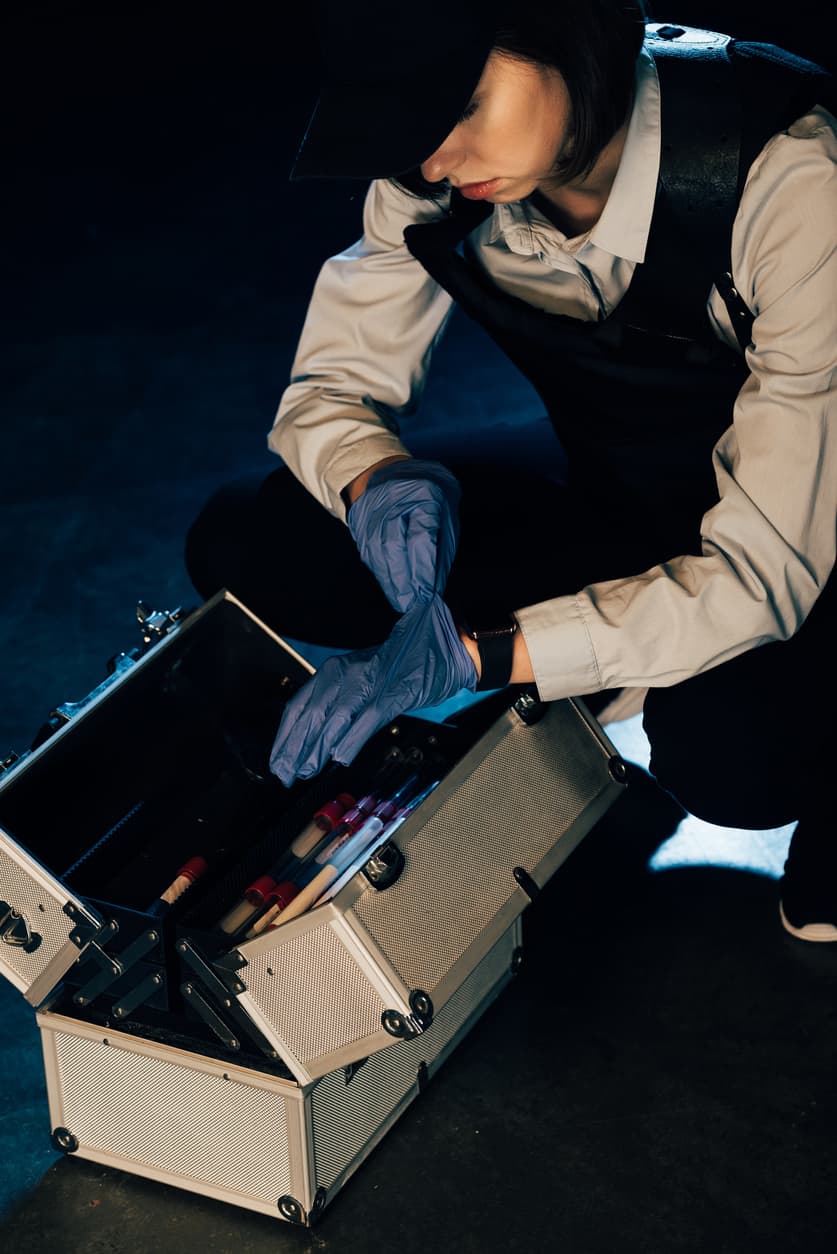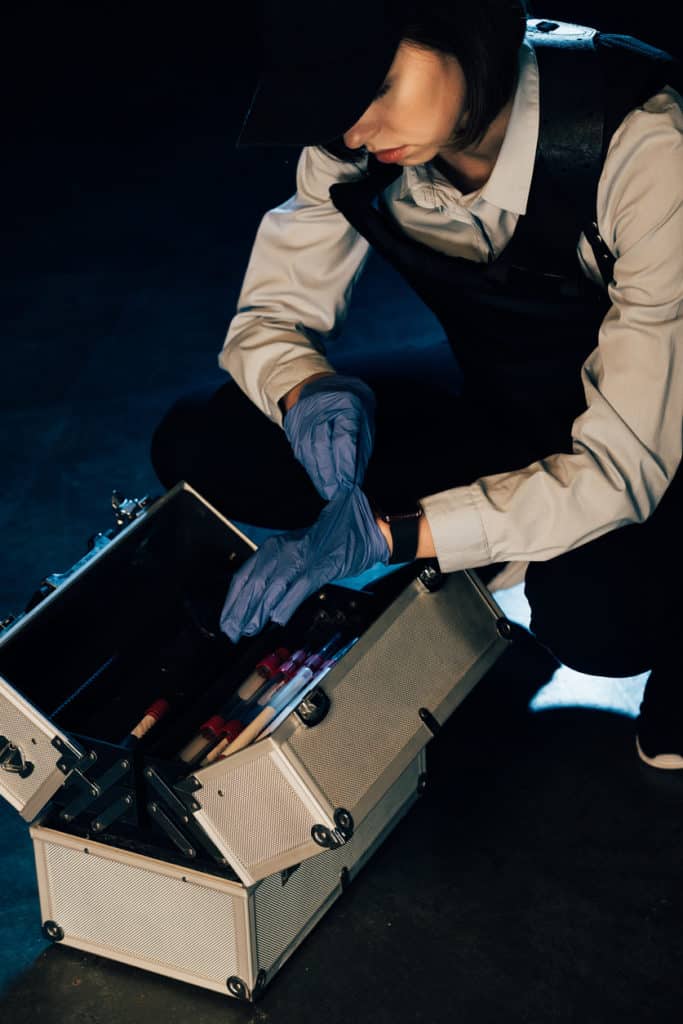 Without fail, one of my students always asked this question when I taught crime scene investigation at our academy.
The short answer? Everything. Yet in reality, everything is not feasible. Investigators have to assess their needs and resources, considering questions like:
Do I need to carry everything all the time, or do I have a larger response vehicle for major scenes?
Do I work alone or with a team?
Can I store less-needed supplies and equipment in a central location without drastically increasing my response time to scenes?
Regardless of your circumstances and answers to the questions above, my experience as a crime scene investigator has taught me that there are certain items you should always have access to.
Preparedness not only facilitates an efficient job performance, but it also serves civilians and those around you. Preparation ensures your investigation will be seamless and solid. In the courtroom, your documentation, evidence, and testimony will be ready for the jury to analyze and consider, allowing all parties to better serve justice. 
---
Protective Gear
First and foremost, crime scene investigation is a dirty business – it literally involves handling dirt. And blood. And bodily fluids. And, well…anything you can imagine not wanting to touch with a ten-foot pole will find you at some point in your career, and you'll have to pick it up.
It is vital you take precautions to keep yourself from getting sick or injured. It is equally imperative that you protect the scene and physical evidence from contamination, especially contamination that you may cause.
To accomplish both of these objectives, you should always carry protective gear with you. At a minimum:
A large supply of nitrile gloves.
Several N95 masks.
A pair of cut-proof gloves.
Tyvek suits.
Shoe covers.
You should also consider:
Rubber rain boots or waders.
A CBRNE respirator.
Some type of helmet.
And, make sure you always have a few big rolls of yellow crime scene tape handy to protect the scene from everyone else.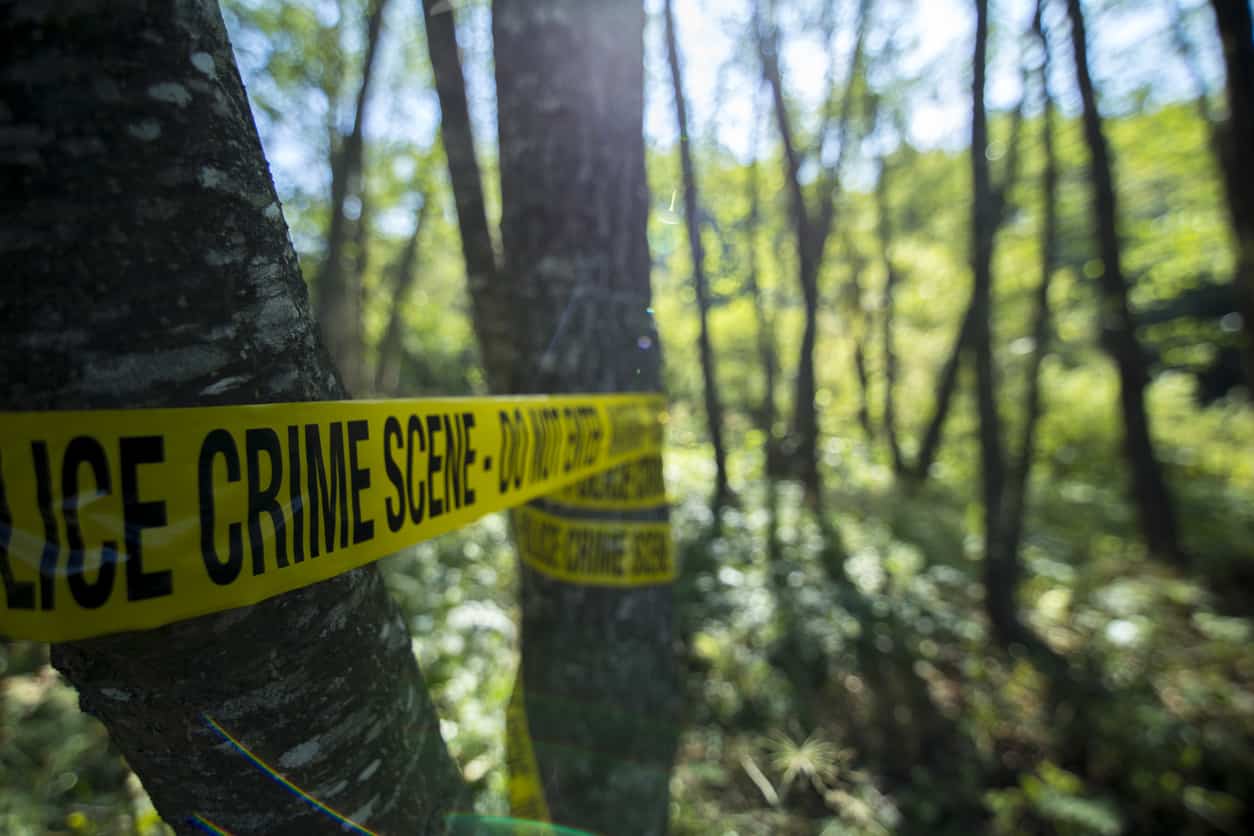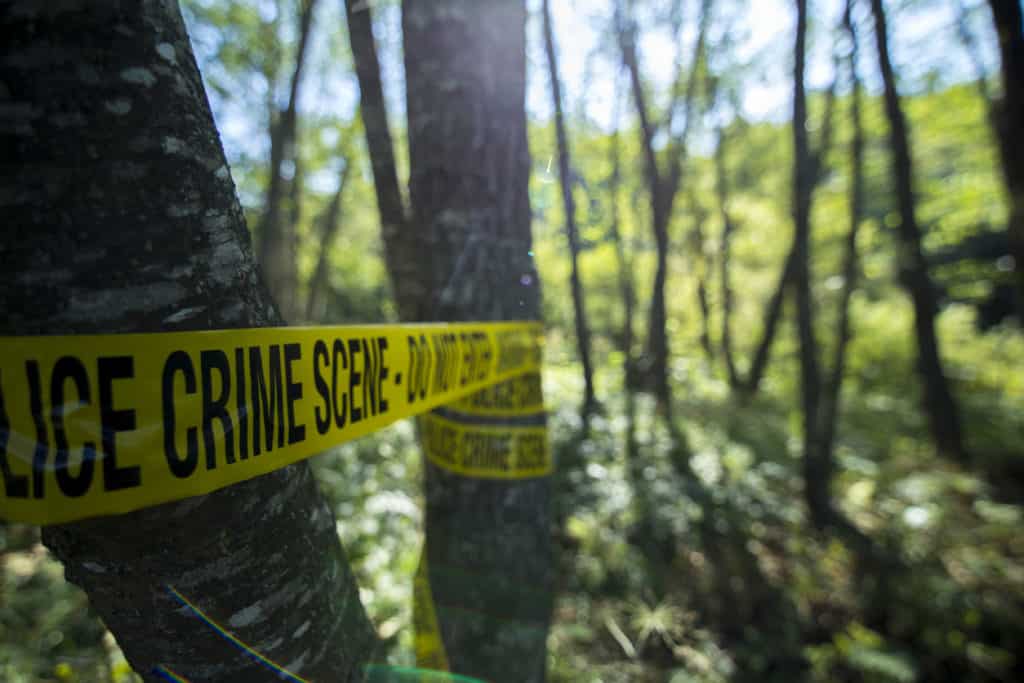 Scene Documentation Equipment

Forensic Photography Kit
Proper crime scene investigation requires thorough documentation. Your primary piece of equipment – the one thing you will use at every single scene – is a camera. The photographic platform is up to you as long as it meets industry standards. Make sure you fully outfit your camera with a powerful off-camera flash unit, sync cord, macro capability, and a tripod. It should go without saying that extra memory cards and lots of spare batteries are a must. Round out your camera kit with a variety of markers and scales, especially magnetic and adhesive ones, as well as numbered evidence tents or cones.
Consider adding OSCR360 to your photographic arsenal. It's the 21st century, and the public expects technical excellence from crime scene investigators. OSCR was created directly from the input and feedback of law enforcement and attorneys – and it clearly shows. You can replace redundant, overly-long, shaky camcorder-style crime scene videos with OSCR spherical photographs. OSCR360 puts the viewer right in the middle of the scene, as if they were there. An added bonus: OSCR360 ensures you fully capture a scene and the system lays a logical foundation for presenting evidence when it's time to go to court.  
---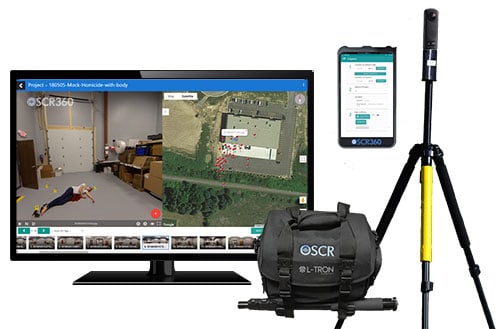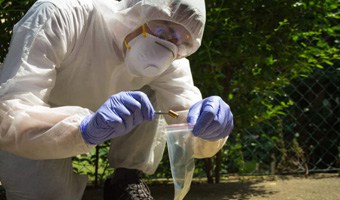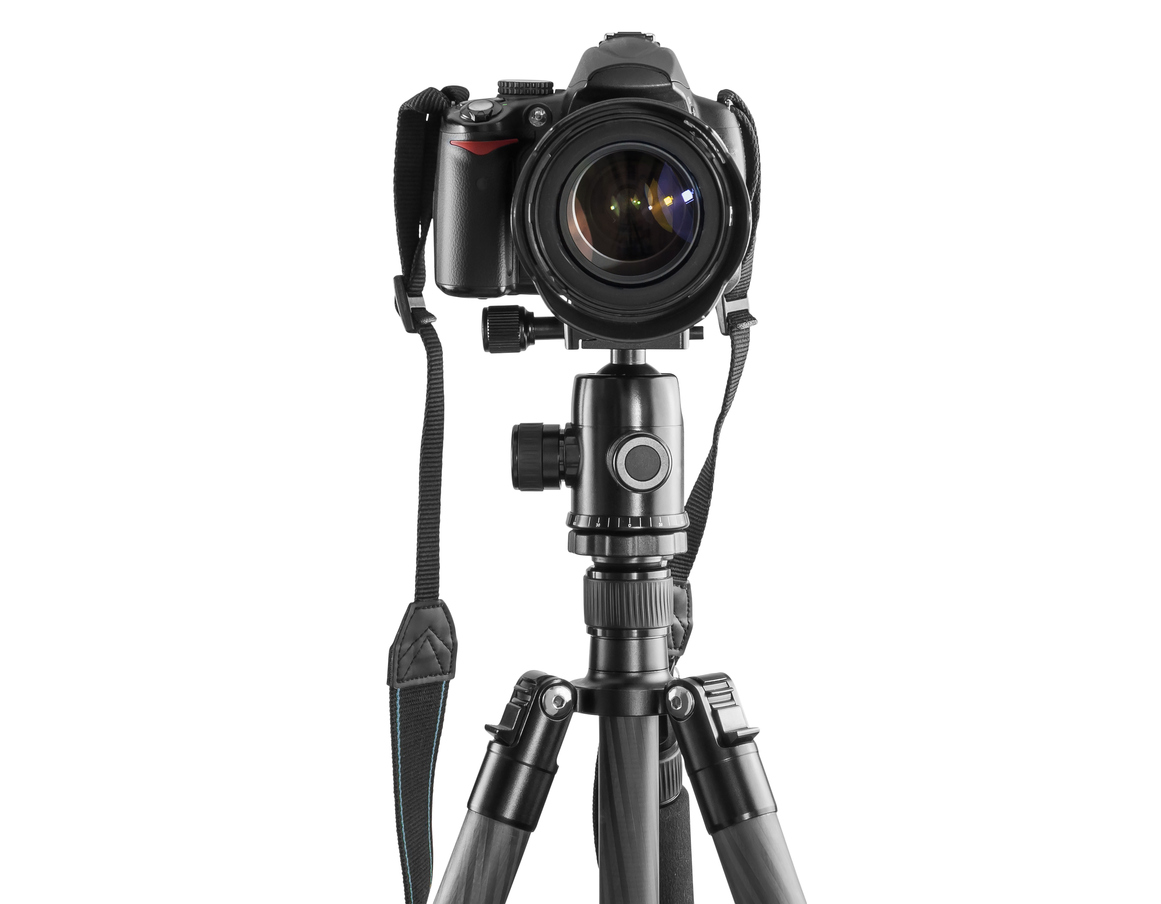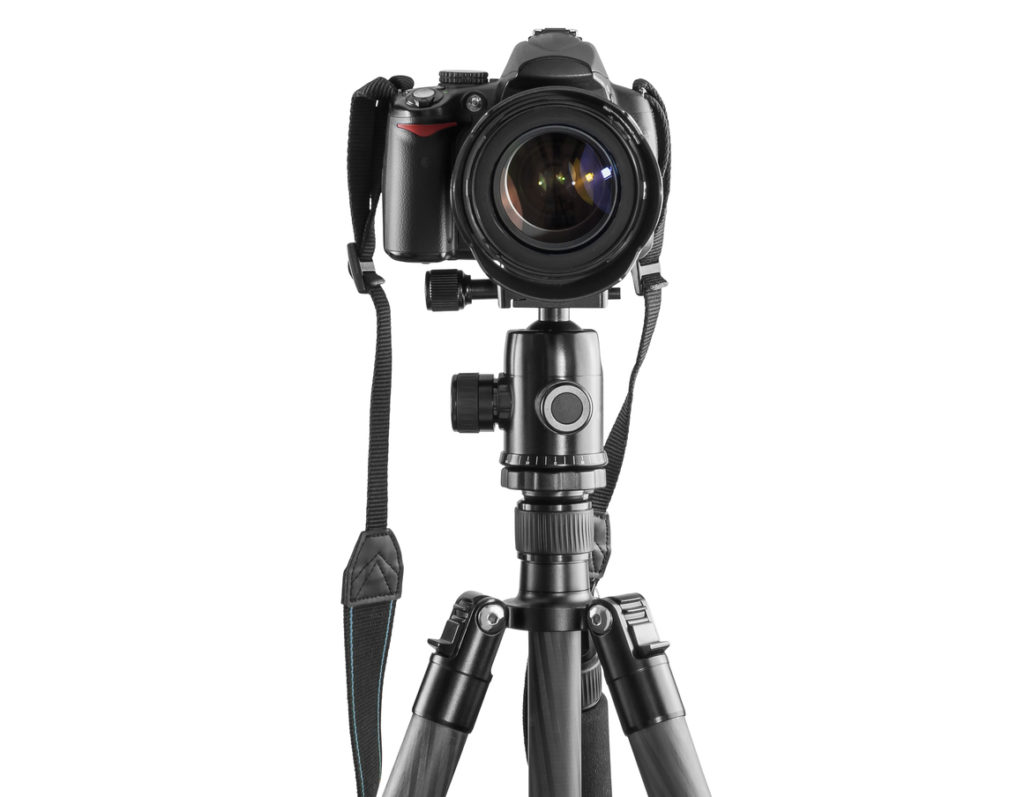 ---
Devices for Measuring
A scale diagram goes hand-in-hand with photography, and for the diagram to be most effective – and accepted in court – it must be based on accurate measurements.
At a minimum, you should always carry:
Three steel tape measures: 25 feet, 150 feet, and 300 feet. They will allow you to measure any indoor or outdoor scene, aren't dependent on weather, and don't require batteries.
A hammer and some masonry nails to secure the end of your baseline tape.
A lumber crayon to mark roadway evidence.  
Where budgets permit, a variety of laser measuring devices are available, ranging from a simple laser level to a total station to a laser scanner. Photogrammetry using a UAV (drone) is a quick and efficient mapping method. As with total stations and laser scanners, these measurements won't be available to view until their data is imported into a CAD program.  
Regardless of measuring method, the end work product is an accurate scale diagram. If you opted to include OSCR360 in your photographic workflow, you will have already created the framework to integrate your diagram and other evidence into your courtroom presentation. 
Evidence Collection Equipment
Various methods of evidence collection follow scene documentation. While it is impossible to list every item you are likely to encounter, you should always be prepared to collect latent prints, DNA, drugs, weapons, impressions, trace evidence, and any number of wet and dry objects.
For general evidence packaging, you should carry in your crime scene kit:
A quantity of paper and plastic bags – in various sizes.
A quantity of cardboard and plastic containers – in various sizes.
Packing tape.
Tamper-evident tape.
Zip ties.
Sharpie markers.
To package tiny pieces of evidence, carry premade trace evidence packets or make your own druggist folds with clean paper. Add disposable forceps to your crime scene kit to make pickup easier.
Not all evidence can simply be picked up off the ground. For those situations where you need to remove car parts, cut into walls, or pull up flooring, you will need to carry a small toolbox equipped with razor knives, a keyhole saw, assorted screwdrivers, pliers, and other hand tools. Do yourself a favor and keep a pair of mechanic's gloves in your toolbox. Your knuckles will thank you. 
Most latent print processing in the field involves applying powder to a nonporous surface.
A field fingerprint kit should be included in your crime scene kit. At minimum, this should include:
Black and bichromatic versions of regular and magnetic powders.
Several brushes and magnetic applicators.
A variety of lift cards of various sizes.
Several rolls of standard and flexible lifting tape of varying widths.
A bottle of school glue gel.
You should also have several disposable brushes and small containers of "clean" powder with you in case you have to process something where DNA cross-contamination is likely.
An inkpad and elimination cards to save time and limit unnecessary AFIS queries.
DNA evidence can literally be found anywhere, and it should be collected in as sterile a manner as possible. Any object that can be easily transported should be collected in clean paper packaging and tested in a controlled environment. For stain collection from non-portable surfaces and objects, you should carry a swabbing kit stocked with sterile swabs, swab boxes, and vials of sterile water.
Impression evidence varies in size from small pry marks to large tire impressions. While proper photography is the first method for documenting this evidence, it may also be necessary to collect it, in which case you will need access to casting supplies. Generally speaking, shoe and tire impressions are collected by casting with dental stone. This process requires you to carry a form to place around the cast and water to mix with the dental stone. Toolmarks, such as pry marks from a screwdriver, are collected with a silicone casting compound. An added benefit of carrying this compound is that it can be used to lift latent fingerprints when tape is impractical, such as from a textured surface.  
At the end of the day, the goal of crime scene investigation is to bring the scene and evidence to the courtroom for examination by a jury, with minimal alteration to the evidence, and a reasonable explanation for any alterations that do occur. 
How you accomplish this is up to you, in accordance with proper training and best practices. Interested in more? Click the links below for a printable crime scene kit checklist, or to download Andy's Forensic Photography Guide.
---
Andy's Complete Crime Scene Kit Checklist:
Protective Gear:
Several boxes of nitrile gloves
N95 masks
Tyvek suits
Shoe covers
CBRNE respirator
Mechanic's gloves
Photo Equipment:
DSLR Camera
Macro Lens/closeup filters
Tripod
Off-camera flash with sync cord and Quantum pack
Variety of scales and stick-on markers
OSCR360 with additional indoor tripod
Other/General:
Evidence markers/cones/flags
Crime scene tape
Assorted hand tools
Packaging Materials:
Variety of paper & plastic bags
Variety of cardboard and plastic containers
Tamper-evident tape
Packing tape
Zip ties
Sharpie markers
Disposable forceps/tweezers
Boxcutter/razor knife
Clean paper for druggist folds
Latent Print Supplies:
Black and bichromatic powder
Bichromatic magnetic powder
A variety of brushes and magnetic applicators
Small & large lift cards
Regular and wide frosted lifting tape
Elimination cards & inkpad
Disposable brushes
Small powder containers
Swabbing Supplies:
Sterile, individually-wrapped cotton swabs
Swab boxes
Vials of sterile water
5″x9″ manila envelopes
Measuring and Documentation Equipment:
Tape measures: 100′ and 300′ fiberglass, 25′ steel
Measuring wheel
Electronic total work station with data collector
Masonry nails & hammer
Lumber crayons
A variety of notepads, pens & pencils
Casting Supplies:
Dental stone
Jug of water
Aluminum forms
Mikrosil – tubes or a casting gun
About the Author: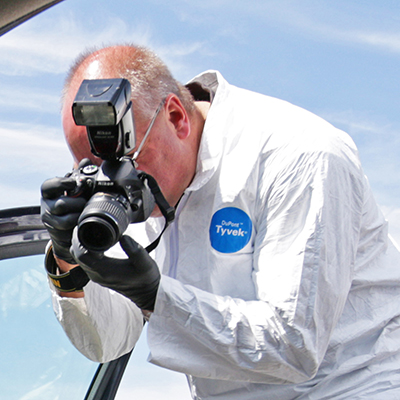 Andy McNeill
Andrew retired from the Monroe County (NY) Sheriff's Office after spending the majority of his career in the Technical Services Unit, where he was responsible for crime scene investigation, collision reconstruction, and latent print examination. He was also the lead forensic instructor at the regional Public Safety Training Facility and a photography instructor at the New York State Academy of Fire Science. Andrew is an IAI-certified CSCSA and ACTAR-accredited Traffic Accident Reconstructionist. He has spoken on a variety of forensic-related topics at various colleges and conferences. In his spare time, Andy enjoys kickboxing, traveling and photography.