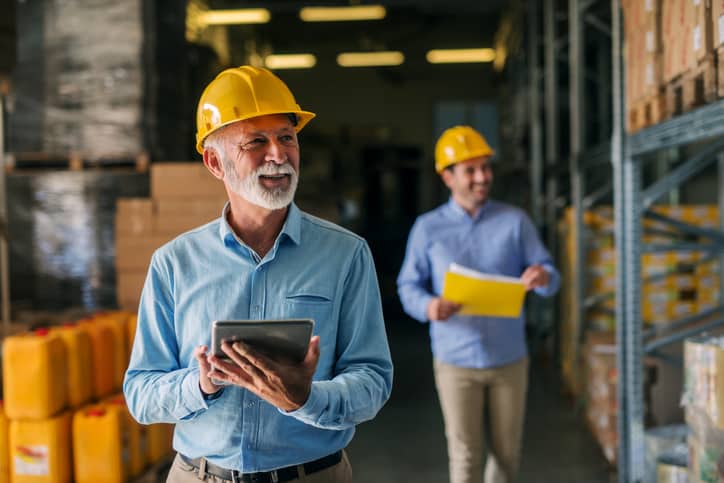 Warehousing Challenges, Part IV: Building Smart Warehouse Solutions
Accuracy. Efficiency. Operational Excellence.
We all want these things, and a smarter warehouse with real-time visibility is the way to get there. We have identified 16 areas, both in and around the warehouse, to apply automation for first-rate results. This blog will focus on the first 9, with Warehouse Challenges Part 5 focusing on the remaining solutions.
Receiving
Keep your inventory levels current and make sure your inventory is wherever it is supposed to be by moving it from dock to in-stock quickly and efficiently. Mobile computers, printers, and scanners each play a key role in capturing data, labeling containers, and noting details within your Warehouse Management System (WMS).
Cross-Docking
Orchestrate your operations by automating long-range scanning processes and tracking your equipment as it moves within and around the facility. Maximize efficiency with RFID and barcode scanning.
Put-Away & Replenishment
Flawless put-away will pay off throughout the remainder of the supply chain cycle, in areas such as picking, cycle counting and reordering. By equipping workers with mobile devices, your warehouse floor will be connected in real-time to your WMS, making inventory locations, quantities and availability immediately accessible to all necessary parties.
Inventory Management
Data capture is the name of the game as barcode scanners, mobile computers, printers and RFID solutions work hand-in-hand to keep consistent and accurate tabs on inventory numbers and item locations. Visit the Inventory Management section of our Warehouse Distribution Center here.
Picking
Voice-directed, wearable scanners and mobile computers keep workers hands-free and on-the-ball throughout their shift as they pick accurately and effectively.
Packing and Staging
Avoid errors and track items along the way during the order fulfillment process. Outbound loading can be done right with barcode scanning, RFID, wearables, printing, and other location-identifying devices.
Shipping
Traceability through the shipping process involves automation technology like mobile scanners, RFID, locationing devices and 3D-sensors. Your WMS will track all the shipping details and help you utilize space efficiently.
Reverse Logistics
When items are returned to your warehouse, quickly and thoroughly document the details before salvaging usable inventory with mobile computers and printers.
Cold Chain
Cold temperatures or extreme changes are never an issue for rugged mobile computers, vehicle-mounted computers, wearables, barcode scanners and printers that were designed for the elements.
Interested in more examples of smart warehouse solutions?
Our list will continue in Part 5, entitled "Beyond a Smarter Warehouse," where we will apply smart technology outside the four walls of the smart warehouse.