[Video] Types of Advantech Industrial Computers
This video provides a brief overview into the world of industrial computers for engineers, managers, and supervisors of industrial operations. Discover the different types of industrial computers and various mounting options available, prior to making a purchase.  

---
Industrial vs. Consumer-Grade PCs
The question of whether to purchase an industrial PC or a consumer-grade PC boils down to the question of price vs. longevity. You know that industrial environments are tough. From dust and water, to temperature fluctuations and more, your PC is bound to be exposed to some harsh conditions that a non-rugged device just can't hold up to. That's why Industrial PCs are a smart buy, even if the price point is higher than that of a consumer-grade computer. They're rugged and extensively engineered to withstand environmental stressors and survive the test of time.
"Consumer PCs turn over every one to two years. Industrial PCs have an operations life of seven to ten years."
Types of Advantech Industrial Computers and Mounts
Advantech IPCs are built with integrated touch display and a wide variety of input/output, size, expansion, pricing, fan-less, and mounting options. Below is a sneak peek at some of the many options that are detailed in the video.
Panel PCs – best for light industrial jobs.
Touch Panel PCs – ideal for standard industrial applications.
Industrial Panel PCs – the most rugged of the rugged.
Rack Mount – multiple configurations available.
Wall Mount – a popular option for space restrictions.
Desktop Mount – a popular option for space restrictions.
Compact Embedded PC – ideal for extensive I/O needs.
How to Configure your Industrial PC
Yes, it's nice to have options…but when it's time to narrow down your choices, you may feel unsure. That's where L-Tron comes in: we've been partnering with industrial companies for over 40 years. We're experienced and well-versed in industrial automation technology, so we can explore your space, expansion, and other requirements with confidence. We also understand that no two companies are the same, and recognize that your Advantech Industrial Computer needs to perfectly fit your unique situation. 
We listen closely to your needs, questions and concerns, and ask clarifying questions to gain a clear understanding of the whole picture. We'll work alongside you to find the best solution and fulfill your order with unmatched service and support. We're ISO-Certified, Premier Level One partners with Advantech, and are committed to providing you with excellent customer service and technical support every step of the way.
---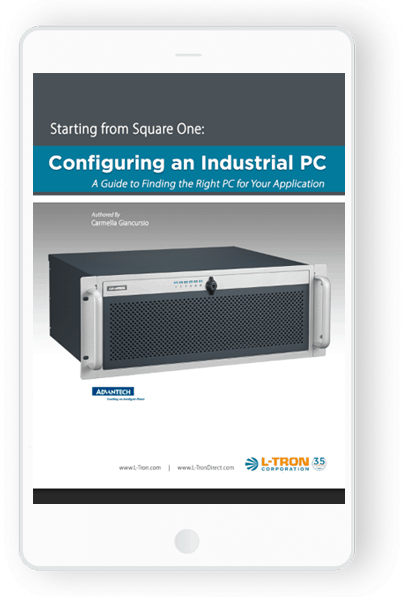 Download the "How to configure your industrial PC" eGuide:
For more information on how to configure an Industrial PC, download our eGuide: Starting from Square One: A Guide to Finding the Right Industrial PC for your Application
---
In this video, we will provide an overview of the types of Advantech Industrial Computers:
Types of Advantech Industrial Computers
Get in Touch with Our Team:
---
---