Types of Advantech Industrial Computers
Types of Advantech Industrial Computers
It is common to want to save expenses with consumer-grade PCs. But are they really what you need to keep your manufacturing or warehouse floor running efficiently?
This video will explain the difference between the various types of Advantech Industrial Computers and consumer-grade computers. Learn what IPCs are the best fit for your work environment.
Advantech IPCs are built to withstand the harshest work environments, including:
dust
extreme temperatures
vibrations
water
and more
There are many different types of Advantech Industrial Computers to choose from. Explore the differences between:
PPC Light Industrial Computers
TPC Standard Industrial Computers
IPPC Heavy Industrial Computers
If you are looking for larger expansion requirements, you might also want to consider:
Rackmount
Wall mount
Desktop
or an Embedded PC
These options are all customizable to fit your unique application's needs. We work as an extension of your team to explore budget, space, memory, storage, processing power, I/O and RAID.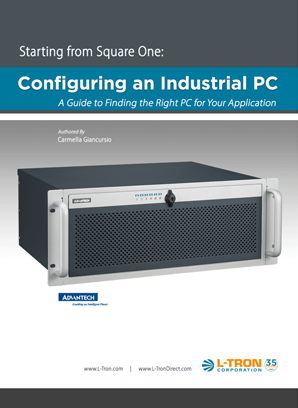 eGuide
For more information on how to configure an Industrial PC, download our eGuide:
Starting from Square One: A Guide to Finding the Right Industrial PC for your Application

About Advantech
We have been a proud Advantech partner for almost 30 years. Advantech's automation products streamline manufacturing and data acquisition while providing real-time data to the entire facility. Internationally recognized for manufacturing, Industrial Computing and Automation products and peripherals, Advantech has helped automate operations in the manufacturing, food and beverage, government, and mass transportation industries.
Over the course of our partnership, L-Tron has been recognized by Advantech as a premier partner. Click to learn more about our partnership.
Questions? Interested in getting started?
Fill out the form below to contact us. Julianne will respond on the same business day. For immediate assistance, call Juli at 800-830-9523 x115 or email info@L-Tron.com