On Scene with OSCR360: The OSCR Software Assists during a Homicide Investigation
My name is Alex (Alexandra) Myers and I work with OSCR360. My job is pretty sweet – I travel nationwide (or virtually) demo-ing OSCR360 to law enforcement agencies, public safety departments, educational institutions and private agencies. I've experienced food, culture and history from all over the country and I'm having a blast…but best of all, I've had the opportunity to SEE and LEARN so much from the investigators and detectives I've met. I've written this blog series to give you a sneak peek at some of my most memorable stops and to share how other agencies have been using OSCR. Enjoy!
---
There's so much more to OSCR360 than it's camera system & capture kit. In fact, most agencies who end up demoing OSCR are much more impressed with the software component of the solution. At L-Tron, we have worked extensively to create a software platform that is intuitive and easy to use. The best part is, the software is built directly from your voice.
The investigations division of a Florida Sheriff's Department is just one of the many agencies who recognized the benefits of the OSCR360 desktop software right from the start. While demoing OSCR360, one detective mentioned to me that they were working on a particularly controversial case involving multiple murders, circumstantial evidence, and more. The department was in the process of putting together a case overview and timeline to present to the State Attorney's Office.
It suddenly clicked for both of us that OSCR would be useful in organizing and presenting the case. I asked, "Would you like me to stay and show you how to put together a case presentation using the OSCR Software?"
In a few minutes, I found myself in a conference room with ten detectives and crime scene technicians – demonstrating how to build out an OSCR project.
What happened next?
It was decided that the case would be built from the beginning. There were exactly 0 (zero) OSCR photographs to work with so the question was asked, "What is the first piece of evidence we have post-crime scene to track our suspect?" Identifying this, we used the OSCR "Direct POI" (Point of Interest) feature to place a pin right on the map where the evidence was geographically located. We did this for the next 15-20 pieces of digital media evidence, which consisted of videos, Google search results, photographs, audio files, pdfs, cell-phone GPS locations, and more.
Next, we turned to the crime scene itself – a house. Using a scene sketch from one of the crime scene technicians, we overlaid multiple floor plans on the Google Map image of the home. Again, using the Direct POI feature, we virtually walked through the house attaching the day-of-crime photographs from the scene to each corresponding location. Rounding out the OSCR project, we added titles and descriptions to tie everything together for this homicide investigation case.
Here are some examples of what the OSCR software looks like & how users can add maps/points of interest:
OSCR360 Mock Crime Scene, Desktop App
Next, it was time to review.
When you 'refresh' an OSCR project, it refocuses the Google Map image to show all possible "pins" on the map. In doing so, this particular project refocused to outline the entire path of travel of the suspect throughout the entire county.
In just ONE view, we had effectively tracked our suspect and created the timeline of events throughout 20+ locations within the county.
The best part? It took about 2 hours, in total, from start to finish, with 10+ people sitting at a conference table, each of whom had a different role in this homicide investigation case.
Upon reviewing the final presentation with command staff, their feedback was:
"Wow. This is absolutely outstanding! I can't believe you were able to put this all together as we've been trying to in such a short period of time. The State Attorney is going to love this."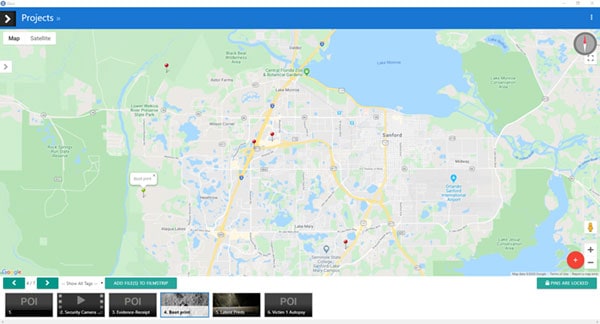 Summary
Let's face it. Nobody wants to use hardware or software that is difficult or causes headaches. That's why we:
Created this from your voice. We continue to work alongside you to develop a solution that is easy to use and requires minimal training. Every feature in this software came from agency feedback.
If you need a quick refresher, there are on-screen instructions for just about every OSCR feature that exists,
We include 1 to 2 minute "help" videos to cover everything you can do in the software.
We know you are on scene and time is of the essence. We provide an OSCR support hotline 24/7/365 that is available to you at all times.
I'd like to give a special thank you to this Sheriff's Department for allowing me to work with with them in creating the case overview with OSCR.. and (if you were wondering), this homicide investigation case ended in a conviction of three counts of murder in the first degree.
OSCR was also used during the closing arguments in a high-profile murder trial which included over 700 pieces of evidence. Click here to learn how OSCR assisted on this case.
About the Author:

Alexandra Myers: Alexandra is a member of L-Tron's EduTechie and Solutions Team. She loves learning new things and reading about areas of interest including digital marketing, content design, business, and technology. Her motivation comes from combining marketing technique with data and customer feedback to achieve success. In her free time, Alexandra loves deal-hunting, trying new recipes, exploring her new home in Austin, TX, and taking some time to enjoy life!