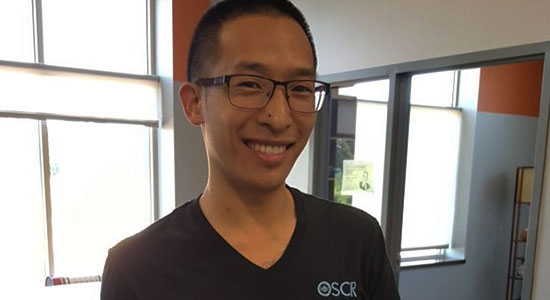 This week, the L-Tron team threw Viet a surprise birthday party for his 30th.
While we knew that Viet didn't want a huge party, this milestone birthday was important to recognize. To celebrate Viet's 30th birthday, the entire L-Tron team met at the Thirsty Turtle (a local sports bar) for lunch. The team ordered appetizers and played a few rounds of pool. Viet is a pool shark, and surprised us all with his billiard skills.
After enjoying an hour's break at the bar, the team went back to the office for grape pie (Viet's favorite dessert) and cake.
Check out some of Viet's past birthdays with the L-Tron team here.
Meet Viet:
Viet is L-Tron's Director of Platform Development. He is our software developer, #1 3D printer, and resident L-Tron genius. He has worked on several big projects at L-Tron, included the launch of our OSCR360 Solution and our new corporate website. In addition to his work at L-Tron, Viet loves 3D printing gifts for others in the L-Tron office. He also enjoys spending time with his daughter, Penelope, and playing with his brand new sports car.
Viet is always willing to give back to both the L-Tron family and the local community. He has participated in Engineer's week and visited local schools to teach children how to code. He has gifted several L-Tron team members with 3D printed projects, and even 3D printed employee nameplates for our anniversaries celebration. Viet is important to the L-Tron family and we were so happy to share his birthday with him.
Here are a few more fun facts about Viet:
Favorite Color: Orange Pantone
Favorite Food: Mashed potatoes (only from KFC) and Taco Bell
Favorite Dessert: Grape Pie
Pets: Oscar (not to be confused with OSCR360) and Dexter
---
Questions? Interested in learning more about L-Tron's company culture or Viet's 30th Birthday celebration?
Get in touch with the L-Tron team.
Call 800-830-9523 or Email info@L-Tron.com