L-Tron is excited to announce that we are being featured in this month's edition of LEPN (Law Enforcement Product News) Magazine.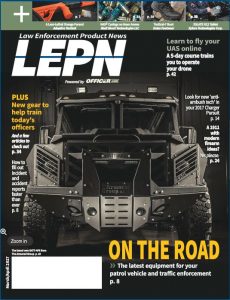 Look for our article on electronic ticketing and information about our new 4910LR promotion. The digital edition can be found here: LEPN March Digital Edition
The 4910LR and eCitation is also discussed on the front cover of the LEPN March 2017 Edition.
Our 4910LR Driver's License Reader is purpose built for Law Enforcement. This driver's license scanner gets you off the curb and back on patrol faster – which allows Officers to keep doing their most important work, keeping our communities safe.
The 4910LR scanner has recently been refreshed and we are offering promotions surrounding 4910LR trade-ins. Send in your old driver's license scanners and receive $25 towards the purchase of the 4910LR. Additionally, if a law enforcement agency decides to purchase 10 or more 4910LR-152's DL readers, L-Tron will donate a SureFire flashlight to their department. For more information on our 4910LR promotions visit our promo page here.
LEPN makes a continued effort to keep the reader constantly informed and up-to-date on new products. Additionally, the magazine provides updates on the latest information, tradeshows, employment opportunities, training, events and news within the law enforcement industry.
Specializing in hardware for today's squad car, L-Tron's solutions have been implemented in thousands of municipalities across 45+ states over the last 15+ years. Considering the move to eCitation? Call us today for a Test & Evaluation unit.