So…you have a shiny, brand-new PC for you industrial application. It sure feels nice to finally replace your old PC, doesn't it? But a few months, or even weeks, down the road you may start to notice that your brand-new PC is not actually "all that."
The thing is, not all PCs are the best fit for an industrial application once it is time for implementation. Perhaps your unit(s) were selected mainly based on price. Maybe the PC you have was all that was available at the time or order or maybe the order was placed based on a direct customer request for that exact unit. But what may seem great – or at least satisfactory – at the time of installation usually ends up causing major issues down the road if it is not a good fit for your application.
Internal and external elements such as dirt, dust, heat, cold, humidity, vibration and shock can wreak havoc on a standard PC within weeks. Lesser environmental factors will take longer to rear their ugly head but when they do, they will cause the same line shutdowns and PC unreliability.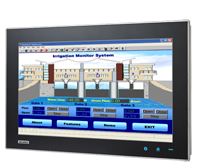 Rather than selecting a run-of-the-mill PC, industrial applications should really consider using an industrial PC. Industrial PCs are a great option and are available in several flavors ranging from rack mount, wall mount, desktop, embedded, touch panel and panel PC. When selecting an industrial PC, you will have many options available, including:
Form factor
IP rating
HMI preference
I/O configuration
These options will allow you to select the appropriate industrial PC for your application that will adhere to the most stringent of technical and environmental specification requirements.
An Industrial PC of high quality and application flexibility should override price point objections and roadblocks any day of the week. The reliability, feasibility and long end of life provided by a well-built and fully configured industrial PC will provide years of success, the ability to standardize lines, a great application fit and an immediate ROI.